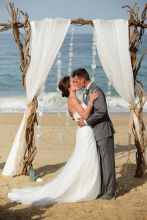 Imagine it: You're in a silken slip of a white gown, bare feet in the sand, sun on your arms, soft Atlantic breeze ruffling the flowers in your hair as you say your wedding vows. Or maybe you're wearing a ball gown shimmering with sequins, standing on the deck as an autumn sunset blossoms across the water. Or maybe your dream dress isn't a dress at all, but jeans and cowboy boots as you toast your nuptials around a fire pit with a canoe of beer, twinkling lights sparkling brightly in the Carolina sky. Whether you dream of a small, intimate wedding with your toes in the sand or a blow-out party with all your family and friends in attendance, the Sanderling Resort in Duck is primed and prepared to grant you what wedding dreams are made of. With a variety of different package options, a host of locations from sea to sound and coordinators on-site, Sanderling siphons the stress out of planning and executing your ceremony and reception, allowing you to focus on enjoying your day. The only all-inclusive wedding venue on the Outer Banks, Sanderling offers a true destination wedding with all services and amenities on-site.
There's something magical about a wedding, about gathering those dearest to you and your affianced, surrounded by a lifetime of accumulated love as you pledge your future together. But a wedding also means hundreds of details. Vendors, flowers, cake, linens, food — there are a lot of moving parts, and it's terribly easy to get stressed beyond any enjoyment. But Sanderling's wedding coordinators work with you from the beginning stages of planning through your ceremony and reception. On-site coordinators help with vendor selection, menu planning and keep you on a timeline during the planning process. They lead your rehearsal and day of events. "They don't let you get stressed!" says Sanderling's Director of Sales and Marketing Wendy Murray. Another major stress-reducer is that all the amenities and services you'll need for your wedding are on site at Sanderling. You can sip mimosas and nibble finger sandwiches while getting a manicure, pedicure, hair and make-up in the spa.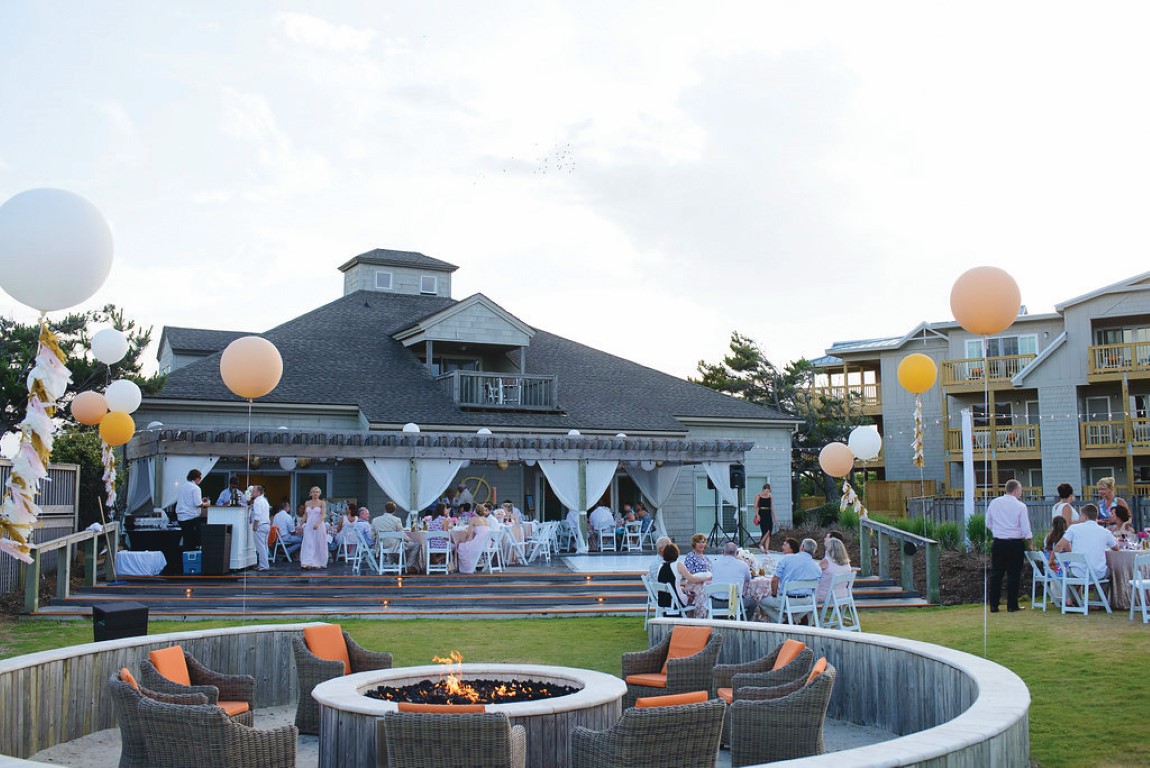 For larger weddings of up to 180 people, a Sanderling package includes the facility, tables, chairs and a linen selection that includes 32 colors, in addition to providing unique culinary stations or plated options and can be booked any day of the week, year-round. There are also elopement packages for weddings between 15 to 60 guests. Available certain days of the week (not Saturday night, for example), these packages include $500 worth of flowers, cake and an officiant. Linens in the color of your choice are included in all packages. Sanderling's most popular elopement package includes a fire pit, s'mores and a beer canoe. This is a relaxed option with an Outer Banks flair. If you're on a tight budget but dreaming of a Sanderling wedding, think about their winter package. Available the third week of November through the last week of March, this package is only $1,000 for the facility, chairs, tables, china, linens and coordination. While the weather on the Outer Banks can be notoriously fickle, there are some astonishingly beautiful winter days. "If we can get you outside, we will," says Wendy.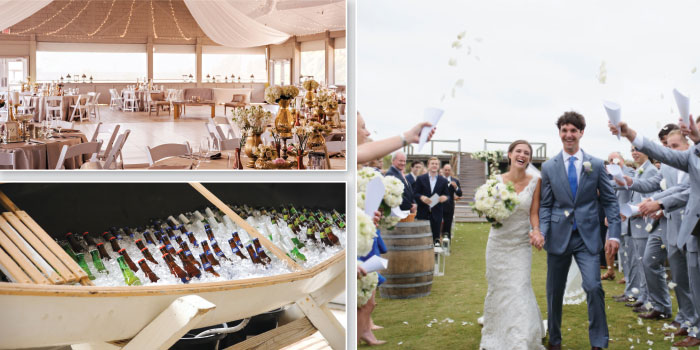 The range of ceremony and reception locations at Sanderling is stunning, as are their culinary options. There are three different access points for a wedding on the beach but also an Ocean Deck where you can see and hear the Atlantic without getting your feet in the sand and a platform on the Event Lawn. The Pavilion and the Event House with an indoor-outdoor space make perfect reception locations. On the culinary side, Sanderling's chefs offer a high-end experience. Their banquet team can provide everything from sit-down plated dinners to more casual stations, with the chef right there sautéing or carving in front of you. Sanderling's talented chefs offer personalized, fresh, Southern coastal cuisine for your special day.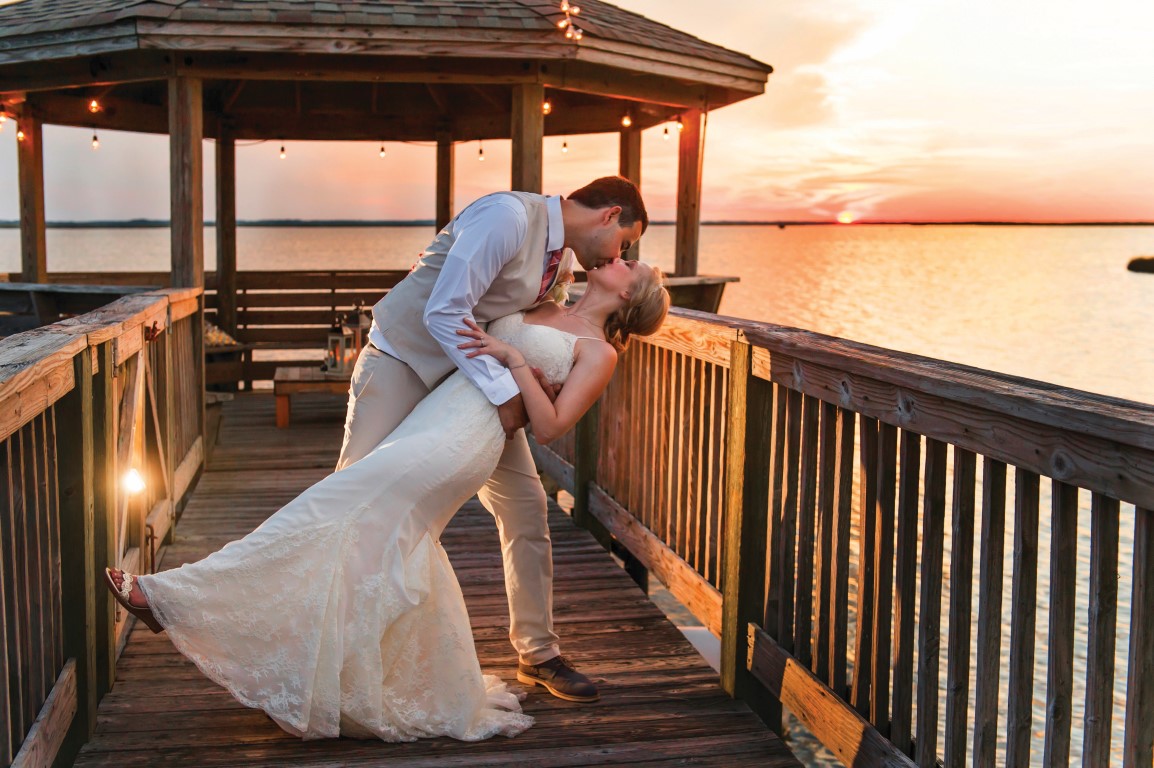 Performing more than 95 wedding events per year, the talented staff at Sanderling will work with the couple from the beginning stages of planning through the ceremony and reception to ensure an experience that is fun and stress-free. Sanderling's all-inclusive venue allows for a true destination wedding with everything you need on site, helping to create an upscale experience whether your event is an intimate winter gathering or a big summer affair.

A wedding is a rite of passage, a joyful day celebrating love and family and friends. From majestically undulating ocean waves to the sunset reflected in the calm waters of the Currituck Sound, when you get married at Sanderling, you're choosing a venue whose landscape echoes the beauty and grandeur of your love.