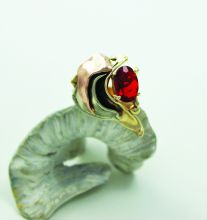 "Not all those who wander are lost." –J.R.R. Tolkien
Great artists have always used travel to other places to inspire them. Whether it is the journey, the adventures that happen once there or just the simple change in scenery, artists and writers use the new energy to create new work. An artist's relationship with her environment is a mystical thing, particularly when that artist draws inspiration directly from the elements around her. For jewelry designer Sara DeSpain, the coastal milieu of the Outer Banks has always played a figurative and sometimes a literal role in her art – in her Ocean Translations collection, seashells transform into whimsical pieces of jewelry. 
While the alluringly novel landscape of the Outer Banks is an exciting source of inspiration, she has been a fixture here for more than 40 years. As her children are leaving home for school, San Diego, California, offers Sara a place of connection with other artists and a warm alternative to the wintery off-season of the Outer Banks. She often jokes that with her children now grown, she's free to pursue life number four. "Artists always have to go out looking for more inspiration," Sara says. She is inspired with this new chapter in her coastal odyssey as she brings her legendary Outer Banks vision to the West Coast. The new perspective the West avails her is more than a scene change; it's energy that directly fuels her new designs. It also offered her an opportunity to set up a satellite studio to work in while visiting California.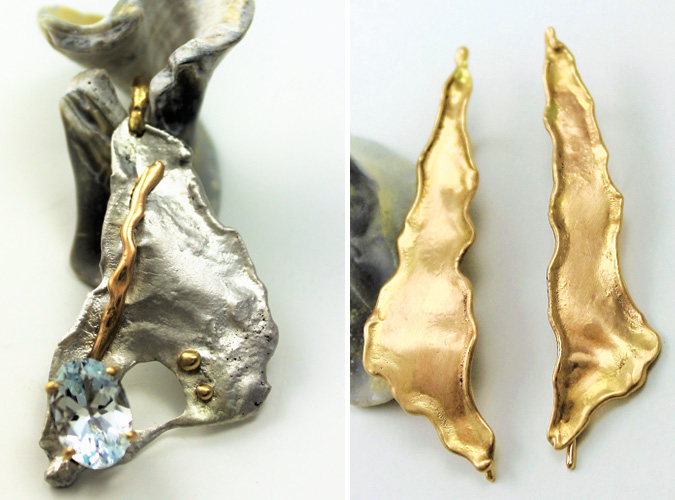 Liberty Station is a collection of historic buildings taken over by the city, which in turn opened them to a select few working artists to rent as newly repurposed studios. "The application process was rigorous," Sara says. Out of the 15 artists chosen, her application was overwhelmingly approved. A retired naval officer will represent her and take care of the studio, which Sara is now working to decorate and light. "This is a completely new environment. I can feel the work speaking to me already, but I have to finish setting up the workplace first. It's frustrating ... but exciting!" 
The landscapes of both coasts spark inspiration for Sara's jewelry. "The Outer Banks is captivating in the constant movement of wind and water — it is windswept and dramatic," Sara says. "The West Coast is rich, vibrant colors and strange rocks dominating the beaches. It's long thin seaweed and cool, relaxed swell give an interesting contrast." The stones Sara uses on the Outer Banks are pale greens and blues, like watercolors. "They relate to the ever-changing ocean here. The stones I am using for the West relate to the amazing sunsets," Sara says. Orange fire opal, golden imperial topaz and azure sapphire will be featured as well as bright green peridot for the flash that randomly accompanies the last sliver of sun as it slips over the horizon or the first arc of light at sunrise. "It's the same thing that light does in a gemstone."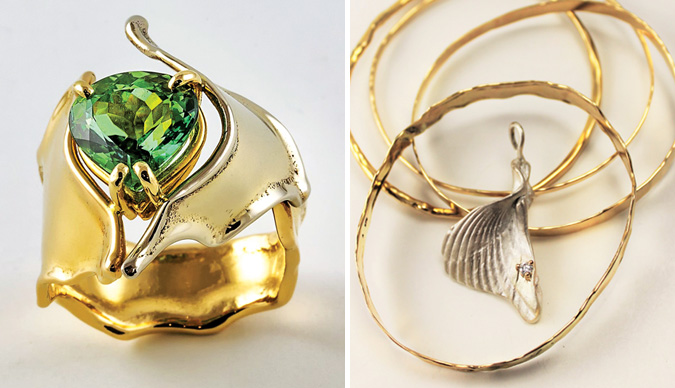 Tourmaline mines located in Southern California also provide stones that will debut in collections to come. "I am most inspired on the West Coast when I am experiencing an explosion of deep hues, colliding upon an ever-summer sky," Sara says. She's currently interested in representing celestial and atmospheric events, correlating their colors with gems. "The richness of the colors of these stones is something that people will be seeing in my shop on the Outer Banks. My work speaks of the shapes of waves crashing on the shore as the wind dances with the clouds in this coastal life."
Sara is also experimenting now with kelp and seaweed found on Pacific beaches, drying, re-soaking and re-shaping it to cast these shapes into gold and silver. "There's a lot of coastal diversity in the West that is really fun and interesting and a different history as well," Sara says. "It caters to so many of my interests." This process was inspired by her local Banks foxgrape vine experiments. She plans to translate each vine and weed into beautiful, naturally shaped bracelets for Outer Bankers to take home.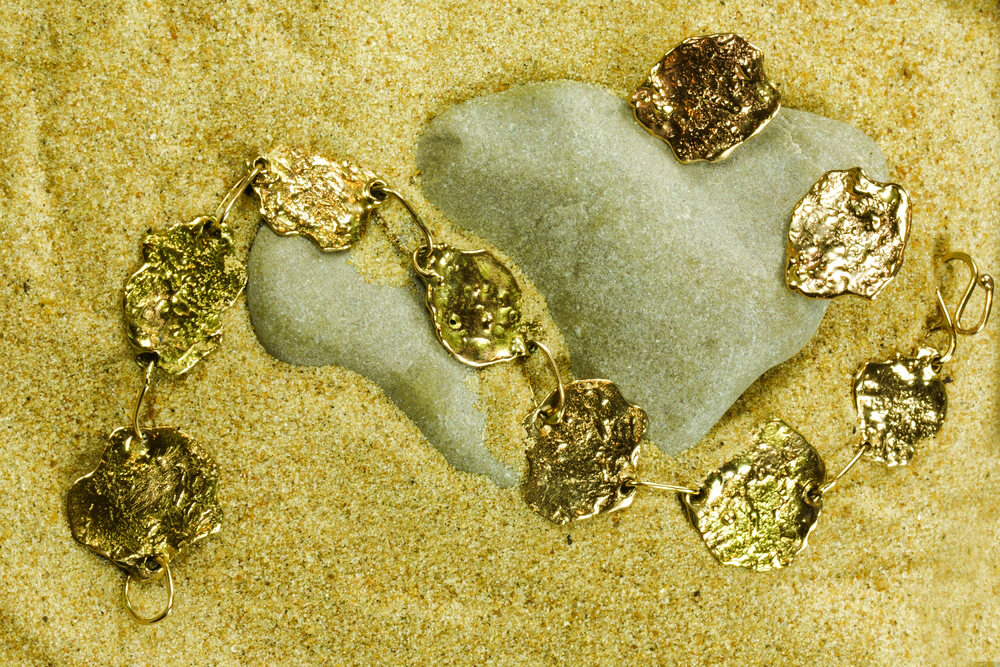 Sara is continuing and expanding her Ocean Translations collection as well as creating new one-of-a-kind pieces. "Reflecting the ocean in my work is what I do," she says. "I hope to enhance the soft watercolor tones of the Outer Banks I see with the deep opaque, acrylic hues inspired by the Pacific Coast. Forty-five years is a long time to still be inspired by just one place, yet there are lots of things I still want to portray that I haven't even started to create yet."
To live as an artist means soaking in your environment, allowing the play of light on water or the reddened, earthy hues of an ocean-carved rock to slip somewhere into the deepest recesses of the subconscious, to the place where vivid images evolve, only to emerge back into the world as exquisite wearable art. Water and earth, wind and sea — these things will always serve as bright points of inspiration for Sara DeSpain. As she ventures to the other side of the continent and saturates her psyche with new vistas, Sara returns from her coastal odyssey with a fresh appreciation for the Outer Banks, the place that will forever resonate in her heart as home.
Sara DeSpain Designer Goldsmith
(252) 255-0671 • 1194 Duck Road, Osprey Landing • Duck