A long winter is one thing, but a long winter during a pandemic is just about unbearable! Puzzles, board games, cooking in, sleeping late, heck even Netflix and Disney Plus are getting old - quick. 
Thank goodness the warm days of spring are here. Back outside we go, sinking bare feet into newly green grass, basking in healing rays of sunshine, clearing the cobwebs from our minds and hearts with each breath of cool spring air. If you're ready to get out and refresh your senses in the newness of spring, Currituck County is a great place to do it. From salty-clean ocean smells to sips of Sangiovese rosé to the chirp of ospreys returning from the winter wanderings, there are many ways to delight your senses in Currituck County, and here are 10 of the favorites 
10 WAYS TO REFRESH YOUR SENSES AFTER A LONG WINTER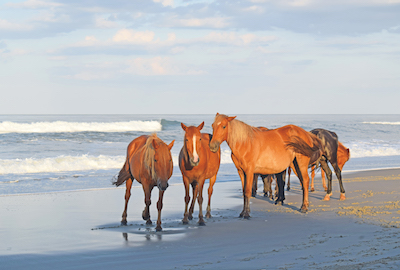 Take a Corolla Wild Horse Tour 
About 100 Colonial Spanish mustangs roam on the four-wheel-drive beach area north of Corolla, and it's an unforgettable experience to see them in their natural habitat. The best way to find the horses is to book a wild horse tour. The guides are experts in finding the horses, allowing you to sit back and relax while taking in the scenery of the northernmost Outer Banks and learning about the horses and the history of the area.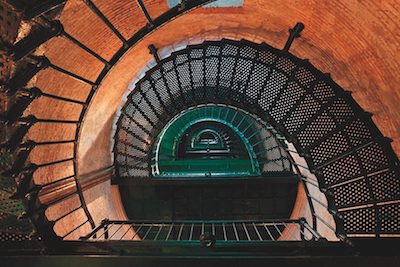 Climb Currituck Beach Lighthouse 
Climbing 220 steps to the top of Currituck Beach Lighthouse will get your heart pumping, maybe even your lungs huffing and your brow sweating, but you'll be rewarded at the top with one of the best views on the Outer Banks. Stepping out onto the viewing platform 160 feet in the air, you'll get that sweaty-palm feeling of looking out over the Atlantic Ocean, Cur- Currituck Sound, historic Corolla Village and rooftops – and seeing how narrow the sandbar you're on really is.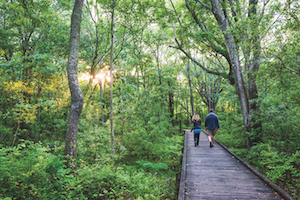 Hike a Nature Trail 
Corolla has two nature trails where you can stretch your legs while looking out for the local wildlife. At N.C. Coastal Reserve and National Estuarine Research Reserve way up at the northern end of N.C. Highway 12, you'll walk through and over (via boardwalk) shrub thicket, maritime forest, brackish and freshwater marshes and tidal marsh, emerging with an expansive view of Currituck Sound. You'll smell the earthiness of marsh mud and hear the music of songbirds along this 1.5-mile walk. Down around Pine Island, closer to the Currituck-Dare county line, you'll find the Donal C. O'Brien, Jr. Sanctuary and Audubon Center, which pre- serves 2,600 acres of marsh, upland maritime forest and sandy beaches. A hike on the 2.5-mile nature trail, under old live oaks and alongside marshland, almost always includes bird sightings.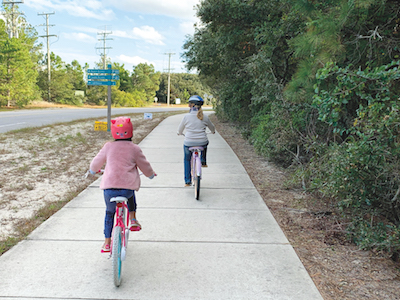 Ride the Corolla Greenway 
Break out the bicycles and see the sights of Corolla on two wheels. The Corolla Greenway is a 5.5-mile concrete path that runs north along Ocean Trail (N.C. 12) from 1 mile north of the Southern Beach Access at the north end of the Pine Island Community to Albacore Street at Monteray Shopping Plaza. An additional mile was recently added connecting the Monteray Shores and Corolla Light Communities. The last 1.5 miles of the Corolla Greenway runs north from Historic Corolla Park to the 4WD ramp. There are connections to existing community paths along the way, making the path almost 7 miles long. You'll bike over boardwalks and past beach accesses, enjoy views of the Currituck Sound and easy access to shopping, dining and attractions. Fully ADA accessible, the 10-foot-wide path is perfect for family bike rides and of course open for joggers, walkers and strollers as well.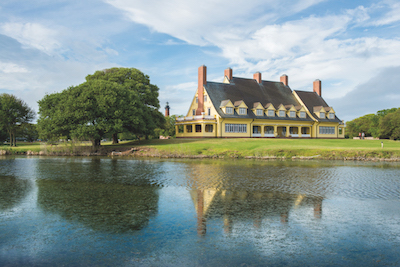 Watch a Sunset at Historic Corolla Park 
A huge greenspace in the heart of Corolla, Historic Corolla Park is a treasure. It's studded with attractions – Historic Whalehead, Outer Banks Center for Wildlife Education, Currituck Beach Lighthouse, a forthcoming maritime museum and a boat basin – but equally important is the wealth of grassy open space along the Currituck Sound. It's the perfect spot for a picnic, for letting kids run and dogs sniff and, most of all, for watching sunsets over the sound. It's the perfect way to end a day in Corolla.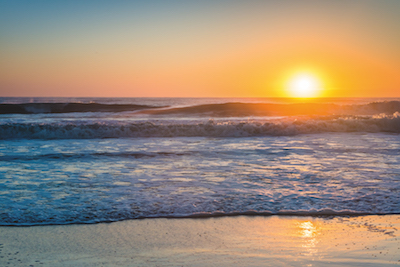 Catch a Sunrise over the Ocean 
On the flip side, the perfect way to start a day is on the east side of the island at the beach. Rise early and bring your coffee, and you'll have a mindful moment of solitude as you watch the sun inch from the horizon. The sound of crashing waves, the feel of sand between your toes, the endless blue water ... you might never want to leave. Better make a plan to come back later in the day. 

Paddle the Sound 
When the wind is light, paddling Currituck Sound in a kayak is a special treat. You can rent a kayak and go on your own, or take a tour with a guide who can show you the best places to go and teach you about the landscape and wildlife along the way. A little bit of a workout, a little bit of a sightseeing tour, a Currituck Sound kayak trip almost always includes sightings of egrets, herons, gulls and pelicans.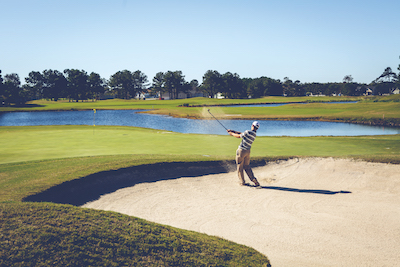 Play a Round of Golf 
From the Outer Banks to the mainland, Currituck County offers six golf courses with beautiful views and plentiful challenges. The Currituck Club in Corolla features a unique barrier island landscape with views of Currituck Sound. On the Currituck mainland, Kilmarlic Golf Club, The Pointe Golf Club, The Carolina Club, Holly Ridge Golf Club and Eagle Creek Golf Club are 18-hole courses that blend the perfect balance of recreation and nature.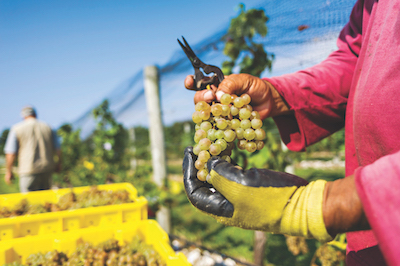 Taste Locally Made Goodness 
You might not expect to find a winery in northeastern North Carolina, but Sanctuary Vineyards in Jarvisburg is a thriving vineyard and winery crafting award-winning wines. The tasting room, right along Caratoke Highway, offers tastings and sales of more than a dozen wines. Just up the road is Weeping Radish Brewery & Butchery. The very first microbrewery in North Carolina, it has perfected the art of brewing beer, and you can take brewery tours or enjoy beers in the restaurant. It's also a butcher making authentic German brats and sausages. For more local tastes, be sure to stop at the produce stands and seafood markets along Caratoke Highway. 
Ride a Ferry to Knotts Island 
Taking the free, 40-minute ferry ride between the Currituck mainland and Knotts Island makes for a very enjoyable daytrip full of mind-expanding marsh and sound scenery. When you get to Knotts Island, you can visit Martin Farm & Winery and possibly pick your own fruit, depending on the season. You can bird watch and hike at Mackay Island National Wildlife Refuge, drive around back roads and look at farms and old houses, and stop for snacks or lunch at The Village Market before getting back on the ferry bound for the mainland. 
For more ideas on traveling in Currituck County, go to visitcurrituck.com.