On June 18, 1985, a thunderstorm tore through the Outer Banks, just in time for the grand opening of Kelly's Restaurant & Tavern. Owner Mike Kelly wasn't particularly worried until the electricity went out. Knowing the show had to go on, however, Mike threw open the doors and invited some of the first diners in to enjoy their meal by candlelight. When power was restored two and a half hours later, people were already having a wonderful time, but Mike had let the photographer he hired to document that famous first night go home.

This is the story behind the fact that only one photograph remains to commemorate Kelly's grand opening. It's a little fuzzy around the edges from age and low lighting, but the central image is still clear: Mike's standing on the steps beside the front door with his first wife and his daughters, Elizabeth and Juliane. The girls — Elizabeth is 6, Juliane is only 3 months old — wear long dresses, and Mike is in slacks and a button-up shirt. Everyone is smiling happily. It's been a great night.  


Now celebrating Kelly's 30th anniversary this year, Mike remembers that opening night vividly. He tells the story with a smile on his face and often 
pauses to laugh as some other detail occurs to him. The menu in his hands has a special anniversary cover that boasts a collage of 77 photographs spanning almost all of the past three decades. Mike has a story as detailed as the one about opening night for each and every one of them.
Many of the photographs are sweet, some of them are funny or historic, and all of them are fascinating. "It's like a visual calendar," Mike says. "It reminds you of all these people and events. You can look at it and remember being a part of something. It's not just names and dates; these are stories. They're memories." 

Consider a photograph of Kelly's first St. Patrick's Day Parade in 1990 that features Mike's youngest daughter and her friends at age 5, and think about how the parade's grown every year since, so that now it's the largest annual gathering in northeastern North Carolina. Or the picture of the ribbon-cutting event Kelly's catered when the Wright Memorial Bridge was reopened with four lanes for the first time. ("At the last minute there was this huge gust of wind and all the food and beverage blew all over the place!" Mike recalls, laughing.) 

Go ahead, indulge your nostalgia: The original six members of Stiff Rods, Mike and his friends' surf fishing team, circa 1973 (they've been fishing on the Outer Banks each year since then); an outdoor shot of the full Kelly's staff in the late '80s, complete with their crisp white shirts and bow ties; Mike dressed up like the Easter bunny at Kelly's first egg hunt in 1991; staff members goofing off as they admire the 2000 Playboy issue that voted Kelly's "The Best Place to Meet Babes" on the beach; Mike and his wife, Willo, celebrating their wedding; and a snapshot of Glenda Morse, who's worked at Kelly's since they opened in 1985 (yes, really!).

Want more wonderfully engaging memories? Think about moments like these: Scott Travis playing onstage at Kelly's at the exact same time VH1 was airing a pre-recorded reunion event that featured Scott's old band, Judas Priest; Dale Earnhardt enjoying a catered luncheon with Mike and Doug Tutwiler at Penguin Isle (now Pamlico Jack's); Mike shaking hands with Chuck Yeager, the first person to break the sound barrier, at a catered event celebrating the anniversary of flight; or the evening football player Dan Marino rocked out during one of Kelly's Open Mic Nights in 1998 when he stopped by on his way to meet friends for a fishing trip on Hatteras Island.

The list goes on and on….

"These photographs give you the basis for a conversation," Mike says. "There's been a real evolution in the hospitality industry over these past few decades in terms of menu offerings, food preparation, staff education and customers' expectations, and we've grown with all of that in mind, but our bottom line is focused on people and all the relationships we're able to make here. For us, being able to offer catering in particular has been amazing because it's allowed us to go to people all over eastern North Carolina in addition to having them come to us. That expands things in many different ways. Everything becomes interconnected."

So whether you're a local resident, you're visiting the Outer Banks or you've had their fantastic catering team come to you, chances are that you also have at least a few cherished memories that involve Kelly's. Here's to making even more of them in the decades still to come…and, of course, don't forget to take a picture!
--------------------------------------
Here are some of the reasons we all love Kelly's:
- Kelly's gives back to the community. More than $600,000 has been donated to Outer Banks charities and causes in the last three decades. 
- Kelly's is a charter member and Gold Member of Outer Banks Catch, supporting and promoting our local fishermen.
- Kelly's recipes have been featured in Bon Appetit and Our State Magazine, helping to make it clear to everyone on the Outer Banks what top-notch restaurants we have here!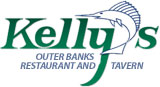 2316 S. Croatan Highway
The Bypass, MP 10.5 | Nags Head
www.kellysrestaurant.com • (252) 441-4116