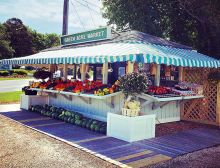 There are two kinds of shoppers in this world: those who regard making purchases as an unavoidable chore and those who consider every buying opportunity to be a joyous, thrilling hunt.
While those in the former category are satisfied with the quickest possible trip to the internet or nearest big-box store, those in the latter category seek shop ops where they can spend hours, even days, browsing and lingering – sniffing the candles, opening the new books just to get that new book smell, nibbling the samples, touching the fuzzy sweaters, reading the funny greeting cards, trying on the hats. 
If you are one of these born shoppers among us, you need to get to Duck. This northern Outer Banks village is more than a small town with a lot of cool shops, it's a retail-recreation destination, drawing people from all over the region to its individually owned boutiques, galleries, restaurants and markets.
One of the wonderful things about Duck is its walkability. The small retail centers and stand-alone stores are in a compact 1-mile area, making it easy to walk from place to place along the roadside sidewalks or soundside boardwalk. 
And what you'll find on those walks is nothing short of a shopping safari. Discoveries are waiting to be made, in each shop, in each center and around each curve in the road. Just as you've finished exploring one totally charming shopping enclave, you'll find there's another one just down the road and another after that and another after that. Best of all, each and every one of the Duck stores is locally owned and operated, so each one is truly individual and unpredictable in style, character and goods. From clothing boutiques to art galleries, seafood stores to farm stands, gourmet food purveyors to outdoors outfitters, there is something for everyone here.
With so much to explore, be sure to allow a big chunk of time for your Duck shopping expedition. And don't worry, there are plenty of restaurants and bars along the way to stop and refuel – or to park those fussy companions who don't love shopping as much as you do!
We have all the things you need for a down-home feast!
Dockside 'N Duck Seafood Market
(252) 261-8687 | 1216 Duck Road | docksidenduckseafood.com
Everything for a fresh- from-the-garden dinner!
Green Acre Market
(252) 261-8687 | 1216 Duck Road
Easy, breezy and stylish
Islands by Amity
(252) 261-5164 | 1240 Duck Road, The Waterfront Shops
Celebrating more than 30 years of unexpected details in fashion.
Lady Victorian
(252) 261-1654 | 1216 Duck Road, Wee Winks Square | ladyvictorian.com
We have Harry Potter Butterscotch Beer & Bertie Bots.
OBX Sugar Shack
(252) 255-5800 | 1190 Duck Road, Osprey Landing | facebook.com/OBXSugarShack
Representing American craftsmen on the Outer Banks since 1979!
Tarheel Trading Co.
Duck: (252) 255-0225 | 1171 Duck Road, Scarborough Lane 
Corolla: (252) 453-3132 | 790-F Ocean Trail, Tim Buck II
tarheeltrading.com