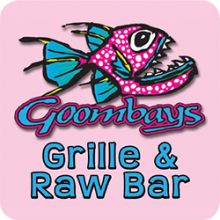 What's in a name? At Goombays Grille & Raw Bar, the answer is a lot. While the singular goombay is most commonly defined as a style of music developed in the Bahamas or the traditional goatskin-covered drums used to create it, it can also refer to a celebratory festival filled with music and dancing. If that evokes a certain type of spirit that's thoroughly creative, fun and exciting, then you've caught on to exactly what makes Goombays one of the premier dining hot spots on the Outer Banks.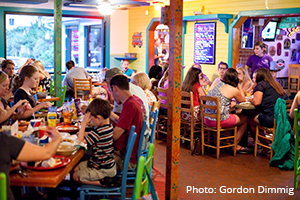 Goombays was originally the brainchild of John Kirchmier, local entrepreneur, fellow island lover, and a longtime friend of Charlie and Karen Hennigan. Charlie joined John and the Goombay's family as a bartender only a year after the restaurant opened its doors in 1992. Charlie and Karen have both been staples in the Outer Banks restaurant industry since the mid '80s, so when John felt that it was time for him to move on, the Hennigans were able to keep things in the family by purchasing the business in 2000.
"It felt as though we were destined to do this," Karen says, which certainly seems true when you consider the success they've enjoyed over the years with locals and visitors alike — in large part because of the balance they've managed to strike from day one of being a lively but casual place that's equally perfect for a special night out as it is an everyday family-friendly hangout.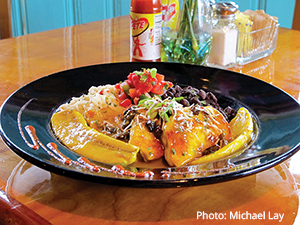 Of course food reigns supreme here, with extensive lunch and dinner menus that focus on Caribbean-influenced fare such as the coconut-crusted Jazzy Chicken with pineapple cream sauce, the distinctive Jamaican Jerk spiced Goombays Grille sandwich with fresh local tuna steak or the jumbo Caberete Shrimp, which was inspired by one of their many trips to the Dominican Republic. Add to that an array of mouthwatering appetizers, soups, salads and an ever-changing assortment of imaginative lunch and dinner specials that fuse flavors from all over the world in order to spotlight some of the best local seafood available seasonally, and all you have left to do is help the little ones select something from the kids' menu (try the fried alligator tail — it really does taste like chicken!) or savor your own selection from the Big Kids Drinks. Might we suggest the Goombays Smash, which comes straight from the Bahamas? This best-selling blend of rum, juice and coconut also comes with a keepsake cup that sports the recipe.  Wine or beer more your style? No problem. Dozens of craft beers grace their impressive drink menu, the majority of which come straight from North Carolina.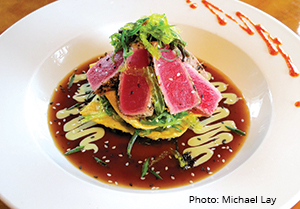 If some of these things sound familiar, it's probably because you've had the good fortune of visiting Goombays before. As loyal customers will attest, Goombays strives to maintain all of their most popular and beloved traditions — from continuously serving up favorite menu items to featuring their famous collection of retired personalized license plates above the bar or highlighting local art on their walls and offering a variety of easily recognizable T-shirts that includes a new, collectable design virtually every year. It all makes for an atmosphere that's playful and deeply sincere about their desire to be a place that both evolves and yet also stays exceptionally familiar to those who love coming in and feeling as though they're home.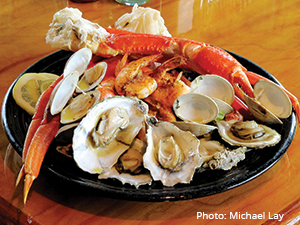 Just ask their employees, many of whom have worked at Goombays for more than a decade. Take, for example, The Amazing Christo, a jack-of-all-trades who's been doing a bit of everything around the restaurant for 20 years now, or the Hennigan's own daughter, Kathrin, who started out working in the T-shirt booth when she was only 11 years old. In fact, many repeat customers know their favorite servers by name and request them each summer (or even more frequently) so that they can catch up like old friends. 
"Over 23 years you have the privilege of developing really deep relationships with so many people," says Karen as she describes how they've seen a number of customers graduate from drinking their children-friendly Shirley Shark to the more adult-themed Killer Shark Cocktail (don't worry, they both still come with a surprise toy!). "We've all become one big family here, and that's what matters most at the end of the day."