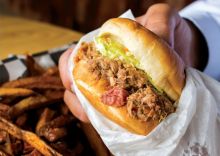 Every Southern town needs a good local barbecue joint where the meat is smoked on-site and the locals come to satisfy their carnivorous cravings. Carolina Bar-B-Que Company is that place on Roanoke Island – though the delicious food, laid-back atmosphere and friendly owner and staff attract diners from much farther afield.
Carolina Bar-B-Que specializes in authentic, pit-cooked Eastern North Carolina pulled-pork barbecue with a tangy vinegar-based sauce (though a tomato-based "Yankee" sauce is available too). Owner Mike Weaver, who touts 30 years of experience at the smoker, cooks it up in the smokehouse out back, along with his special recipe Icky Sticky Kickin' Chicken and Texas Beef Brisket. The menu also includes fried local seafood, burgers, Nathan's hot dogs and the traditional country-style sides (hushpuppies, slaw, house-cut fries, potato salad and baked beans), and everything is highly praised by the locals. Wash it down with fresh-squeezed lemonade or sweet tea, and finish it all off with a Deep-Fried Twinkie.
Enjoy your meal in the charming screened porch setting or take it to go. Ask about catering too.
---

(252) 305-8844
908 U.S. Highway 64
Manteo
ncbbq4u.com