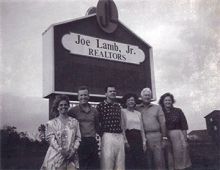 It would have been easier to sell swampland in Florida than a winter rental on the Outer Banks when Joe Lamb Jr. and his wife, Ann, opened their first Nags Head office in 1968. One might wonder what Joe had learned from his association with his father-in-law's family selling real estate in Elizabeth City, Kinston and Roanoke Rapids that prompted him to relocate to an area where there were no traffic lights on any roads. "You can't rent anything down there!" someone told him.
In the previous century, natives, locals and those who vacationed here were very small in number. A hotel, whose burned ruins are now buried under the sand near the sound side of Jockey's Ridge, welcomed what visitors there were at the end of a long pier where steamboats delivered freight. Men were in coat, hat and tie and ladies in long skirts and parasols. At that point, the idea of staying on the oceanfront seemed strange indeed.
Time turned the tide on the Outer Banks when the flood of prosperity that followed WWII opened the area to more and more visitors and those who wanted to own part of it. Boats that first plied the waterways ferrying folks between portals allowed more access until bridges became the floodgates that opened the way for everyone. The focus for vacationers began to shift from the sound to the oceanfront. But even after those days when Joe and Ann arrived, things were mighty quiet between Labor Day and Memorial Day. The still-sparsely settled beaches were, for the most part, abandoned by all but the hardiest in winter. Nags Head, Kill Devil Hills and Kitty Hawk were still summer havens for those who owned cottages, stayed in the old hotels that dotted the strand or quartered at Mom and Pop motels.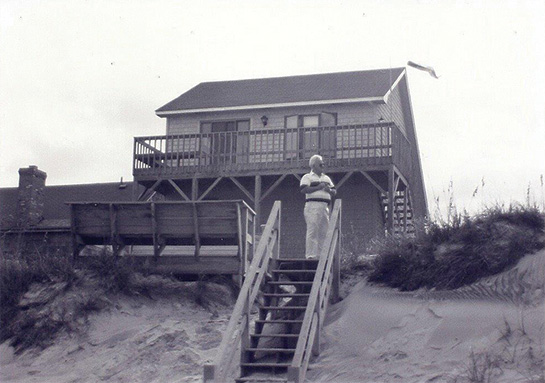 In earlier days, there were only 13 cottages on the oceanfront at the east end of that soundside sand road in Nags Head below Jockey's Ridge (they're still there today, known as The Unpainted Aristocracy). Tenants were family and close friends. Livestock such as pigs, chickens and a milk cow were amenities that made the package more tolerable. Housekeepers were invaluable. It should be no surprise that these first cottage owners were landed gentry from northeastern North Carolina - an area that Joe knew well. But Joe decided to focus on a different market. His estimation was that people who worked in Washington, D.C., might have money. He placed an ad there, and soon after he signed his first contract.
Joe felt it important to follow a big business model. His coat and tie and office may have put him ahead of the game, as at least one of his competitors, who always wore shorts, was much harder to find unless one knew where the fish were running. He remembers colleagues like Ted Wood, Bob Young Sr. and other local businessmen for their close association during those formative times. He muses that one of his first clients decided to do business with him because of how he chose to educate his children.
He credits some of his success to icons such as Alice Sykes of the Sea Ranch or George Crocker, whose Galleon Esplanade shopping creation served as a Nags Head landmark for years, Aycock Brown, whose photographs began the promotion of the Outer Banks, and David Stick, who developed Southern Shores and is known for a myriad of accomplishments. "David and I didn't get along too well," Joe remembers with a smile, "until we had lunch one day. We were good friends after that."
With a customer base built up for almost 50 years, you can bet that Joe and his staff have made friends there too: loyal customers who have depended on Joe Lamb Jr. and Associates to meet their requirements and help them develop their own Outer Banks annual vacation tradition. One regular customer simply calls her agent every year with the comment, "You know what I need." They both know the value of close personal association. It's one of Joe's traditions his staff has learned to share.
Shelly Suddith and her husband, of Gaithersburg, MD, have been customers at the same cottage every year since the mid 1950s. Joe Lamb's staff has managed this particular house for a decade, and over that time, the staff and the Suddiths have grown from a simple agent/customer relationship into a true friendship. But it's not only the kindness and efficiency of Joe's staff that means so much. "This place is like a second home to us," she explains. "Our children remember the Casino and riding dune buggies on the beach before there was a road to Corolla. Those were fabulous days." Now it is a place where she looks forward to bringing great-grandchildren. And even through changes she has seen on the Outer Banks, she is comfortable that the flavor of the beach she knows remains the same.
When her 80th birthday celebration was coming up this summer, she called her friends at Joe Lamb to get help pulling off a big family event. They found a total of seven houses, all within walking distance of each other, to house the 47 of her 50 family members spanning four generations in attendance. Imagine...many of those kids who rode dune buggies on the beach were now here with kids of their own, making their own Outer Banks memories. And that's precisely the type of tradition-making that Joe Lamb built his company around - exactly the outcome Joe wants for all his guests.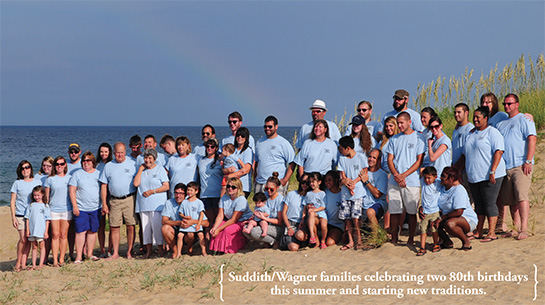 Joe has a patent answer for those who ask him which era on the Outer Banks he likes best. "I liked it then," he grins, "but I like to eat today too." He is quick to admit that some methods have to change with the times. He has his trust in his family business and those valued, seasoned employees that are committed to maintaining the traditions of a company that is still growing. His concern today is keeping that trust with his customers in a modern world with its ever growing, complex communications. While he maintains a prominent place online, he also works hard to keep the personal connection with his clients that, at heart, is the main reason he's in business.
Dynamic traditions are based on the best experiences of the group involved over a period of time. In a nutshell, or clamshell if you will, Joe had the foresight to think beyond himself. He learned early that it was his association with others that would lead to success, and the best successes were those that were shared. If you know him, you know it's not all about Joe. It's about becoming part of a tradition.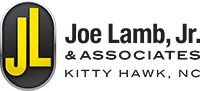 4607 N. Croatan Highway | Mile Post 2.7
(800) 552-6257