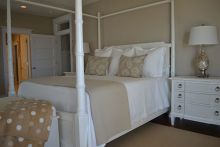 As their name implies, Beach Realty & Construction/Kitty Hawk Rentals is a full-service company that prides itself on the ability to meet a wide variety of customer needs. With interconnected divisions offering real estate services, vacation rentals, property management and custom construction, there is no other company on the Outer Banks that provides the same level of comprehensive service.
For all the success Beach Realty & Construction/Kitty Hawk Rentals has enjoyed over the past 50 years, simply meeting customer needs and expectations is not their only priority. The passionate commitment that underlies everything they do is more direct. They strive for every single customer to feel as though they are working with family.
While all of the services Beach Realty & Construction/Kitty Hawk Rentals offers have clearly met that goal, the results are perhaps most evident in their macro-minded approach to custom construction. From starter homes to custom-built second homes to commercial work, the construction department oversees every project with an attention to detail and a commitment to quality craftsmanship.
"Most of the homeowners we build with become part of the Beach family," says Jimbo Ward, president of Beach Realty & Construction/Kitty Hawk Rentals. "Many of them just don't believe it until they've experienced it."
For clients who have experienced it, many would likely describe it as life-changing. Mitch and Carla Norville are two clients who would certainly testify to this after a massive fire of an unknown origin completely destroyed their beloved oceanfront home on the evening of April 14, 2012. Although the Norville family was devastated over the loss, they remained hopeful because they knew exactly who to turn to – the dedicated team of construction professionals who originally built their home 10 years earlier, Beach Realty & Construction. "Mitch and Carla came to us right away. We've worked with them for so long that we're all comfortable with each other," says Jimbo. "They're incredibly gracious and patient, and they knew we'd take care of them."
Beach Realty started the permitting process almost immediately and then hit an unexpected snag. It seemed as though everyone, including Currituck County officials, was unaware of a law passed by the Coastal Resources Commission in 2009 that addressed oceanfront property. According to the new law, oceanfront structures larger than 4,999 square feet had to be located 120 feet back from the first line of vegetation. Considering that the setback for the original home was only 60 feet, the Norville's oceanfront lot could not accommodate the size of their proposed rebuild under the new restrictions.
Resilience is a beautiful thing, though, and Beach Realty made it their priority to help coastal homeowners challenge the law in court. Ultimately, the collective determination resulted in a North Carolina act of Congress that changed the law. Thanks to the magnitude of their efforts and hard work, there is now a bill that allows any oceanfront property destroyed by a natural disaster to be rebuilt on the previous footprint. It was a stunning victory not only for Beach Realty and their clients, but also for all coastal homeowners in North Carolina.
With renewed enthusiasm, Beach Realty resumed construction on the Norville's home just a little more than seven months after the fire in November 2012. They received an occupancy permit less than a year later on November 1, 2013.
When asked if that marked the end of Beach Realty's latest construction project with the Norville's, Jimbo laughs good-naturedly. "With a house that big, we are committed to seeing every detail through to completion," he says. "We'll be there for them when they need us. It's just part of the deal."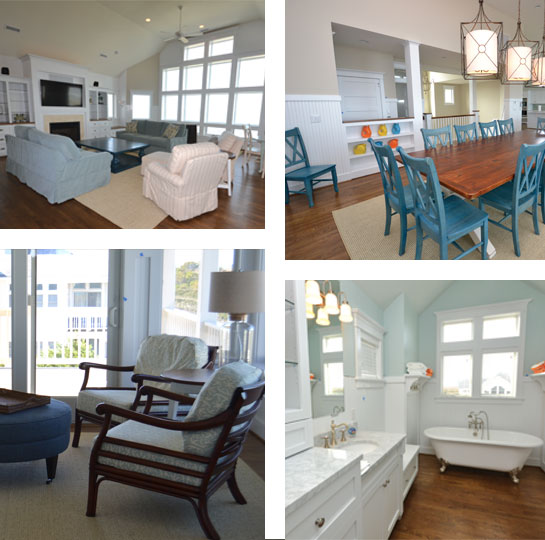 At the end of the day, "being part of the deal" is the nucleus of the specialized family treatment Beach Realty & Construction offers. Not only do the Norville's have their treasured home reconstructed, but they are also proud to be part of the interconnected community Beach Realty strives to create with all their clients. This community includes everyone from a client who enlists their services for a single project to a client who brings multiple projects into the "Beach" community and spawns a decades-long relationship.
"It's very real to us," Jimbo says about the family-centered connection they work toward with every client. "Cost is certainly one thing to consider, and we do, but maybe the most important thing to think about is how you dovetail with the culture of a business. That's what's really important."
The overall culture of Beach Realty & Construction/Kitty Hawk Rentals is clearly focused on building relationships. It's all part of the unparalleled customer service they've been providing for 50 years. Their commitment to working with everyone as friends and family has made Beach Realty a frontrunner in terms of the way they interact and merge with their clients throughout the various company divisions.
Making your dreams comes true? That's just part of the deal.
Experience the service that Beach Realty & Construction/Kitty Hawk Rentals has been providing for more than 50 years.

(800) 635-1559
Offices in Kitty Hawk, Duck & Corolla