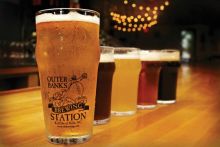 You expect to find food in a microbrewery's taproom, at the very least a salty pretzel to cleanse your palate between flights or a giant burger to help temper your beer buzz. What you might not expect is an intriguingly diverse menu that is as much a highlight of the brewery as the beer list.

Yet that's what you'll find at Outer Banks Brewing Station, where they put as much love into the food as they do the beer.

"Guests who were expecting pub grub are always pleasantly surprised," Executive Chef Tony Duman says. "They always say it's a lot better food experience than they were hoping for."

The fact that Outer Banks Brewing Station has both a culinary school-trained executive chef and pastry chef is telling.

"We've always shot higher in regard to food because we wanted to break the stereotype of brew pubs only doing fried food," says Eric Reece, one of the four owners.

Shooting higher inspires their eclectic menu offerings. Seafood lovers swoon over the Seared Tuna Stack, Tuna Brewdha Bowl and ever-changing Pan-Seared Scallops and Risotto combo, while meat eaters gobble up the Yard Bird Fried Chicken Sandwich, Bison Burger and N.Y. Strip. Vegetarians and vegans are well taken care of with menu staples like Station Tofu in mole sauce, Local's Pasta and Veggie Chipotle Burger. Pastry Chef Tina MacKenzie's Carrot Cake is legendary, as is her Pecan Tart with Salted Caramel Ice Cream. Truth be told, all of her desserts are slam dunks.


Eat Your Beer
What really stands out about Outer Banks Brewing Station is their dedication to cooking with their beers. One thing that they've learned over the last 20 years is that, while the beer and the food are both great on their own, they are even better together. 

This goes beyond the obvious pairing of a beer with a menu item. Sure, you can get a refreshing Hugh Hefeweizen with a pound of Spiced Shrimp or a belly-warming Shaazam Brown with an OBBS Cuban Sandwich. But the Brewing Station takes it a step further with unexpected cuisine options that actually incorporate the beer and its by-products into the dishes – so you can eat the beer as well as drink it. 
Two of the many popular incarnations of beer in the food are the best-selling Olsch-battered, tempura-style Fish & Chips and North Cackalackee Fried Shrimp. 

"Just about every restaurant on the Outer Banks makes fried seafood," Eric says. "But we're the only place where you can get fried fish battered in the beer made on site as well as a glass of that beer."
Tina has even found a way to incorporate beer into dessert; hence, the conception of Chocolate Oatmeal Stout Cake, Brewer's Malt Ice Cream and Beer Cookies. 

Even more interesting is that Chef Tony cooks with by-products of the brewing process, not just the liquid result. He makes pizza dough and crackers with the spent grain and gastriques, glazes and sauces with the wort – a sugary liquid extracted during the mashing process of brewing. 

"We like to be different and try new things," Tony says, and it's that inventive spirit that led to the much-loved Pork & Beer menu staple. 

"We wanted to find a way to incorporate beer into a product regularly," Eric says. "And pork was a natural fit for its versatility and its popularity in North Carolina." 

A few examples of Pork & Beer entrees: beer-brined pork loin with sweet potato puree and a root beer BBQ sauce; charcuterie plate with beer jelly and spent-grain crackers, beer-battered pork belly with beer mustard; chicken-fried port with a wort-based gastrique and picked veggies; and beer-braised pork shanks with potatoes, carrots, onions and celery.

"This creativity with beer and food really sets us apart," Tony says. "It's not a gimmick. It's good. This way, we use the product and by-product that are produced right here on site. We introduce people to our beers and to what you can do with those beers outside of drinking them."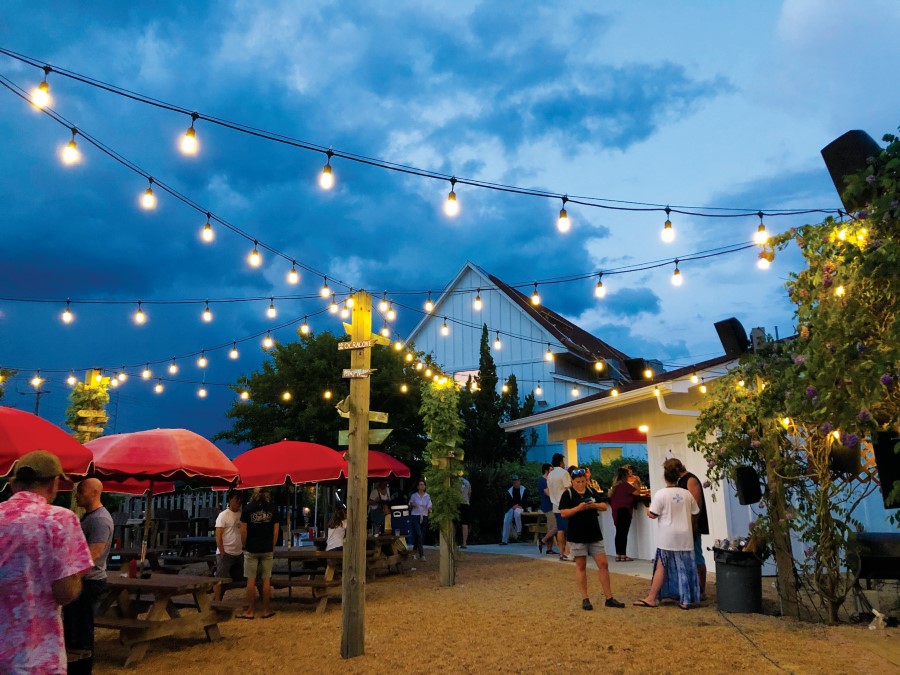 The Brewing Station has a commitment to using local food as much as possible, including locally grown produce, locally harvested seafood and some crowd-pleasing brats made from pigs raised at Cartwright Family Farms in Pungo, Virginia. Their ultimate pasture-to-plate offering is the local beef that is fed with their own spent grain. In this unique, full-circle arrangement, Cartwright Farms (no relation to the pig farmer) of nearby Hertford uses the spent grain from Outer Banks Brewing Station as a portion of feed for their cows. The Brewing Station, in turn, serves the beef on its menu, always in an inventive recipe.  

Another area where Tony's creativity shines is with the weekly tapas menu in the off-season. Each Thursday night for 26 weeks from October to March, Tony features a different type of cuisine for Tapas Night, including vegan and vegetarian tapas every second Thursday.

"We get to have fun and learn new stuff," Tony says. "Because if you're not evolving, then what are you doing?"

Eric says what it comes down to is two types of restaurant philosophies. "You have the ones that do the same thing all the time so that they become icons of a specific type of food, or you have the ones that are constantly reinventing themselves because that's what keeps people interested. We fall into that latter category."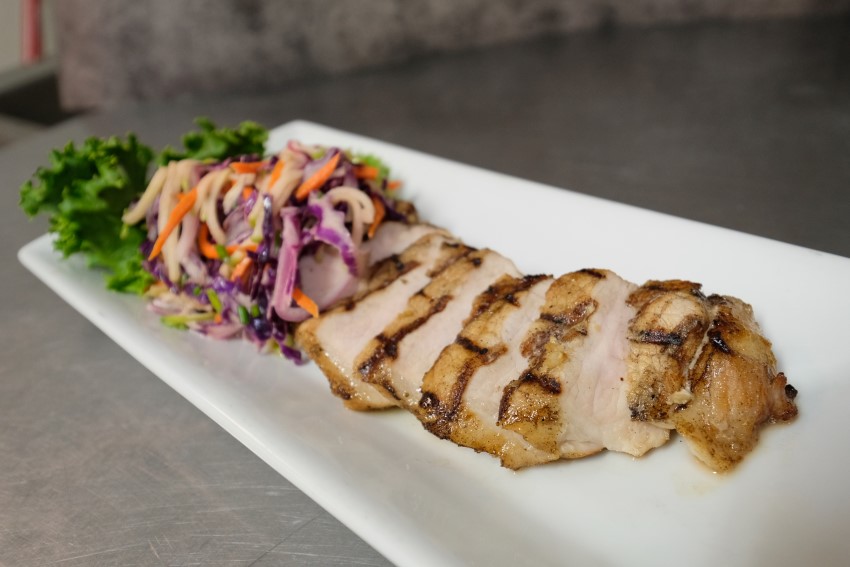 PORK & BEER
Chef Tony Duman's ever-changing combinations of pork cooked with house-brewed beer or its by-products are a highlight of Outer Banks Brewing Station's dinner menu. Here, he shares a favorite Pork & Beer recipe.

Maple Beer Glazed Pork Chops with Sour Ale Apple Slaw
By Chef Tony Duman

Pork Chops
4 bone-in thick center-cut or rib chop pork chops
2 tablespoons extra virgin olive oil
3 cups warm water
2 tablespoons salt
1 tablespoon black peppercorns 
1 tablespoon whole allspice
1 tablespoon whole cloves
1 tablespoon brown sugar
14 ounces OBBS Olsch or your favorite kolsch-style beer
Maple Beer Glaze
3 tablespoons maple syrup
2 tablespoons OBBS Olsch or your favorite kolsch-style beer 
2 teaspoons minced garlic 
1 tablespoon minced ginger Apple Slaw
1 Granny Smith apple, julienned
2 cups red cabbage, shredded 
¼ red onion, julienned 
¼ cup carrots
¼ cup mayonnaise 
2 ounces sour ale
2 ounces honey
salt and pepper to taste
Method
Mix warm water, salt, cloves, allspice, peppercorns and brown sugar until salt and sugar dissolve, then add cold beer and pork. Let brine for 2 to 3 hours.
Heat an outdoor grill to high heat, about 500 degrees Fahrenheit.
Prepare your chops by pulling them out of the brine and drying them off with paper towels before rubbing both sides with olive oil.
In a small bowl, stir together maple syrup, Olsch, garlic and ginger. You will be brushing this on the pork chops every 5 minutes.
Grill the chop by searing each side for 2 minutes over the high heat. Remove the chops to an upper rack or to a spot with indirect heat to finish cooking. 
Reduce the burners to medium, close the lid and cook for about another 15 minutes more. Brush the maple beer glaze on the chops every 5 minutes. Actual cooking time will depend on the heat of your grill and the thickness of your pork chop. Pork needs to be cooked to an internal temperature of 145 degrees Fahrenheit.
Let pork chops rest 5 to 10 minutes before serving.
While the chops are resting, mix the mayo, sour ale and honey in a larger bowl. Then coat the veggies and apples thoroughly, and season to taste.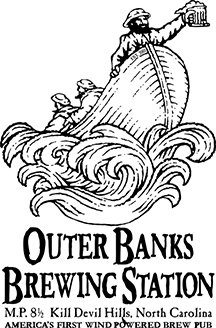 (252) 449-2739
600 S. Croatan  Highway, Kill Devil Hills