A restaurant born from a hardware store has got to have a story. You just can't go from nails and tools and such to an amber-lighted, cool (I really want to say groovy), hugely popular business that locals are passionate about and visitors are excited to discover without some sort of history. This is Ocean Boulevard, an American bistro and martini bar, and one of the most forward-thinking restaurants on the beach that morphed out of the old Virginia Dare Hardware Store, built in 1948.
While totally different from the hardware business, Ocean Boulevard Bistro & Martini Bar - or OB as many locals call it - kept some of the bone structure as ambiance: exposed steel beams, enormous picture windows and brick walls. To this they added an open kitchen framed in red brick, tables set with fresh white linens and signature blue water glasses and flanked by curvy wooden benches just waiting for you to slide in, a half-wall of glass and wood and a hand-crafted concrete bar that perfectly complements the sophisticated and stylish cocktails that are served from its polished surface.
But, as appealing as the building is, Ocean Boulevard wouldn't be the success it is without equally compelling food. And the food! It's locally and regionally sourced and seasonal, so the quality is obvious even before you bite into it - you can tell by the color and texture that it hasn't been shipped across country. The main menu (there is also a small plate menu and a vegetarian menu) is divided into three sections: Starters, Greens and Big Plates. Depending on the time of year, starters may include pepper-seared rare tuna sashimi with poke, the famous OB Skillet filled with pork shoulder, goat cheese, lime, cumin and cilantro with house-made tortillas and condiments, mussels steamed in coconut milk or cast iron-seared scallops. Greens always feature a seven-lettuce salad, a classic Caesar and a Bistro Salad. Big Plates boast artfully composed dishes such as farm-raised steelhead trout, fresh local catch, Angus beef tenderloin and crab cakes, each one paired creatively with local vegetables, heirloom grits, sharp cheddar and green onion potato croquettes, ricotta polenta cakes and an array of sweet and savory sauces.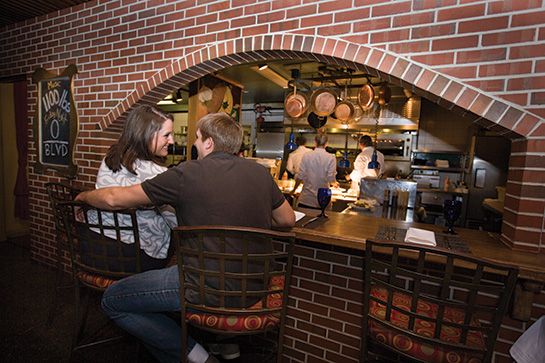 The genius behind OB for the past 15 years is Donny King, a bespectacled youngish man with sandy blond hair who, when he's not in the kitchen working magic, is always walking around the restaurant smiling and talking with his guests. He sees them as that - his guests, not simply customers. Originally from Hampton Roads, King moved to the Outer Banks to further expand his career as an Executive Chef at 1587 in downtown Manteo, quickly establishing himself as an innovative and award-winning master of food. Along with his wife, Heather, who King says is the driving force behind the organization of the front of the house, the two work side by side with what King calls a "synchronized team," Chef de Cuisine Mike Thomas and Sous Chef Timothy Gard. Of Michael Thomas, King says, "He is a rare creative talent." Together they have won many awards including the 2009 and 2011 March of Dimes Signature Chef Series and the 2009 "Duck in Duck" competition.
The OB team spirit extends throughout the staff, most of whom have been working for King for more than 10 years. The consistency, professionalism and dedication of the knowledgeable staff are all apparent as soon as you walk in the door. One review remarks, "Too many restaurants don't have consistency in the quality of their food, the customer service or even the ambiance during your dining experience. Ocean Boulevard does!"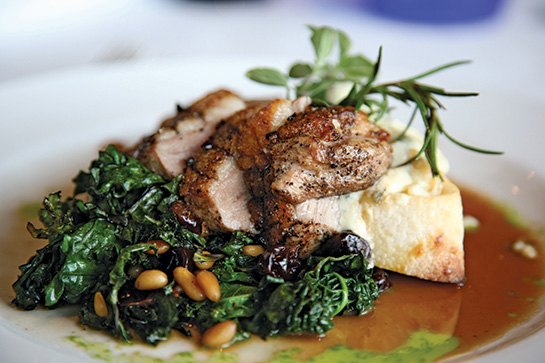 The restaurant means many things to many people. To hundreds of locals it is their neighborhood hangout, a place to stop in for a quick drink or bite where the bartender knows who you are and what you like. For one octogenarian gentleman who visits from Pittsburgh every summer, Ocean Boulevard Bistro & Martini Bar is his daily 5 p.m. stop for a short one after an hour-long work out. The entire staff anticipates his arrival, each one pausing to give him a hand shake or hug. Vacationers make this their one night during their week-long stay when they hire a sitter to have a date night.
OB is also a mainstay for late night music on Friday evenings where space is made after the dinner rush for homegrown and regional acts ranging from jazz to rock and roll and blues. When the music is just right - as it usually is - and everyone in the place is caught up in the vibe, this is one of the most perfect places to experience a band on the Outer Banks. Music also takes place on the outdoor patio nightly in season and features the best in solo acoustic acts and small combos. The ocean-side patio offers a full-service menu and is a great perch for people watching as beach lovers come and go and walkers, runners, bikers and cars cruise by. Anytime the weather is nice you'll find the patio packed with happy diners, drinkers and music lovers.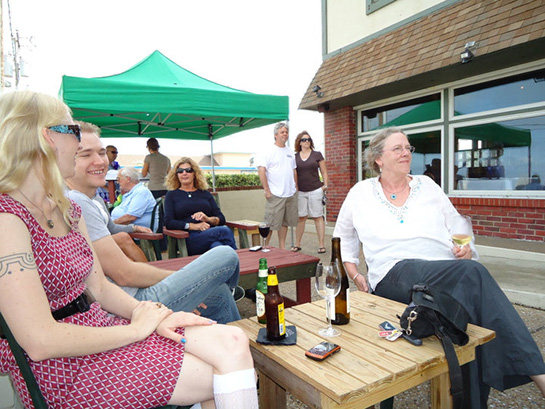 A late night food menu is available on Fridays starting at 11 p.m. (can you say mac 'n' cheese?), and the bartenders show off their pouring prowess shaking up award-winning martinis that, like the menu, change seasonally. Dennis Day, the resident bartending guru, has maintained OB's premiere Martini Bar status for more than a decade, whereas many other martini bars have come and gone. In 2014, they earned enough votes to win Best Martini Bar in a local poll. When asked about the inspiration for some of the sought after libations, resident bartender Dennis laughs, "Lots of R&D."
Research and development actually are a necessary part of the creation of OB's craft cocktails, and a lot of emphasis is placed on locally sourced herbs and homemade ingredients like mint and rosemary syrup, hand-stuffed olives, fresh-squeezed juices and homemade sour mix. For those who prefer beer or wine, OB has a healthy selection of seasonal micro brews and an extensive wine list that includes more than 250 wines from all over the world. OB is also gaining a lot of appeal with the addition of Annette O'Donnell as the Event Coordinator, adding on- and off-site catered events to the list of offerings.
It all comes together into a pretty great package. You know you've been a part of an Outer Banks legend restaurant when you end your visit. And, if you're like most of us locals who sing the praises of Ocean Boulevard Bistro and Martini Bar, you're likely to come again. We'll see you there.
(252) 261-2546 | MP 2.5 on the Beach Road | Kitty Hawk |
obbistro.com