On the Outer Banks, Columbus Day weekend has become synonymous with the lively sounds of jazz. In 2007 the Town of Duck, the newest and smallest of the Outer Banks incorporated towns, hosted its first Duck Jazz Festival on the Sunday of Columbus Day weekend. Sixteen years later, the free festival, always held the first weekend in October, has grown into a two-day, widely known event drawing 6,000+ music lovers and nationally known acts.
The 14th annual (they had to cancel in 2020 and 2021 due to the pandemic) Duck Jazz Festival is coming up on October 7 and 8, and it's time to start making plans to attend. Here are 10 reasons you should go to this ultra-cool Outer Banks event.
1. Real-Deal Jazz
Duck Jazz Festival hosts top-quality national touring acts as well as regional and local jazz musicians, booked by people who know great jazz. The headliner, John Brown and The Little Big Band, is a 11-piece N.C.-based band (12-piece with their vocalist) with a big sound that's in high demand across the country. The Funky Knuckles is a high-energy, world-class jazz sextet based in Dallas, Texas. Greg Duncan of the Greg Duncan Organ Quartet is a Philadelphia-based composter and jazz trumpet player who has toured and performed all over the world.
Here's the full lineup:
Saturday, October 7
4 pm: Michael Hawkins and The Brotherhood in Duck Town Park
7:30 pm: Live Jam at The Blue Point
Sunday, October 8
11 am: The Hot Lanes with Bobby Jasinski – Town Green
12:10 pm: First Flight High School Honors Jazz Band – Amphitheatre
1:10 pm: Greg Duncan Organ Quartet – Town Green
2:20 pm: Jazz is Led – Amphitheatre
3:25 pm: The Funky Knuckles
4:30 pm: Brass Queens – Amphitheatre
5:25 pm: John Brown and The Little Big Band
2. It's Free!
Thanks to sponsors and the Town of Duck, Duck Jazz Festival has always been completely free and nonticketed. Just show up! Businesses and organizations you can thank for seeing this music for free include presenting sponsor PNC Bank, Nags Head Hammocks, Outer Banks This Week, Outer Banks Visitors Guide, Ripple Fiber, VHB, 102.5 The Shark and 96.7 The Coast and many more. The full list of sponsors is available here. In addition to a great day of music in the park on two stages, the Duck Jazz Festival provides an educational workshop for Dare County High School music students and interactive learning experiences for old and young.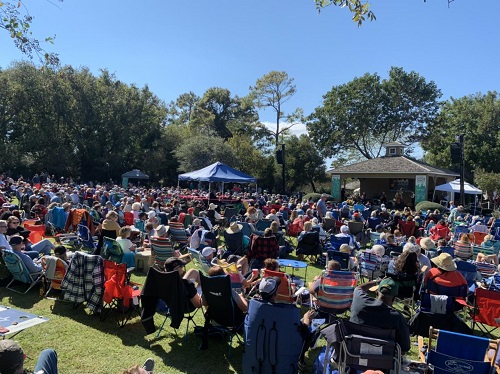 3. The Whole Town Gets Involved
Duck Town Park's Town Green and Amphitheatre are home base for the festival, but the music and the fun spills over into the whole town. Saturday night's jam with Michael Hawkins and the Brotherhood takes place and The Blue Point, a restaurant in the Waterfront Shops. Live music, jam sessions, artist appearances and special events take place throughout town all weekend. Follow Duck Jazz Festival on Facebook or follow Outer Banks This Week's events listings here. The great thing about Duck is that everything — restaurants, bars, shops, the music, the park — is within walking or biking distance in the small commercial district.
4. Duck in the Off-Season
If you know the Outer Banks in the off-season, you know what we're talking about! Having said that, the festival is a big draw on a busy off-season weekend. So while there are nowhere near as many people as a week in July, if you want to make accommodations and restaurant reservations for Columbus Day weekend, you should do that now. The Town of Duck proper does not have hotels, so vacation rentals (some companies allow three-day rentals for this weekend instead of a week) or short-term rentals are your options. Sanderling Resort is very close to Duck and a very nice place to stay. For hotels, Hampton Inn & Suites in Corolla or Hilton Garden Inn in Kitty Hawk are two options within a 10-minute drive of the festival site.
5. Seating is Easy
Bring chairs or blankets to sit on. Ocean Atlantic Rentals will be renting chairs on-site as well. Seating is first-come, first-served so if you're choosy about where you sit or you have a large group, get there early, stake out a spot and make a day of it. Gates open at 10 a.m., and the music starts at 11 a.m.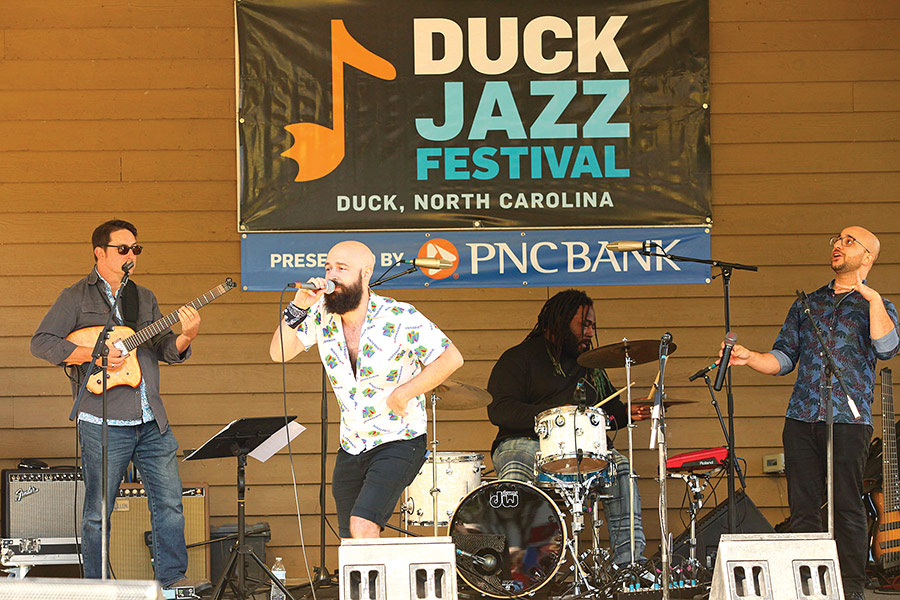 6. Rain or Shine
The musicians play in a covered area, so the festival goes on even if it rains. If it looks like rain, wear a raincoat because umbrellas and tents are not allowed. On a positive note, this ensures that everyone can see the stage.
7. Super-Cool Food and Drink Policy
Bring a cooler with your own food and beverages if you want to, even glass bottles. They are fine with that. You can gather up all the tasty things you want to eat and drink in the Town of Duck. Charcuterie, sushi, sandwiches, biscuits, beer, wine, spirits, you name it. Click these links for specialty markets and gourmet food, restaurants and beer and wine purveyors. Food and drink vendors will be on site as well, saving you the trouble of packing a cooler. Every festival should be this easy. Note that they ask you to take your empty glass bottles home with you for the safety of the cleanup volunteers. Bring your resuable water bottles to fill up at the water stations.
8. Pups are Welcome
As long as your (fill in the blank)-doodles are well-behaved, they are welcome. Keep them on a leash, of course, and be prepared to clean up after them.
9. A Festival with an Environmental Policy
Recognizing the Outer Banks' fragile environment, The Town of Duck is committed to environmental stewardship, even at the festival. The town commits to reducing single-use plastic waste at its events by offering water bottle refilling stations and encouraging vendors to reduce single-use plastic. They use solar-powered trash compactors and offer recycling facilities at the event.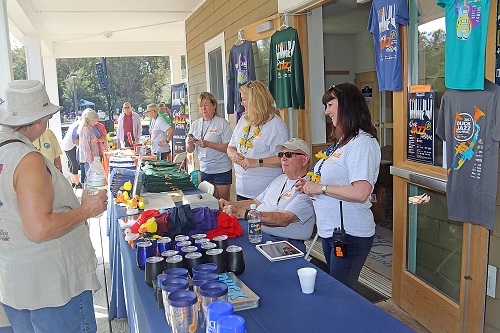 10. Volunteering is Fun
Duck Jazz Festival is not possible without volunteers. Whether you live on the Outer Banks, own a home here or you're just visiting for the weekend, your help is welcome. Contact Volunteer Coordinator Betsy Trimble at (252) 255-1234 or btrimble@townofduck.com
Beyond the festival, Kay Nickens, public information and events director for the Town of Duck, hopes that the free festival can serve as an opportunity to foster a spirit of volunteerism and inspire folks to give back to our community all year round. She is looking at ways that the Town of Duck can coordinate partnerships between local businesses in Duck and collaborate with local charitable or nonprofit organizations, like the SPCA, food banks, shelter services, disaster relief organizations and others that serve the needs of our area. The idea is to inspire festival goers to give back to the community in addition to having a good time and hearing great music.
"People always say that the Outer Banks gives them so much," Nickens says. "Why not give something in return? It doesn't have to be money, it could even be just gaining an awareness of certain things like what resources are available here and what the needs of the community are. It could be looking into what the Outer Banks has to offer because it's more than just a travel destination, it is home to a lot of people."
All in all, Duck Jazz Festival is just a fun way to build community.
"Jazz has a very colorful, lively music culture, and that's mirrored by the festival in terms of it bringing people together," Nickens says. "We can celebrate the fellowship that music creates."
Bonus Reasons to Love This Festival!
One of the Duck Jazz Festival artists, John Brown, will be facilitating a masterclass workshop with the First Flight High School Honors Jazz Band, and they are working on having a student or students play with Brown at their performance on October 8.
At the Bias Speakers Series in Duck on October 5 (the Thursday before the festival), Douglas Jackson, professor of music at Elizabeth City State University and founder of the Elizabeth City State University Jazz Festival, will be the speaker. This will take place at 6:30 p.m. in the Paul F. Keller Meeting Hall.
On Friday, October 6, Duck Jazz Festival will kick off with a Jazz Movie on the Green, La La Land. Bring blankets, lawn chairs, picnics and coolers to this free event, starting at 6:50 p.m.
Duck Jazz Festival
October 7 and 8, 2023
11 a.m. to 6 p.m.
Free!