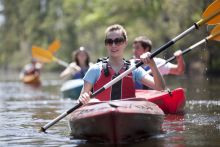 Paddling a kayak is a fun way to experience the Outer Banks on the water. Kayaking is easy to learn, safe and fun – and as long as the winds are light, it's a relatively easy watersport. You can find guided or solo kayak adventures in the ocean, sounds, creeks, lakes and canals around the Outer Banks. Here are five of our favorites.
Fly Fishing in a Standup Kayak with OBX on the Fly
OBX on the Fly is a fly-fishing shop in downtown Manteo. They offer kayak fishing trips extraordinaire in Torqueedo-powered Bonafide kayaks. The quiet 3 hp motors allow you to go farther faster than traditional paddled kayaks, but the shallow draft of the kayak allows you fishing grounds that boats can't reach. The kayaks are stable and comfortable, even allowing you to stand while fishing. Depending on the season, you might catch drum, trout, flounder or something else wonderful.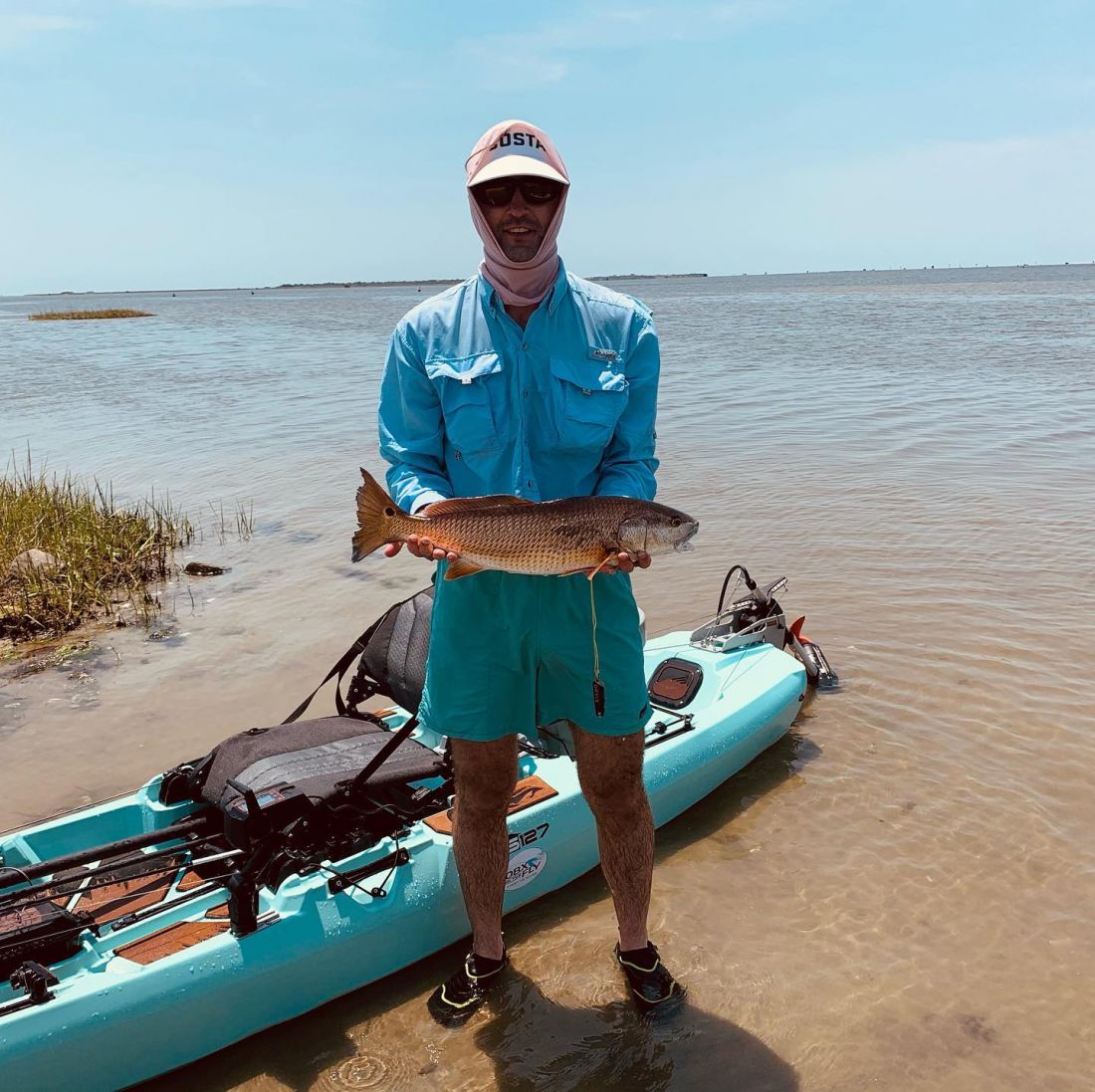 This photo and above: Kayak fly fishing with OBX on the Fly.
Double up on the adventure with Back Country Safari Tours in Corolla. On this outing you will not only enjoy a kayak paddle, but also see the wild horses in Corolla. The three-hour tour starts with an off-road adventure along nearly 15 miles of beach, dunes and rugged sand trails in an open-air cruiser. You'll likely see wild Spanish mustangs, birds and other wildlife. The 4x4 safari takes you to Back Country's private Mustang Preserve, where you'll launch kayaks and paddle through serpentine creeks and marshes. It's very possible that you'll see the wild horses from the kayaks as well, as they are often found at the sound's edge. You'll definitely see a lot of birds and likely other wildlife as well. A naturalist guide will point out everything you're seeing and tell you about the ecology of the barrier island and Currituck Sound.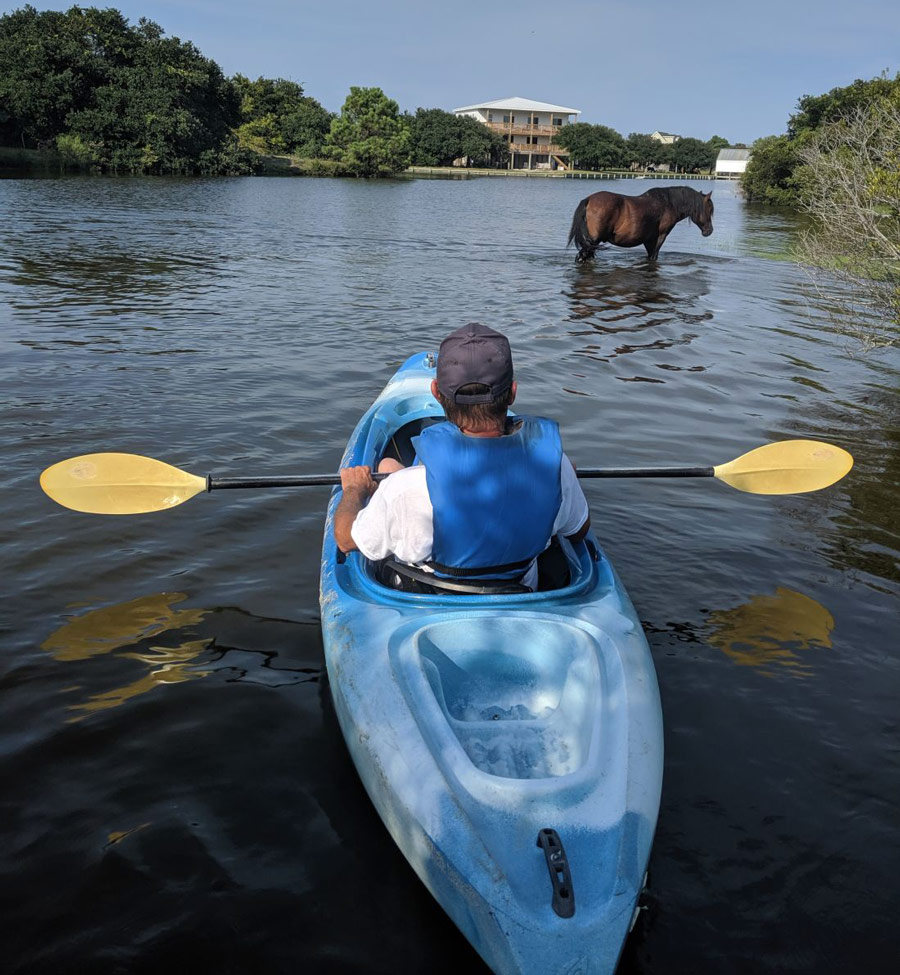 Spotting wild horses in Corolla with Back Country 4x4 and Kayak Safari — remember to always stay at least 50 feet away from a wild horse!
Alligators and an Old Moonshine Town with Kitty Hawk Kites
Alligator River National Wildlife Refuge is a wild and humongous place, and, yes, it's teeming with wildlife. The size of the refuge can make it an intimidating place to visit. But if you go on a guided kayak tour, you'll see a lot of really cool stuff in a short time. Kitty Hawk Kites offers kayak tours in the refuge. You'll paddle Milltail Creek and likely see birds and other wildlife (I personally have seen alligators in this area, as well as otters). You'll also see the remnants of Buffalo City, a former logging community, and hear the story of how it was one of the East Coast moonshine capitals during Prohibition.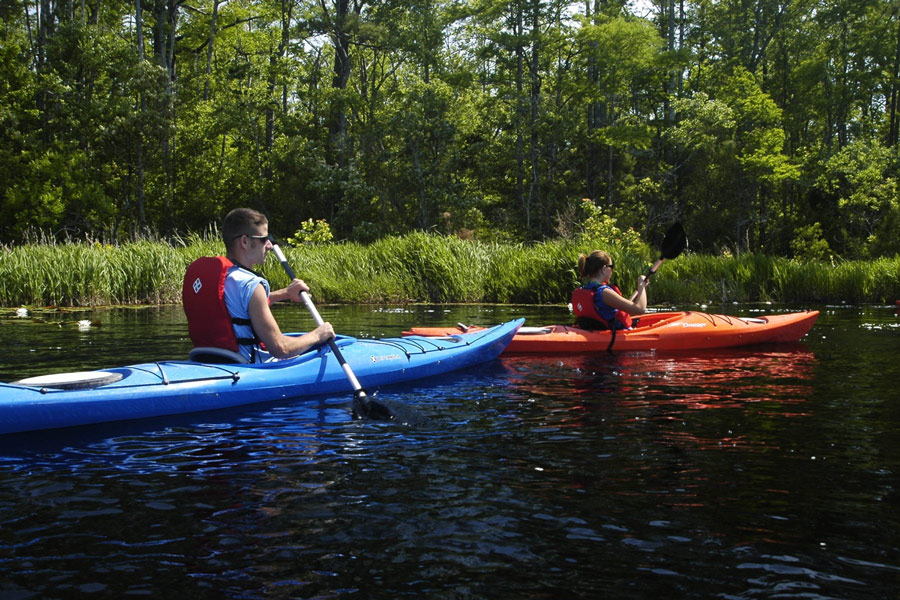 Paddling the tannic-rich waters of Milltail Creek in Alligator River National Wildlife Refuge with Kitty Hawk Kites.
Solo Pamlico Sound Adventures with Ocean Air Sports
If you're looking for an adventure that you can do solo, not with a guide, Ocean Air Sports in Avon is a great place to do it. You can rent kayaks and launch them right from Ocean Air Sports' private docks and head out into Pamlico Sound. The waters are warm and shallow, which makes kayaking a safe experience. You can head north for immersion in the salt marsh habitat, stopping along secluded beaches along the way. You can even explore an old-growth oak forest and historic graveyard. Or you can head south to explore beaches, creeks and canals and circumnavigate Big Island in the sound.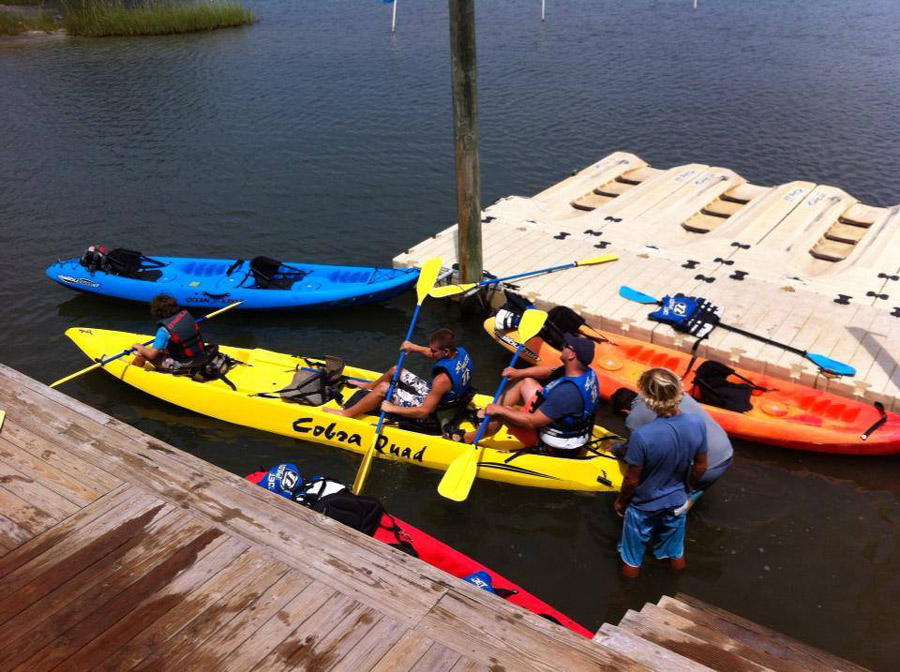 All set to take off on a Pamlico Sound paddling trip at Ocean Air Sports in Avon.
Harbor and Pirate Stomping Grounds Paddle with Ride the Wind Surf Shop
Seeing Ocracoke Island from the water is an extra-special treat. Ride the Wind, the island's only surf shop, offers two-hour guided tours that begin in the island's beautiful harbor, known as Silver Lake. You'll kayak from the harbor into Pamlico Sound and head toward Springers Point Nature Preserve. Along the way, the guide will point out flora and fauna and tell you about the history of the island. You'll paddle right by the place where the pirate Blackbeard was killed off the island in 1718. Morning, sunset and full moon tours are available.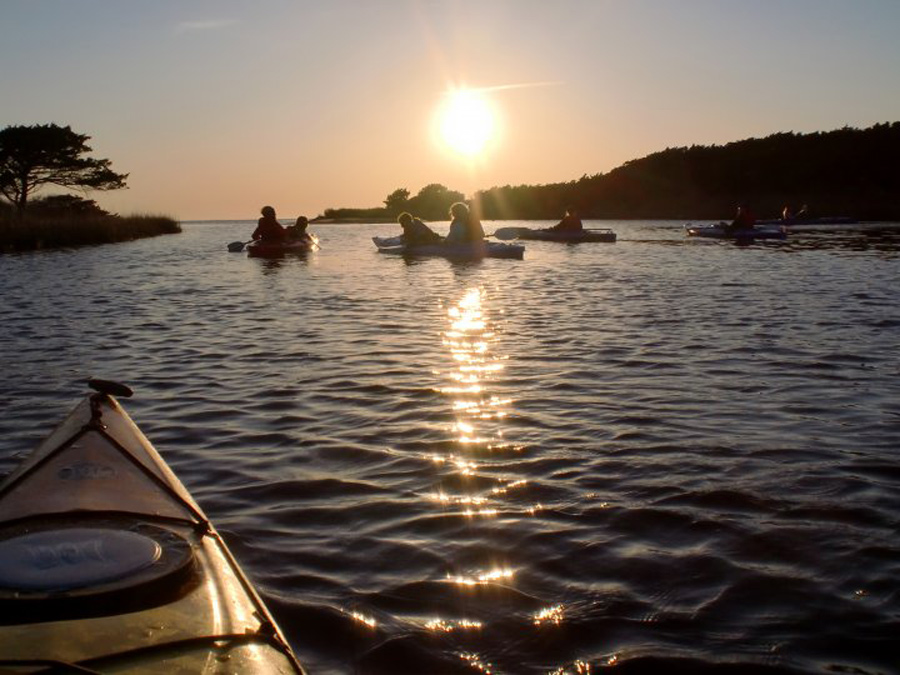 A sunset paddle with Ride the Wind Surf Shop in Orcacoke.
These five suggestions are only a fraction of the kayak adventures you can experience on the Outer Banks. To see all of the companies offering kayak adventures on the Outer Banks, click here.