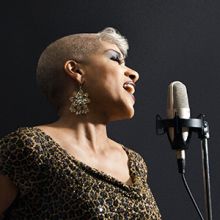 Last October, the morning of the Duck Jazz Festival dawned gray and dreary and I slowly sipped my way through one cup of coffee and then another while pondering whether I really wanted to drive all the way from Manteo to Duck just to get rained on and drive back home soaking wet. But late in the morning the clouds above Roanoke Island began to separate, like ice floes breaking apart in a warming body of water, and I decided to risk it. Turned out to be one of the best decisions I've made during my years following music on the Outer Banks. The venue itself is practically worth the trip, located amongst the rolling wooded dunes of Duck and just steps away from spectacular views of the Currituck Sound. And the musicians! From the top of the bill to the bottom the talent was amazing, and it was with dismay that I reluctantly accepted the end of each artist's set only to be thrilled anew by the next one.
The list of performers (see below) for the 8th Annual Duck Jazz Festival on Sunday, October 12 promises similar musical bliss. Gates will open at Duck Town Park at 10 a.m. with performances beginning at 11 a.m. and continuing until dusk. Admission is...FREE. Yes, free. I know, right? Parking is basically first come, closest parked. But I would note that despite my late arrival last year (the first performance had already begun by the time I reached Duck), I had no problem finding safe parking just a short and healthy walk from the venue. What about food, you ask? (Eating well has become an essential part of the modern outdoor music festival experience.) Let's just say, if last year's vendoring is to be any guide, you can expect a high Yum Factor among the various vendors' offerings. And of course you can bring your own picnic lunch to enjoy while you listen to an afternoon of great music. All in all, not a bad way to spend an autumn Sunday on the Outer Banks. Did I mention it's free? It's free. Freeeeeee.
For more information visit the Town of Duck website.
Schedule of performances:
11 a.m. - 12 p.m. John Brown Quartet, Main Stage
12 p.m. - 12:30 p.m. Connected, Amphitheater Stage
12:30 p.m. - 1:30 p.m. Lipbone Redding, Main Stage
1:30 p.m. - 2:15 p.m. John Brown's "informance," Amphitheater Stage
2 p.m. - 3:30 p.m. The Legendary Louis Hayes & The Jazz Communicators, Main Stage
3:30 p.m. - 4 p.m. First Flight High School Jazz Band, Amphitheater Stage
4 p.m. - 5:30 p.m. René Marie's I Wanna Be Evil - With Love to Eartha Kitt, Main Stage
René Marie
Award-winning jazz vocalist René Marie will perform her latest project, a tribute to the great singer, dancer and actress Eartha Kitt, as the headliner of the 2014 Duck Jazz Festival. Marie's performance of I Wanna Be Evil (with Love to Eartha Kitt) will introduce many in the Duck audience to a talent known and admired in jazz circles for years for her vocal range, the emotional resonance of her performances, her mastery of the art of entertaining and willingness to take risks. Incorporating a distinctly American mélange of jazz, soul, blues, folk and gospel, Virginia native René Marie is one of today's leading jazz divas.
Louis Hayes and The Jazz Communicators
During his 60-plus year career, jazz drummer Louis Hayes has performed with a veritable pantheon of jazz luminaries that includes John Coltrane, Cannonball Adderley, Kenny Burrell, Freddie Hubbard, Hank Mobley, Joe Henderson, Oscar Peterson, Woody Shaw, Nancy Wilson, Dexter Gordon, McCoy Tyner, Ray Brown, Tommy Flanagan and a host of others. With bassist Sam Jones, he was the percussion half of what was considered one of the best rhythm sections in mid-century jazz. His list of recorded work begins in the late 1950s and continues through every decade since, right up to his latest release, Return of the Jazz Communicators, just this year. Not content to rest on his impressive accomplishments, Hayes continues his leadership role by mentoring young jazz artists and performing with an ever-evolving array of musicians of all ages and musical styles for audiences around the world.
Lipbone Redding
North Carolina native Lawrence "Lipbone" Redding is many things: songwriter, guitarist, singer, composer, performance artist, world traveler, tale teller. In 1998, already an accomplished performance artist and aspiring songwriter, he began playing in the subways of Manhattan where he honed his craft in the labyrinth of the New York City Transit system before striking out for South America, a trip that led him to believe that music was the key to spirituality and community. Since returning to the United States Lipbone has traveled extensively throughout the country playing in venues on campuses and in communities large and small as part of his goal of living a sustainable life comprised of music, travel and creativity. Lipbone has released eight albums and has collaborated with artists, musicians, theater groups and dance troupes. He continues to tour widely, performing more than 200 shows a year.
John Brown
John Brown is a bassist, composer, educator and actor who has also served as director of Duke University's jazz program for the past decade. During his musician career he has performed with numerous top jazz talents, including last year's Duck Jazz Festival headliner Delfeayo Marsalis as well as Wynton Marsalis, Ellis Marsalis, Rosemary Clooney, Elvin Jones, Nnenna Freelon and many more. Brown's contributions to jazz are not limited to his roles as bandleader or as a sideman in other's bands. He dedicates a significant portion of his time and energy to jazz performance education and will present an "informance" on the Amphitheater Stage as part of his appearance at Duck's jazz festival.
Connected
Connected, a band from Elizabeth City formerly known as Jazz Connection, was founded by Wayne James, band director of Northeastern High School in 1996 and has featured many of the top jazz musicians of the Albemarle region. Current band members include Dennis Figgs on piano and keyboards, Wayne James on trumpet, Steve Raisor on bass and rhythm guitar, David Credle on rhythm and lead guitar, CJ Mercer on bass, Joshua Swain a.k.a. "Dante Funkmaster" on bass, Chris Bittner on tenor saxophone, Ellard Forrester on drums and percussion, and Andrea Morris and Jackie Boyce on vocals.
Special Note As a part of the jazz-filled weekend, a screening of The Aristocats will be held on the Duck Town Green Friday, October 10. The movie, which will begin at dusk, will be free (although donations to benefit the movie's presenter, Children@Play Museum, will be welcome).