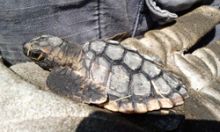 Hurricane Irene. As if you haven't heard enough about it on TV and the Internet for the past week, it's just about the only thing you'll hear Outer Bankers talking about these days. Yes, it was a horrible storm. Yes, it brought historic levels of soundside flooding. Yes, it has cut off Hatteras Island from the world. BUT, miraculously, summer vacation fun has returned to the Outer Banks - well, at least the northern Outer Banks...
There are many layers of stories here: the northern Outer Banks, in this case, Nags Head to Corolla, and the southern Outer Banks, Hatteras and Ocracoke Islands. On the northern Outer Banks ocean side, it's as if the storm never happened. The beaches are intact, for the most part. You may find oceanfront stairs gone in some towns. The Town of Nags Head's newly nourished, $34 million beaches are still nice and wide (much to the amazement of many naysayers). The main roads are open, vacationers are filling up the rental houses, and sunbathers are out there enjoying the beaches...
The soundside of the island is a bit of a different story. Many of the locals' neighborhoods on the soundside suffered damage in the storm. While soundside yards are a huge mess and many homes were destroyed in areas like Colington, Kitty Hawk, Kill Devil Hills, Nags Head, Manteo and Duck, for the most part people on the northern Outer Banks are OK. The essentials - water, power, cable, Internet - are working for most people. We're functional though messy on the west side. Soundside swimming and recreating is discouraged, however...
Hatteras Island is a different world altogether. N.C. Highway 12 has breached in several places north of Rodanthe, and, at this writing, the islanders were without power, phone service and Internet. Gasoline for generators and cars was running out. Numerous soundside homes in Rodanthe were destroyed. It's going to be a while before our friends on Hatteras are operating at full steam, but with ferries getting into operation and supplies coming in, they're going to be okay in the long run. * At this writing, the reports from Ocracoke are that there is still no power and that visitors are not being allowed in...
What I love about Outer Bankers is that no one is complaining. Those who were affected by the storm are not whining about their circumstances. How could we complain? We choose to live on a sandbar in the middle of the sea in the known path of the Atlantic hurricanes. It's a chance we take to live in paradise. Now we just rally and do what needs to be done to move on...
So, as Labor Day weekend approaches, the northern Outer Banks is laying out the welcome mat for visitors. Visitors are welcome from Roanoke Island to Nags Head to Corolla. You might find that some of the areas on the west side are messy (especially west Nags Head, KDH, Kitty Hawk, Duck and Manteo), but you'll find that the northern Outer Banks is ready for Labor Day...
So what can you do on the northern beaches this week besides sit on the beach soaking up the last days of summer sun (as if that's not enough)?
Shop, for one. Most all of the stores are open as normal, save for a few in Manteo and Duck, and the end of the summer sales are on! You'll find some good deals on summer stuff plus lots of new fall and winter merchandise coming in. * Dine. Most all of our restaurants are back in the swing of things. * Laugh. At the Comedy Club of the Outer Banks. This week, Rob Brackinridge and Kate Brindle are performing at the Club, which is held in the Ramada Plaza in KDH. Call (252) 207-9950. * Party: Restaurants and clubs are pulling out the entertainment for a big end of summer weekend. Live music is abundant around here this week so check around the By Night section for a list of fun stuff to do...
Many attractions are reopening. But call before you head out as some are not at this writing but plan to open later this week. You'll find all of our attractions listed on this website; search for them by the location...
The Elizabethan Gardens needs help cleaning up all the debris in the gardens. Pitch in when you can. The Gardens is also having a Good Bye Irene Plant Sale and Gift Shop Sale on Saturday and Sunday. They hope to open on Thursday. Call (252) 473-3234...
The Whalehead Club is open, and they are hosting their Wine Festival on Wednesday from 3 to 7 p.m. Join them for wines, music and fun, for only $20. Call (252) 453-9040 for info...
ARTspace Studio and Gallery in Southern Shores is opening up its September show, The Abstract, on Wednesday from 5 to 7 p.m. Stop by to meet the artists and see the works. Call (252) 261-2787...
Due to Irene, things may be a little more quiet this weekend than a typical Labor Day weekend on the northern Outer Banks. Locals may be a little preoccupied with the cleanup. But, rest assured, the northern Outer Banks is open and ready to roll...
Have a great Labor Day weekend! Good luck to all the locals who are cleaning up, and happy times to all the visitors who are here on our beaches...