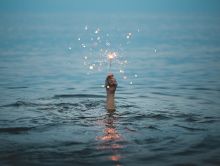 Plenty of us are swapping grill recipes, practicing for cornhole tournaments and scouting out the best places to view fireworks. Yep, it's looking a lot like the 4th, and have you decided how to spend it? Many of us have our own traditions so tried and true that it's hard to imagine a holiday without them. Personally, I have grand plans to bake a pie and jam out to Jimi Hendrix, but I'm also looking to vary it up this year. Last week's blog highlighted keynote Outer Banks events for Independence Day, such as homegrown parades and town-organized fireworks shows. As much as it hurts to admit defeat, we can't all drive along a two-lane highway in hopes of reaching a festive destination. But fear not – hipsters and beatniks can rejoice because after asking around, I've crafted a few offbeat ways to celebrate the most popular holiday on the Outer Banks.
Photo credits to Kristopher Roller
Off the Beaten Path for Fireworks
Literally. Fireworks are a blast to watch, and they can still be spectacularly show-stopping even when not overhead. Throughout the Outer Banks, public fireworks shows will fill the night sky beginning between 8 and 9:30 p.m. on the 4th (or on July 3rd for Ocracoke). To get optimal views with fewer crowds, venture to a quieter venue by heading, yes, off the beaten path.
This flat beach lets you see for miles and miles (or climb to the top of Jockey's Ridge or the Wright Brothers Memorial for views of both the ocean and the sound). So if, for example, you're on the beach in Kill Devil Hills, you'll still be able to see the fireworks when you're a couple of miles away from Avalon Pier.
Watching the fireworks throw splashes of color over the ocean while at a beach access a few miles from the launching site gives you the best of both worlds – amazing views and a less crowded patch of beach. Take a trip to your favorite beach access in Kill Devil Hills, Nags Head or Hatteras Island (just make sure you're a good ways away from Avalon Pier, Nags Head Pier or Avon Pier). Lay out a blanket, towel or beach chair and stare up at the stars. If you have a big group in tow, the plentiful, open space gives everyone room to comfortably enjoy the show.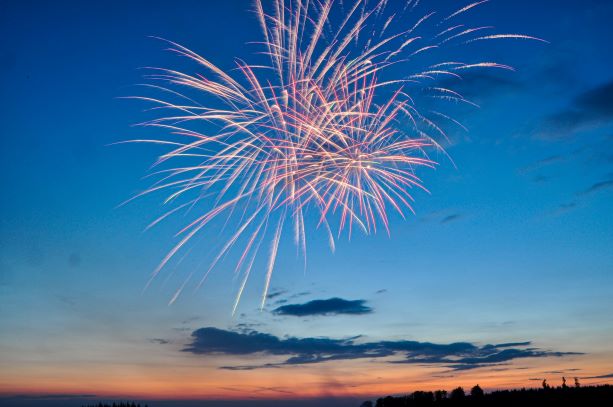 Photo credits to Jan Ivo Henze
On the other hand, many of the soundside houses in Roanoke Island, Nags Head and Kill Devil Hills overlook Manteo's fireworks show. If you're a member of this lucky bunch, you can enjoy the show without even needing to leave your own home.
For a peaceful retreat that distances you from the lights and activity, however, the Roanoke Trail sound access at the Nags Head Woods Nature Preserve is a choice locale not on many people's radars.
And if you really want to get off the beaten path – like, actually off it – set off into the sound or ocean aboard a boat, kayak or paddleboard. Spending the 4th of July on a boat is a go-to activity for many people on the Outer Banks, and if you're on a boat the same time of any nearby fireworks displays, your day will grow that much better. Choose the best viewing position for the fireworks in Manteo, Nags Head, Kill Devil Hills or Corolla without the interference of surrounding lights (aside from the light your vessel is required to have!). Ooo, ahh and float to your heart's content – that's what our Founding Fathers would've wanted. (Pro tip: Cut a foam noodle into smaller pieces and attach them to the sides of your cooler so that it that floats alongside your kayak, paddleboard or inner tube.)
Off-The-Beaten-Path Festivities
Then again, in the true spirit of hipsterhood, watching fireworks is still a pretty mainstream activity for the holiday. For an out-of-the-box option, don't miss Visit Ocracoke's annual Sand Sculpture Contest. The islanders take this tradition quite seriously, and it'll be held Thursday, July 4, from 9:30 a.m. to 12 p.m., on Lifeguard Beach. Using only materials found on the beach, a shovel and your bare hands, you too can enter a masterpiece in the competition.
Make the 4th a time for fitness in addition to a time for fireworks. The Killer Dunes 2-Miler and Fun Run returns for its 14th year to Jockey's Ridge. At this festive race, runners and walkers must overcome the 2-mile course on the tallest living sand dune in the eastern United States. There's also the quarter-mile Fun Run for younger racers or anyone who wants to take it easy in the 80-plus degree heat. The start time is 8:30 a.m. You can register in advance here or on-site the day of the event.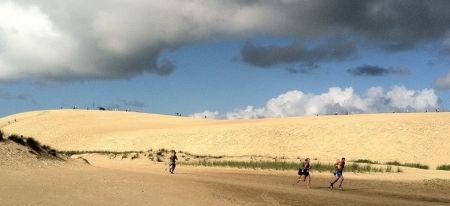 Photo credits to Outer Banks Running Company
Samuel Adams was a Founding Father, but lest we overlook that he's also the namesake for the delicious, American brew. In the spirit of patriotism, raise a glass to our great nation at the Independence Beer Mile Run. This annual event at the Outer Banks Brewing Station invites you to don your finest 4th attire, and run/drink, run/drink, run/drink your way to the finish line, which is at a party in the brewery's backyard. Runs are broken up by the quarter-mile, and at each stopping point you hydrate with a 12-ounce beer.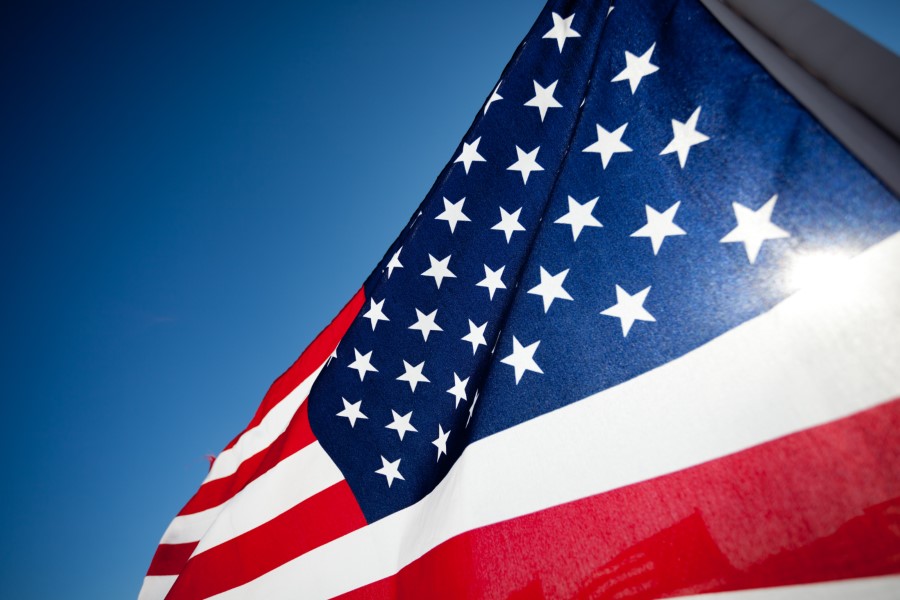 Finally, here are a couple of other creative ways to enjoy the Outer Banks during the holiday while still avoiding the hubbub:
Take a bike! Avoid driving on the Bypass or Highway 12 by biking to your destinations through back-road routes. Smartphone apps, like RoadWarrior Route Planner, map out directions to less-traveled routes that cyclists and drivers can follow. If biking at dusk or at night, follow the rules of the road, and make sure your bike has lights.
Dine out for the 4th! Many Outer Banks restaurants are relatively uncrowded on the 4th of July since most people either cook or go to house parties. Get into your restaurant of choice with little or no wait time.
Hatteras Parade! Check out Hatteras Village's Golf Cart Parade for a different sort of procession. All festively decorated golf carts are welcome to join the route between Teach's Marina to Eagle Pass Road. This event begins at 5:15 p.m.
For more events happening on the Outer Banks, check out our Daytime Events page. And to find live updates from different towns about fireworks, festivals and more, our Nightlife page keeps you in the know.