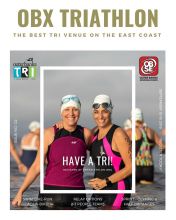 Ray Robinson, where to begin? Nonprofit wizard? Community leader? The ultimate fellow-man? They all apply. His motto is, "Create lasting change in our community," which he's done by dedicating his life to nonprofit organizations wherever he is. Ray moved to the Outer Banks in April 2017, when he accepted the executive director position at Outer Banks Sporting Events. He arrived with two goals: Revitalizing OBSE's fundraising and immersing himself in the Outer Banks community.
He jumped into both. According to Ken Wells, the board chair at OBSE, Ray "was a pair of fresh eyes. He quickly got a grasp on the community and our current supporters, and then reached beyond that, looking at organizations to partner with and ways to bring in fresh sponsorship."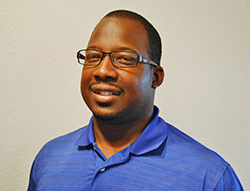 For OBSE Ray wanted to, in his words, "ramp up their nonprofit management to the next level." He started making contacts in local municipalities and in the local government, appealing for grants and sponsorship. Though Ray had a large audience to reach, he worked it person to person, raising awareness about OBSE's philanthropy for the Outer Banks Relief Foundation and the Dare Education Foundation.
His method to such a personal approach? According to Kenneth, "Ray planted himself in the community and really got to know it." Ray arrived on the Outer Banks as though he'd lived here his whole life. He set a goal of meeting 100 new people every month – one that he succeeded in keeping. He joined multiple organizations and committees, including Children & Youth Partnership for Dare County and Outer Banks Chamber of Commerce's Community Housing Initiative. In addition to community orientation, Ray also embraced an Outer Banks lifestyle, discovering that he loves boating and golfing in his spare time.
Photo: Ray Robinson, executive director of Outer Banks Sporting Events, will be leaving his position for a new opportunity as soon as a new executive director is hired, but he will continue as a volunteer with the nonprofit organization.
By making himself an Outer Banks local, Ray got to know the area and the people. "It's all about reciprocity," Ray says. He knew that if he committed himself to the community and its nonprofit organizations, they'd return it to Outer Banks Sporting Events in the form of support, sponsorship, gifts, volunteering or even event participation.
His devotion and diligence paid off. After just a year, Ray had increased the income of gifts to OBSE by 20% and upped their estimated net output by 150%. One hundred percent of the organization's net proceeds went back into the local community, specifically the Dare Education Foundation and the Outer Banks Relief Foundation. The 2017 Outer Banks Marathon weekend brought more than $60 million in economic impact to the Outer Banks community.
In between immersing himself in his new community and serving as the executive director at OBSE, Ray began a side project: starting his own private equity firm. A friend approached him and offered him the chance to work in the financial field. With this, Ray saw a new opportunity in which he could continue helping people by improving the value of their companies' investments – an opportunity, for him, that was too good to pass. However, it required a sacrifice: resignation as executive director at OBSE.
Leaving an executive director position is not an easy move, and Ray knows this. While he's excited about his new business venture, he's sad to leave his role at OBSE. Although his occupation will change once a new executive director is hired, his commitment to the organization won't waver. He'll volunteer regularly at the office, helping with whatever they need, whether that's nonprofit management consulting or making coffee. He also plans to volunteer at all OBSE events.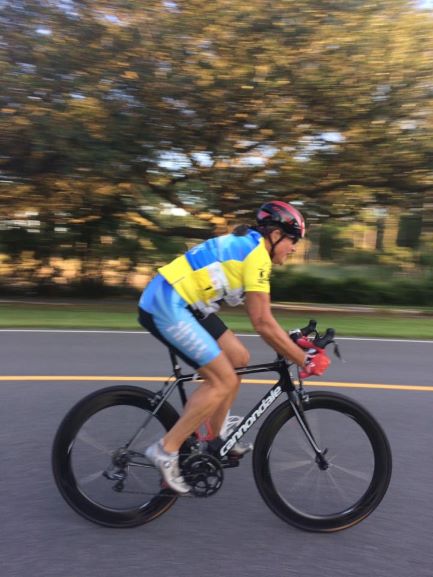 In the meantime, though, Ray's sight is set on the upcoming Outer Banks Triathlon, scheduled for September 14 to 16.
"Last year's event was a success, but I still felt it needed a little, oh I don't know . . . je ne sais quoi," Ray says with a chuckle. He decided that they'd best achieve that by transforming a race that many participants would consider an Event of their Weekend or an Event of their Month into one that all would call the Event of their Year.
It's a tall order to fill, but Ray and OBSE are rising to the challenge by routing the race's course in a way that complements the triathlon experience. This year's event gives participants a historical swimming-biking-running tour of Manteo.
The swim course starts at the Old Swimming Hole by the Dare County Regional Airport, then racers bike from there to The Elizabethan Gardens, where they'll follow the course out on foot then back again on the Freedom Trail. This year's course places the finish line at The Elizabethan Gardens, another change. After participants cross it, they're welcomed with an after-party in the gardens, complete with a beer garden, delicious food and great music. Ray hopes that this year's course and the experience of a triathlon will create a memory-laden event that people will treasure for years.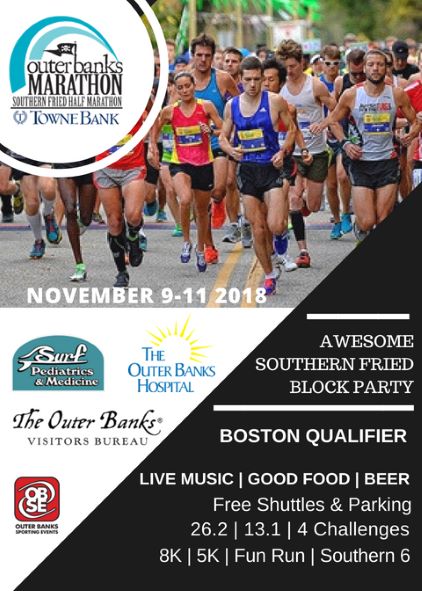 "At the end of it all," Ray says, knowingly borrowing a quote, "People won't always remember what you said or what you did, but they will how you made them feel."
He believes that the new course for the triathlon will bring people back for the following years and continue to attract new participants. Additionally, he hopes that racers' nostalgia for the fun experience of the triathlon will garner anticipation for the Outer Banks Marathon weekend (November 9 to 11) which will cover the Outer Banks from the Woods Road in Kitty Hawk to the Manteo waterfront.
No matter where Ray is in his transition from OBSE to his own firm, he plans to be at both events, volunteering in any way he can, be that assisting the event managers or passing out water to runners. He's loved the enthusiastic support that he's received from OBSE's board of directors, such as John Gillam III and Ken Wells. He knows that no way of giving back to the organization is small or insignificant.
There's still time for you to join the Outer Banks Triathlon experience as a volunteer! Visit the available opportunities on the event's website. For those thinking ahead, sign up for the Outer Banks Marathon here!