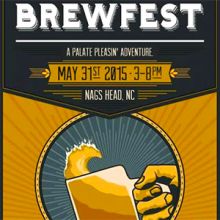 There is comfort to be found in tradition. And on the Outer Banks the annual opening of The Lost Colony is one of those experiences. Entering its 78th season with its opening at Waterside Theatre on Roanoke Island this Friday, May 29 at 7:30 p.m., the play tells the story of America's first English colonists and their mysterious disappearance into the wilderness of the New World some 428 years ago. Having personally attended something in the neighborhood of two dozen performances over the years, it is still difficult to overstate the grandeur of the Tony Honor Award-winning stage production or its magnificent setting overlooking the Albemarle Sound. You just don't find lavish productions like The Lost Colony anymore, not outdoors under the stars! Each summer the theater company gathers together more than 200 talented actors, dancers, singers, technicians, designers and volunteers to bring this quintessentially American story to life. And there's not a bad seat in the house, with action taking place on three sides of the audience! The Lost Colony will be performed Monday-Saturday at 7:30 p.m. each night through August 22. Tickets can be purchased online or at the box office located at the Waterside Theatre entrance. Tickets are $30/adults, $28/seniors aged 62 and older, $25/students aged 13-18, $10/children aged 6 to 12 with children 5 and younger admitted free every night. A VIP Package is $40 ($20 for kids 12 and younger).

Driving Fore the Cure Tournament
Statistics tell us that one out of every eight American women will be diagnosed with breast cancer during her lifetime. It is certainly true that, within my own circle of family and friends, several have battled the disease. Early detection is key to successful treatment, but diagnosis and treatment can be expensive and completely beyond the means of some women. This is where the Links Ladies of Nags Head Golf Links have stepped in to sponsor Driving Fore The Cure, an all-women golf tournament at Nags Head Golf Links beginning at 8 a.m. this Saturday, May 30 and dedicated to raising money for two local breast cancer initiatives. Get Pinked, through the Outer Banks Hospital, provides screening mammograms for local women and men who cannot afford them. The Tanger Breast Cancer Fund administered by the Outer Banks Relief Foundation provides relief money and support for local people who suffer from Breast Cancer. Visit the tournament's Facebook page for more information on participating or donating.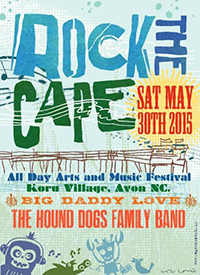 3rd Annual Rock the Cape Festival
The Dare County Arts Council will host the 3rd Annual Rock The Cape festival at Koru Village in Avon on Saturday, May 30 from 11 a.m. to 4 p.m. The event, a fundraiser for the Dare County Arts Council, includes a free art show, live art demonstrations, hands-on children's crafts and activities and a concert featuring the bands Big Daddy Love and The Hound Dog Family Band. Tickets are $12 in advance, $18 at the door and are available online at BrownPaperTickets.com and at the following local outlets: Koru Village in Avon, Dare County Arts Council in Manteo and Cloud Nine Gallery in Nags Head. For more information e-mail dareartsinfo@gmail.com, call (252) 473-5558 or visit the Arts Council website.
Beer Run?
Brewathlon Adventure Race
In advance of the Sunday's OBX Brewfest, the Inaugural OBX Brewathlon Adventure Race provides participants with an opportunity to work up a thirst with a race that incorporates seven classic Outer Banks adventure sports and beach-oriented leisure activities: surfing, horseshoes, running, cornhole, standup paddleboarding, kayaking and BBQ and brews! Held Saturday, May 30 at 11 a.m. at the Forrest Street Public Beach Access in Nags Head, each physical activity will be followed by a traditional beach game or activity. Prizes will be awarded for the top finishers in several categories (see the event website for more details), and participants will receive a Brewathlon Adventure Race shirt and entrance into the race after party at Pamlico Jack's with brews, barbecue and live music from local rock legends Zack Mexico! Pre-registration is required. Entry is $35/person, $99/4-person team (with an event shirt included). Participants must be 21 or older.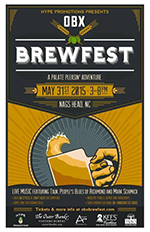 OBX Brewfest
OBX Brewfest opens Sunday, May 31 at 3 p.m. in the Outer Banks Event Site at Milepost 16 with the stated mission of inspiring and showcasing the area's culinary, performing and visual arts through a craft beer cultural event boasting more than 80 tasty libations from around the United States. Attendees will find everything from homebrew demonstrations and beer-centric workshops hosted by industry professionals to a variety of live music to "Games for Grown Folks" (which will include a field day-style game zone chock-full of activities including life-sized Jenga, keg bowling, human foosball, life-size Connect Four and more). And, of course, brews. And more brews.
Non-drinkers can enjoy samples of more than 20 handcrafted sodas at the festival's Soda Garden, and several local restaurants will be onsite to provide food for purchase throughout the event. Some participating restaurants will also provide "culinary teams" to present educational segments such as "Cooking with Beer," "Homebrew 101," "Beer & Cheese," "Repurposed Beer Art," "Design Your Own Beer Garden," "Plant to Pint: Where Your Beer Comes From," and more. Live music will feature TAUK, People's Blues of Richmond and the Mark Schimick String Band!
Tickets are $40 in advance, $50 at the gate and can be purchased through the Brewfest Facebook page or through the event website. The first 250 tickets will be sold at a discounted price of $25 and include unlimited samplings as well as a commemorative tasting glass. Obviously, you must be 21 to partake of any alcoholic beverages being served. Lodging packages can also be found on the event website.
Bridal Mixers
During the past decade the Outer Banks has become a leading wedding destination. Planning a wedding, particularly one taking place far from home, can be daunting. The Outer Banks Wedding Association is ready to help out with its Bridal Mixers, a series of get-togethers where engaged couples can meet local wedding planners and vendors. The next mixer will be held Wednesday, June 3 from 3 to 5 p.m. at the Hilton Garden Inn in Kitty Hawk. Attendees will enjoy light hors d'oeuvres, champagne and a cash bar. You can also enter for a chance to win $500 off the room or rental package you choose, if you book during the mixer. Participating vendors will include An Outer Banks Affair, Icing on the Cake, Argyles Events & Catering, Reverend Tanya Young, SOULone, Ocean Atlantic Event Rentals, Kitty Hawk Kites, Neil GT Photography, Visuals by Helen, Ceremonies by Cynthia, Pelican's Landing, OBX Celebrations Hot Heads Hair Design Studio, Genevieve Stewart Photography, A2Z Letter Art, The Flower Gallery of Harris Teeter, Grand Ritz Palm, Club Violin, Julie Dreelins' Beach Productions, When Doves Fly, The Good Life Gourmet, Daniel Pullen Photography, Kristi Midgette Photography, Sarah D'Ambra Photography, Reel Love Weddings by Baldwin Video and Honeysuckle Events. For more information about this or future mixers, visit the Outer Banks Wedding Association's website.

Windmill Point Art Fair
Get outside, enjoy the Spring weather and check out the newly upgraded Outer Banks Event Site at Milepost 15 in Nags Head on Thursday, June 4 from 10 a.m. to 6 p.m. during the Windmill Point Art Fair. The free fair is a gathering of local artists and craftspeople to benefit the Outer Banks Children at Play Museum.