Hurricane Dorian barreled over the North Carolina coast about a dozen weeks ago and is now a blip in many people's memories. For the folks on south Hatteras and Ocracoke islands, however, the storm's effects remain immediate and – especially after this past weekend's nor'easter – ongoing. Islanders are still working to piece together their homes and businesses, and the hope that the island would reopen to visitors on November 22 has been delayed for the time being. (Note that Ocracoke is currently scheduled to re-open to visitors on December 2.)
In the midst of this all-consuming struggle, the approaching holiday season seems almost trivial and silly. And for that reason, it's all the more paramount that those facing difficulties find a sense of normalcy and cheer during the holiday season – a time that can feel so empty when it departs from the familiar. In order to give islanders the holliest, jolliest, gosh-darn merriest experience possible, Outer Banks organizations and individuals have launched efforts and events that will bring the holidays home to Ocracoke.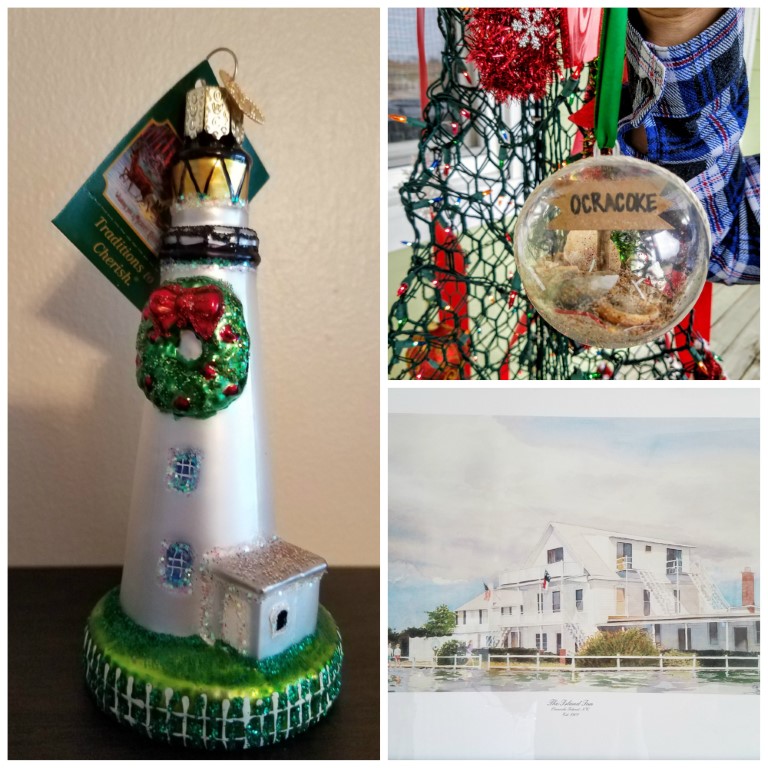 Photo credits to Ocracoke Island Realty
Our favorite dining event of the year is fast approaching. Thanksgiving is all about bringing people together around an open table, and this year the Berkley Barn serves as Ocracoke's island-wide gathering grounds. Ocracoke Disaster Relief, Liberty Fellowship Church and community members are organizing an Ocracoke Community Thanksgiving, and the entire island is invited to attend. Berkley Barn will sport festive decor and provide islanders a home-style feast in a warm and inviting atmosphere. The feast has been donated by Sugar Creek Seafood Restaurant and Black Pelican Oceanfront Restaurant, and the table will feature roasted turkey, stuffing, mashed potatoes, ham, green beans and more. If you're planning to attend, add your own touch of tradition by bringing your favorite Thanksgiving dish, side or dessert to share. Groceries and cooking essentials will be available to pick up from the Ocracoke Volunteer Fire and Rescue on Tuesday and Wednesday, November 26 and 27, from 9 a.m. to 1 p.m. Then join your neighbors at Berkley Barn on Thursday for the feast from 1 to 3 p.m.!
There are different ways to help. Volunteers are needed to help decorate, cook or clean up. Call Alicia Peel at (360) 362-9796. If you want to help from off the island, you can make a donation to Liberty Christian Fellowship at community@libertyobx.com and include "Ocracoke Thanksgiving" in the subject line.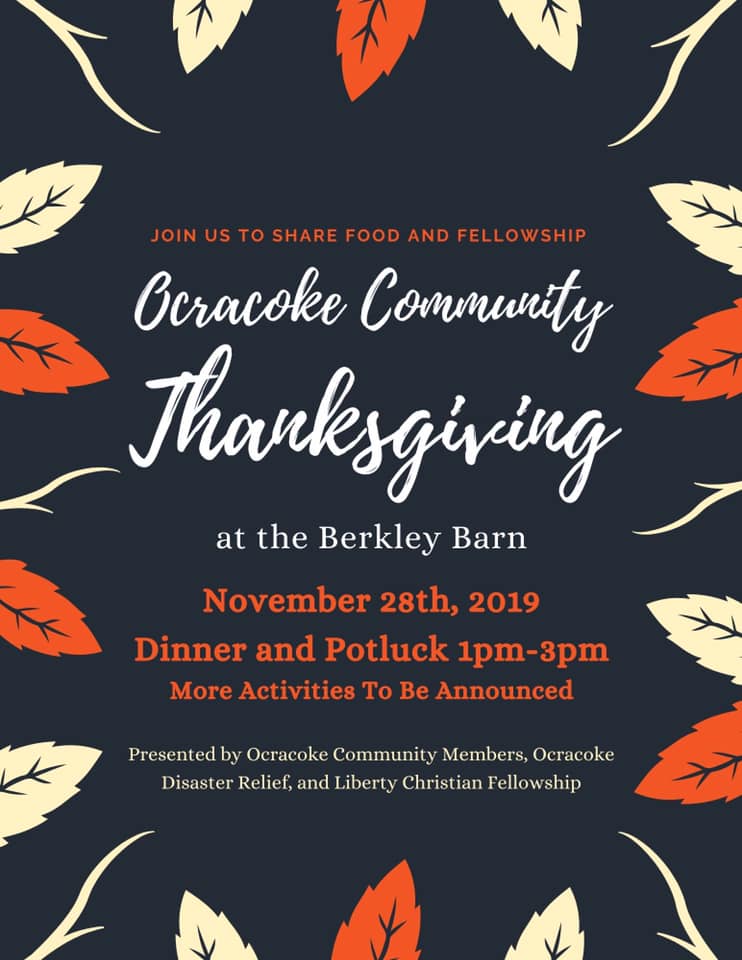 Following Thanksgiving, the holiday season picks up in full swing. Gift giving is far from the minds of many islanders while they work to recover the homes and belongings they lost during Dorian. While I KNOW there's more to the holidays than the decorations and the gifts, these little creature comforts nudge nostalgia on us and bring an invaluable sense of comfort and cheer. Whether you're off the island or on, here are ways to help or available resources to take advantage of:
Many people lost their favorite holiday decorations during Dorian, but Cape Hatteras Secondary School DECA is on a mission to spread cheer. They're collecting donations for new and gently used Christmas decorations so that residents can still fill their homes with festive touches. On December 6 from 3 to 6 p.m., islanders can come to Ocracoke's Community Center to replace lost Christmas decorations. Email crystalhardt@suddenlink.net if you want to donate.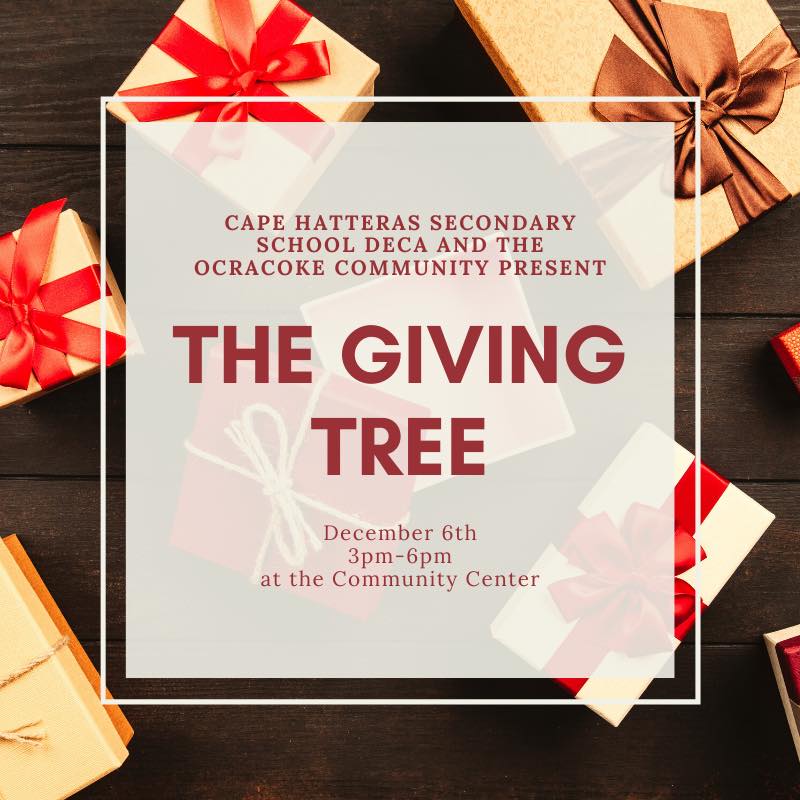 Ocracoke Island is home to 170 school children. In order to help provide them with a festive holiday experience, the Ocracoke Island Christmas Fundraiser is accepting donations that will be given to the parents of each child. The fundraiser remains open to donations until December 7, at which time all the money will be divided equally among all the children at Ocracoke School. The fundraiser's goal is to raise $300 for every child. One hundred percent of the money donated will be distributed. You can make a gift online.
Lend a hand during the holiday season by sponsoring a household through Adopt-an-Ocracoke Family. Local Lifesaving Church and Salt and Light Consulting of Morehead City launched this program to help recovering households on short-term or long-term bases. The program matches sponsors with families – both of whom remain anonymous to the other – and the sponsor receives a list of the household's needs. There's no minimum to help sponsor a family and any donation – from appliances and building tools to school supplies to shoes – anything makes a difference in a family's life. You can also make monetary donations or help as a volunteer at collection points. To get involved, simply email adopt@lifesaving.church to be matched with a family. There's no deadline to apply for a match.
Who doesn't love toys? Maybe you're too old to play with them (apparently that's a thing), but I always get a kick out of shopping for toys and games. Toys for Tots applications are still being accepted for Hyde County families. From November 1 through November 22, 9 a.m. to 4 p.m., register at Hyde County Social Services in Engelhard. If you want to donate, you can make an online gift or through a local drive.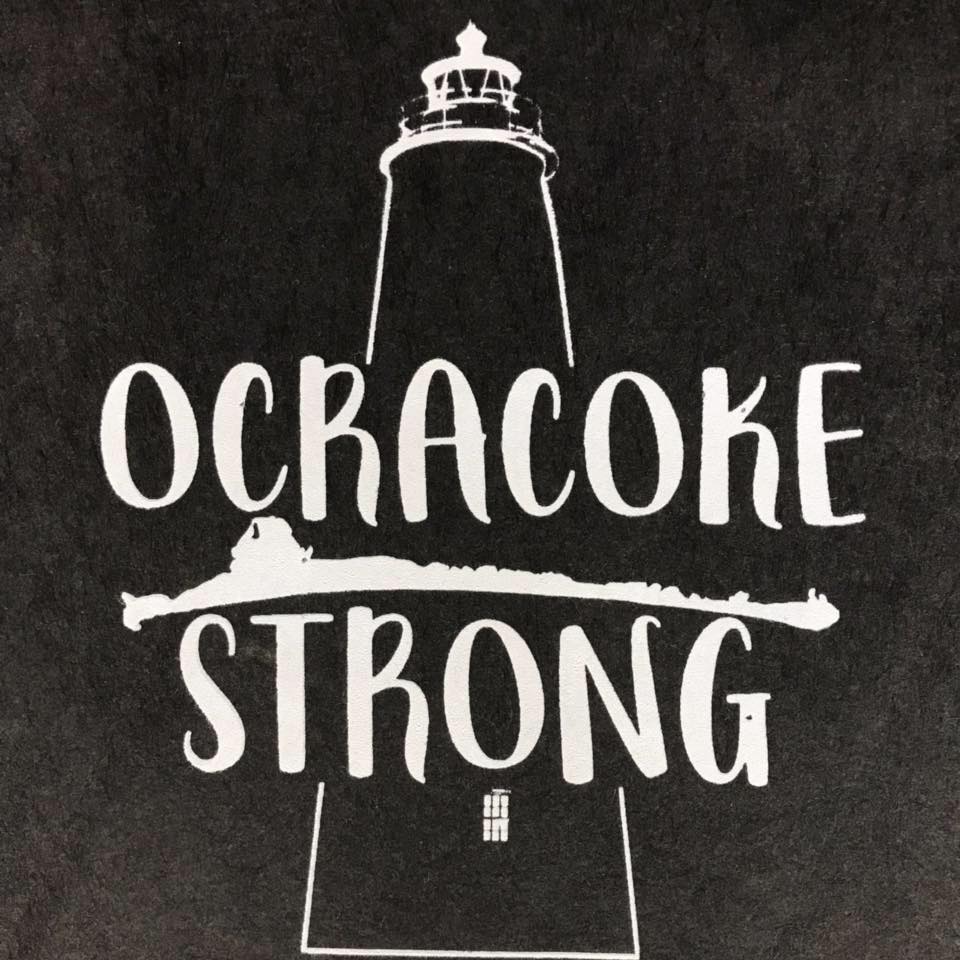 Photo Credits to Ocracoke Strong
Knock out a little Christmas shopping and support the cause simultaneously when you shop through the Ocracoke Strong line. This group raises money to help Ocracoke's senior citizens and year-round residents without flood insurance. Their branded t-shirts are gaining popularity, and funds from purchases will benefit folks who lost their appliances, furniture and other household items during the storm. Not only will this fundraiser make you feel good, but also you're going to sport some good-lookin' swag from it too. For every $25 donated, you receive an Ocracoke Strong t-shirt, bumper sticker and, soon, hat.
---
For more information about current relief efforts and ways to support the Ocracoke community, see the regularly updated Ocracoke Disaster Relief Facebook page. For more information about other upcoming fundraisers and additional events, take a look at our Daytime Events calendar. To keep your evenings lively, too, our Nightlife calendar guides you to live music, trivia nights, dance parties and more.