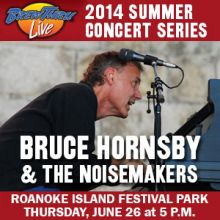 Good things come to those who wait.
The seeds laid last summer when Brew Thru brought the Grammy Award-winning band Blues Traveler to the Outer Banks have sprouted into Brew Thru Live, a three-show concert series at Roanoke Island Festival Park's amphitheater this summer featuring Bruce Hornsby and The Noisemakers, the Pat McGee Band and 1990s hitmakers Live, Cracker, The Gin Blossoms and The Spin Doctors!
The first concert in the series brings multi-platinum selling and Grammy Award-winning recording artist Bruce Hornsby, along with special guests The Pat McGee Band and ChessBoxer, to the Roanoke Island Festival Park stage in Manteo on Thursday, June 26. Tickets are on sale now and can be purchased at any Brew Thru location or online at the Brew Thru website. General admission adult tickets are $35; priority seating adult tickets are $45. VIP Parking is available for $20/vehicle. Priority seating begins at 5 p.m. with gates opening for general admission at 5:30 p.m. and the concert beginning at approximately 5:45 p.m. Bruce Hornsby, a Williamsburg, Va., native is practically a hometown star and has maintained a strong regional fan base throughout his diverse career. A sell out is likely, so make sure to get your tickets today!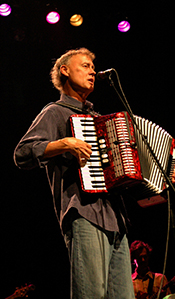 Hornsby and The Noisemakers' appearance to kick off the 2014 Brew Thru concert series comes as part of a summer tour schedule that will include performances in Athens, GA, Charlotte, NC, Pittsburgh, PA, Los Angeles, CA, Kansas City, MO, and venues such as Wolf Trap National Park for the Performing Arts in Vienna, VA, and the Nantucket Music Festival in Nantucket, MA.
Hornby's career has run the gamut from million-selling singles and Grammy Awards to stints on tour with The Grateful Dead, solo efforts, experimental releases, ventures into jazz and recent collaborations with Ricky Skaggs of country music and bluegrass fame.
When playing with The Noisemakers, Hornsby's songs morph into a playful, freewheeling and distinctive combination of rock, jazz and bluegrass, and the band has become renowned for live performances built around their seamless, apparently effortless navigation through lengthy compositions featuring musical influences from classical to reggae. In fact, if you watch the video of "Fun House" accompanying this blog, you'll discover that the performance closes with a delicious riff on the old 1970s Hot Chocolate tune You Sexy Thing, a guilty pleasure still rumbling around the memory banks of some of us.
Joining Hornsby and The Noisemakers onstage at one of the East Coast's most beautiful outdoor venues will be special guests The Pat McGee Band and ChessBoxer. The Pat McGee Band returns to Brew Thru Live after appearing on last summer's inaugural Blues Traveler bill. Hornsby's band and Pat McGee even have a creative connection - longtime Hornsby collaborator, guitar player and multi-instrumentalist Doug Derryberry actually produced McGee's latest album No Wrong Way To Make It Right. McGee is currently in the process of making an album of the songs that inspired him to become a musician accompanied by the great session musicians - drummer Russ Kunkel, bassist Leland Sklar and guitarists Waddy Wachtel and Jeff Pevar - who played on many of the most famous and most successful albums in history, including those of James Taylor, Jackson Browne, Bob Dylan, Crosby Stills & Nash, Joe Cocker, Marc Cohn, Stevie Nicks, Carol King, Linda Rondstadt, Neil Young, Joe Walsh, Elton John, Lyle Lovett, Joni Mitchell, Bonnie Raitt, Warren Zevon, Bill Withers, Steve Winwood, Don Henley and others. Wow, that's a list of some of the best, isn't it! Although now residing in New York City, McGee is originally from Virginia and still regularly plays Outer Banks venues.
Opening act ChessBoxer, from Nashville, TN, is composed of banjo player and guitarist Matt Menefee and fiddle and mandolin player Ross Holmes, both formerly founding members of the groundbreaking acoustic band Cadillac Sky. Menefee and Ross have performed and recorded with a wide range of contemporary musicians and bands including Mumford and Sons, Dan Auerbach of The Black Keys, Alison Krauss, Sam Bush, Jerry Douglas, Old Crow Medicine Show and T-Bone Burnett. Ross is also the newest member of this summer's touring version of The Noisemakers, and ChessBoxer will perform in support of Bruce Hornsby and The Noisemakers at a number of dates over the summer tour.
Upcoming dates in the concert series are Live with special guests Cracker and Formula on Thursday, July 10 and The Gin Blossoms with special guests The Spin Doctors and Scars on 45 on Thursday, July 17.

This week you still have a chance to win a Restaurant Tour with Outer Banks Restaurant Tours & a $35 gift certificate to the Outer Banks Popcorn Shoppe!
For more information about Outer Banks Restaurant Tours check out their website.
For more information about Outer Banks Popcorn Shoppe check out their website.
Last Week's Winner
Congratulations to Mike Laffey!!!
You won a two-night stay at the Colonial Inn & a $35 gift certificate to the Outer Banks Olive Oil Co.!
For more information about Colonial Inn check out their website.
For more information about Outer Banks Olive Oil Co. check out their website.