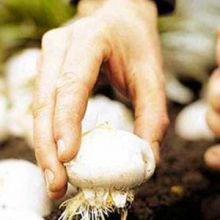 The holidays are over. The bangles, baubles, bells and bows packed up and returned to storage. The lights taken down and stuffed into boxes where, over an 11-month hibernation period, they will mysteriously metamorphose back into the byzantine coils and sticky tangles that drive previously mild-mannered holiday decorators to alternating fits of despair and glassy-eyed rage. Suddenly, we find ourselves standing before the comforting glow of an open refrigerator (One Light to rule them all) pondering the freshness half-life of virtually unrecognizable leftovers (green ham is bad, right?). Eventually, many of us will become resigned to crankily harrumphing our way through the next couple months of what is advertised to be an abysmally dark and dreary, cold and wet winter. Sigh…


One way to thumb your nose at Ol' Man Winter is to get your green thumb to work during The Elizabethan Gardens' Volunteer Bulb Planting Workday this Saturday, January 10 from 9 a.m. to 12 p.m. You'll work alongside Gardens' staff planting bulbs that will delight visitors, perhaps including yourself, in the coming months. It's a great opportunity to contribute to the renewal of one of the Outer Banks' most popular not-for-profit attractions while learning planting tips and tricks from the Garden's experts. Volunteer participants will be limited to 25, and all volunteers and staff will meet at 9 a.m. in Odom Hall for brief instruction. The Gardens' tools are limited in number, so please bring a blub planting tool and/or trowel. Remember, this planting activity will take place outdoors, so dress for the weather. Snacks will be provided during the event. Call (252) 473-3234 to sign up.

Let Learning Warm Your Brain
Another way to shake off the chilly winter doldrums is through education. Each year Currituck Beach Lighthouse, the Outer Banks Center for Wildlife Education, and Whalehead in Historic Corolla co-host an annual Winter Education Series in Corolla, a program that enables the organizations to continue their educational missions throughout the off-season with classes and seminars appealing to locals and visitors alike. The impressive list of past topics includes everything from shipwrecks to lighthouse construction, local flora and fauna, lifesaving stations, the Outer Banks History Center, Tiffany lighting, U-boats and more. The Winter 2015 program will consist of a mini film festival highlighting the local segments of the Charles Kuralt Trail. Mackay Island will be featured Tuesday, January 13 from 10 a.m. to 12 p.m. at the Outer Banks Center for Wildlife Education in Currituck Heritage Park with a film and seminar combo about the island's history and the wildlife associated with it. The Alligator River will be the focus of the next installment of the series scheduled for February 17. The sessions are free but reservations are requested. Call (252) 453-9040 or email info@visitwhalehead.com. Refreshments will be served and donations are welcome.


Educational opportunities continue with two free offerings from the Graveyard of the Atlantic Museum in Hatteras Village. The first seminar, Dash at the Enemy: the Use of Modern Navel Theory to Examine the Battlefield at Elizabeth City, NC, will be presented Thursday, January 8 and 11 a.m. by Adam Parker of the Marine Studies Program at East Carolina University. The presentation details recent research into the tactics used by Commander Stephen Rowan to achieve the overwhelming Union naval victory over the Confederate fleet during the brief 1862 engagement at Elizabeth City, which followed close on the heels of the previous Union victory at Roanoke Island. Although the tactics employed during the battle have been examined from historical documents, the battle site has not yet been examined archaeologically. If you are unable to attend the 11 a.m. presentation, please note that the program will also be live-streamed during a 6 p.m. online presentation.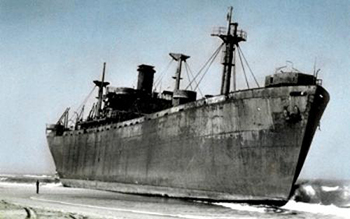 Also at the Graveyard of the Atlantic Museum, the free kids' program Shipwreck! scheduled for Friday, January 9 from 6 to 8 p.m. tells the story of the Clythia, a Norwegian bark shipwrecked off the Outer Banks when she ran aground on January 22, 1894, while transporting a cargo of Italian marble. The Clythia, commonly known as the Marble Wreck, was extensively salvaged and now sits in 20 feet of water with portions of the wreck protruding above the water's surface at low tide. As part of the program (recommended for ages 6-12), children will explore the ship's history and create related maritime crafts while munching on tasty treats provided by the museum. All craft materials will be provided. Reservations are required.
For more information on either of these presentations call (252) 986-2995 or email maryellen.riddle@ncdcr.gov.


Girls Just Wanna Have Fun
On Wednesday nights it's good to be a woman on the Outer Banks! At Kelly's Outer Banks Restaurant & Tavern in Nags Head it's Working Women's Wednesday, a fem-centric evening featuring $15 M&Ms (manicures and martinis), $5 martinis, games, gifts, complimentary appetizers and entertainment by DJ Amy. The fun begins at 5:30 p.m. Up that beach at Outer Banks Brewing Station in Kill Devil Hills every Wednesday night at 10:30 p.m. is OBX Ladies Night, one of the biggest dance parties on the Outer Banks with tunes spun by DJ Bruce.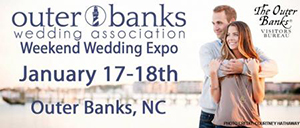 Looking Ahead
The two-day Outer Banks Wedding Weekend & Expo returns for 2015 with the Expo running Saturday, January 17 and Sunday, January 18 from 10 a.m. to 3 p.m. each day at First Flight Middle and High schools in Kill Devil Hills. The much anticipated Wedding Tour takes place Saturday, January 17 from 5 to 9 p.m. Attendees can register to enter Dream Wedding, Dream Honeymoon and other Dream Giveaway packages. Many wedding association members will be offering discounts through the Wristband Benefits program. Admission is $20/person, and early check-ins will be accepted at the Outer Banks Wedding Association's Nags Head office on Friday, January 16 from 9 a.m. to 8 p.m.