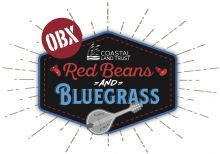 Do you love the state's coastal setting? What about bluegrass music? Your thoughts on chili and beer? All of this speaks to me on an almost spiritual level. And for that reason, I am definitely attending Red Beans and Bluegrass, a fall-festive event to benefit North Carolina Coastal Land Trust (NCCLT).
A team of biologists, attorneys, educators and fundraisers, NCCLT saves various forms of coastal lands from development, putting the pieces under conservation easements so that future generations can enjoy their natural settings. They find significance in all forms of coastal plain environments, ranging from barrier islands and nature parks to preserves, family farms and long-leaf pine forests.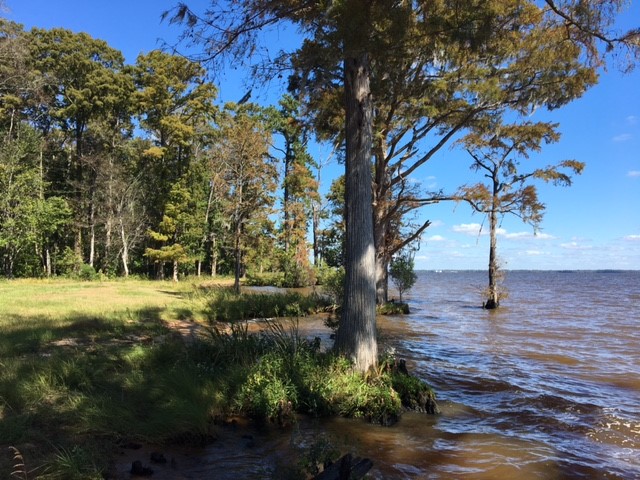 Photo of Salmon Creek Natural Area or Site X; photo credits to NCCLT
Coming from the Outer Banks, calling these beaches, soundside marshes and maritime forests home is my uncontested favorite part of coastal living. And I credit the NCCLT's work in preserving and maintaining the beauty I take for granted. If you've ever hiked around Ocracoke Island's Springer's Point – an 90-acre nature preserve of maritime forest and sound where Blackbeard hung out in the days leading to his demise – or visited Site X – the tranquil spot of pristine swampland that was recently discovered to have harbored the infamous Lost Colonists of Roanoke Island after they vanished – it's thanks to the NCCLT's work that these gorgeous gems' cultural and historical significance continues to live into the 21st century. 
As a nonprofit, NCCLT's mission relies on the support of donors and volunteers. Each year in Wilmington they host Red Beans and Bluegrass, one of their hottest annual fundraisers. On September 28, the event will make its first-ever debut on the Outer Banks, and it's already drawing increasing attention from businesses and residents around the area, including Kitty Hawk Kites, Bearded Face Productions, Village Realty, US Foods, East Carolina Radio, Inc., Carolina Catering & Events and, yours truly, Outer Banks This Week!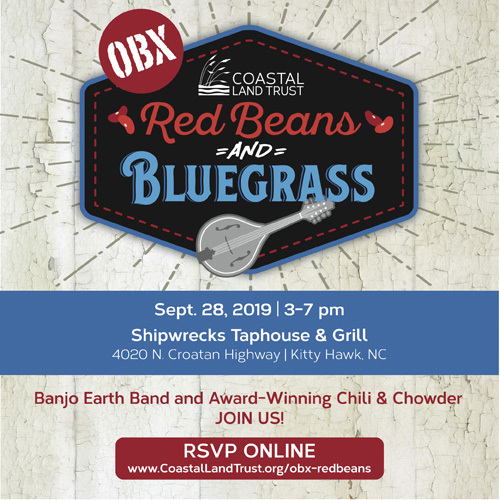 Grab a few friends and head to Shipwrecks Taphouse and Grill in Kitty Hawk for a delicious chili dinner, bluegrass, fresh air and philanthropy, lasting from 3 to 7 p.m. on Saturday, September 28. Fill up at the all-you-can-eat chili/chowder bar, featuring Shipwrecks' Taste of the Beach award-winning chili and shrimp-and-corn chowder that won this year's Chowder Cook-Off People's Choice category. To quench your thirst, Weeping Radish Brewery, Sanctuary Vineyards and Kill Devil Rum are donating their signature beer, wine and rum.
Bearded Face Productions is bringing in the talents of Banjo Earth Band, an Appalachian-based bluegrass group, for the event. If you think you've heard your share of bluegrass music, think again – this group wields banjos, mandolins, fiddles and vocals to present original compositions and covers in a distinctive blend of bluegrass and folk music with funk and jazz influences. In addition to toe-tapping bluegrass, you'll also hear a brief presentation from the Land Trust about their work, particularly in the northeastern part of the state.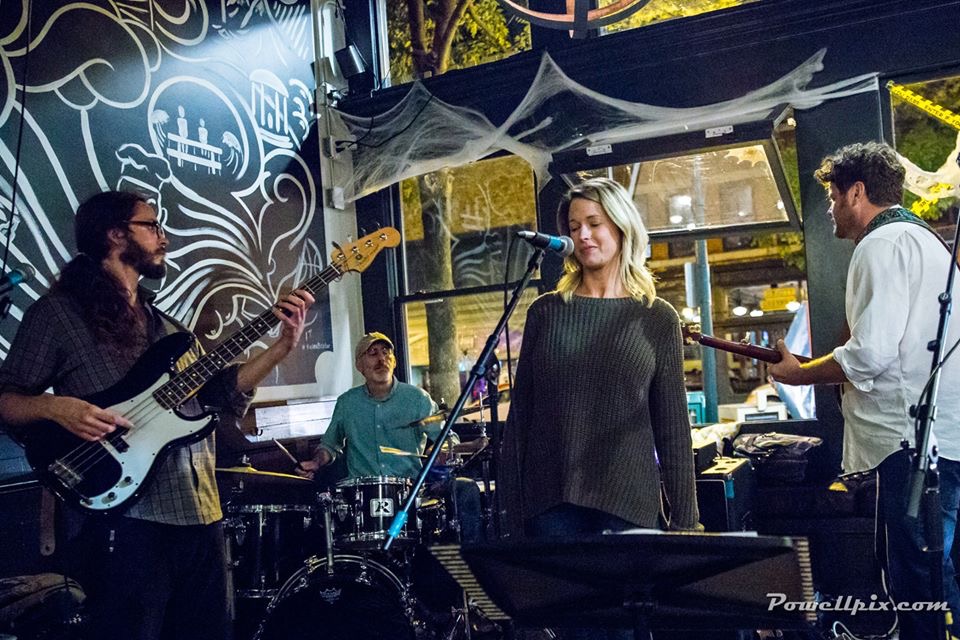 Photo credits to Banjo Earth Band
While there's no set admission fee to check out Red Beans and Bluegrass, a donation of $25 for adults and $10 for children is suggested, and it sets you up to enjoy all the offerings at the event, from the chili/chowder bar to two adult beverages (pasta and lemonade are also available for more particular eaters) as well as an introductory membership to the Land Trust. Additional drink tickets for the bar will be available for $5 each.
The Land Trust's work is one of the reasons I'm able to hike through historic preserves, paddle around the waterways in unspoiled marshlands and cruise along roads bordered by miles and miles of green countryside. Join me in supporting their mission, eat a bowl of chili, hum along to bluegrass and sip a locally made libation. You can learn more about the event here.
---
For other upcoming programs in the area, be sure to check out our Daytime Events page. If you're looking for dancing, live music, trivia and additional evening entertainment, find out everything going on in our Nightlife guide.