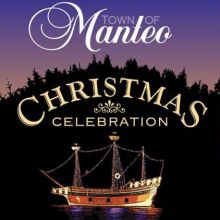 Outer Banks holiday festivities really get rolling this week, beginning with events on Roanoke Island. Friday at 2 p.m. Roanoke Island Festival Park kicks things off in its indoor theater with Holly Jolly Christmas, a fun-filled holiday extravaganza featuring classic Christmas songs and a performance of a new Christmas story by The Nu-Blu Band. Bring the whole family and sing along to your favorites! Additional performances will take place Saturday and Sunday, December 6-7 at 2 and 7 p.m. each day. Tickets are $20/adults and $10/children age 12 and younger and can be purchased on the event website. Roanoke Island Festival Park is located adjacent to the Downtown Manteo Waterfront.
By 5:15 Friday afternoon the Town of Manteo joins in the festivities with the First Annual Boat Parade along the downtown Manteo Waterfront. The traditional Tree Lighting, with all its caroling, dancing and an appearance by Santa, follows at 6 p.m. in front of the Historic Dare County Courthouse (which now houses the Dare County Arts Council Gallery — check out the Holiday Small Works Show). Sip hot chocolate and keep warm by the bonfire while choirs from Manteo high, middle and elementary schools and First Flight High School perform a slate of Christmas favorites, filling the evening with holiday cheer and the magic of Christmas while the kids await the lighting of the town Christmas tree and the arrival of Santa. The Echoes of Heritage and many other local performers will also participate in the holiday program.
Tonight's Sugar Creek Christmas Celebration in Nags Head is what the spirit of the season is all about — giving — especially giving as a means to assist those in need. From 5 to 9 p.m. you'll sample delicious cuisine, including signature dishes of 12 Outer Banks chefs, enjoy live musical entertainment and participate in live and silent auctions to raise money for Outer Banks Room In The Inn, a non-profit faith-based program providing hospitality, food, shelter and support services to Dare County's homeless during our sometimes brutally cold winter months. Tickets are $15/adults and $10/children with all proceeds benefitting OBX Room in the Inn. For tickets, e-mail RITIevents@yahoo.com or visit the Outer Banks Room in the Inn Facebook page. Ticket sales are limited to 100 people.
Although downtown Manteo will be the focus of the seasonal festivities on Friday, the rest of Manteo gets to join in the Christmas fun at 10:30 Saturday morning as the Christmas Parade begins at Manteo High School and winds its way through through residential areas before ending up downtown as floats, bands and elves of all kinds pass before the parade's Grand Marshall, David Farrow. The rain date is Sunday, December 7 at 2 p.m.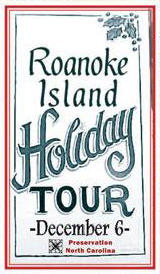 After the parade, stick around Manteo for a great lunch at any one of several great restaurants and afterward treat yourself the Roanoke Island Christmas Weekend, encompassing under one ticket the Roanoke Island Holiday Tour of Homes, Christmas Past at Island Farm and WinterLights at The Elizabethan Gardens. Tickets can be purchased at BrownPaperTickets.com or and are $30/advance, $35/day of the event; tickets for groups of 10 or more are $27/person. For more information call (252) 473-3234.
The Roanoke Island Holiday Tour of Homes showcases extraordinarily decorated local historic homes and sites that exemplify the cultural and architectural treasures that Manteo Preservation Trust works to highlight and protect. This year, sites in both Manteo and Wanchese are featured. The tour runs from 2 to 7 p.m. Begin at Island Farm to either pick up or purchase tickets.
With all the hustle and bustle associated with today's holiday season it's sometimes easy to forget that Christmas is not an entirely modern phenomenon. Christmas came to the Outer Banks in the 1850s, too, and if you want to experience a bit of those long ago holiday traditions visit the Christmas Past celebration at Island Farm, just a short distance from downtown Manteo, from 10 a.m. to 4 p.m. Saturday, December 6. You'll find cookies and cider by the cookhouse fire as well as samples of freshly baked cakes and pies. Greet the farm's animals, watch the blacksmith at work at his forge and commemorate your visit by making your very own Christmas candle to take home. At 11 a.m. Father Christmas takes the reins of an ox-drawn wagon and offers rides around the farm until 1 p.m. From 2:30 to 4 p.m. you'll find the ol' gent greeting guests in the farmhouse and reading The Night Before Christmas by a crackling fire! For more information call (252) 473-6500.
WinterLights at The Elizabethan Gardens is a magical experience of hundreds of thousands of twinkling lights, holiday displays, entertainment and good cheer. While the event happens Tuesdays through Saturdays through January 3 (except for Christmas Day and Eve and New Years Day and Eve), on Saturday it is part of the Roanoke Island Christmas Weekend event, so entrance is covered under your one ticket.
It's hard to top an event like Pamlico Jack's Breakfast with Santa — an impressive buffet breakfast at the Nags Head restaurant followed by one-on-one time and photos with his Jolly Ol' Elfness! Breakfast with Santa starts at 9 a.m. and continues until 1 p.m. Perhaps best of all from a spirit of the season perspective, the $10 admission ticket (only $9 in advance) will be matched by Village Realty with the combined proceeds donated to the Dare County Angel Tree Fund! But, wait! There's more! The Nags Head Fire Department will be there with their shiniest red fire engine, and experts will check your car's child seats for safety. For more information visit the event webpage, e-mail web@vrobx.com  or call (252) 449-9235.
Looking Ahead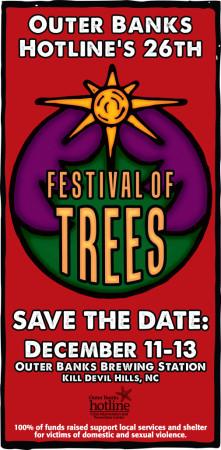 That Outer Banks Christmas classic, the Outer Banks Hotline Festival of Trees, returns to Outer Banks Brewing Station in Kill Devil Hills for its 2014 celebration. Beginning at noon on Thursday and Friday shop to your heart's content at the Holiday Bazaar where you'll find many a Christmas steal! Shhh! Santa might be listening! By noon you can catch the Christmas spirit courtesy of seasonal music performed by local school and youth groups. Santa will make an appearance Thursday afternoon, and on Friday evening you'll want to attend the HoHoHo Holiday Party for Grown-ups, featuring a great band, raffles and lightning round auctions for a mere $5 donation! And, of course, you can view the spectacularly decorated Christmas trees all day each day. On Saturday the bazaar and tree viewing continue along with holiday photo opportunities for the kids. And finally, the event culminates with the Holiday Social (featuring music by the Duck Ridge Boys, gourmet hors d'oeuvres and cash bar) followed by the Benefit Auction guided by the always entertaining guest auctioneer Bill Rea. For a complete schedule of events and times, visit the Outer Banks Brewing Station website or call Outer Banks Hotline at (252) 473-5121.