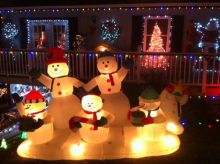 I love the holiday traditions my family has established on the Outer Banks. * I love that my kids have come to see the Manteo Christmas parade as the official kickoff of the holiday season. * I love that they start asking to go to the Poulos house in KDH as soon as it's December 1. (And when we finally go to the Poulos house, I love it that they run right to their favorite parts: the trains and the garage full of moving toys.) * I love our traditional Christmas drive to see the holiday lights in Manteo and Kitty Hawk. * I love going to the Christmas Shop in Manteo to pick out a new ornament for each child. (Though this year they picked out metallic table-top trees). * I love going to WinterLights at Elizabethan Gardens and wandering around the gardens in the dark. * I love going to the Pioneer Theatre once school is out and we can stay up later. * I love going to St. Andrew's By The Sea to see the children's show on Christmas Eve and then - some years - going back for the late-night service with grandma to sing carols. * I love it that most of my memories of Christmases on the Outer Banks are of fairly mild days doing things outside - riding the new bikes, walking on the beach, etc....
Other things I love about an Outer Banks Christmas: Last-minute rushing around to local shops to gather up goods (Outer Banks Honey, Front Porch and Morning View coffees, restaurant T-shirts for the out-of-towners, fishing tackle, Weeping Radish brats, wine and beer from Chip's or Wine Specialist, etc.) and seeing people I know everywhere I go; * Giving my husband the mission of ensuring that we have a bushel of fresh Crab Slough oysters on Christmas Eve; Getting our summer shrimp out of the freezer for a Christmas Eve dish of shrimp and grits; Going to all the little art markets for the local artists and seeing what they've been working on all year; Stopping by DCAC to get something from the Holiday Small Works art show. * My list actually goes on and on, but, really, this is not all about me...
Here are some things YOU can do on you on your Outer Banks Christmas week...
Shop. The local stores have some kick-a sales going on. Everywhere I've been this month has had some great deals. Just go and you'll find the deals. Or, all you plan-aheaders can see a list of good deals on our Shopping page...
A great art exhibit: Art and Spirit: Sacred Works by Sixty Artists. This is Roanoke Island Festival Park's last gallery show (hopefully not forever but for a while). Local and regional artists present 2D and 3D works that tell the story of their personal sense of spirituality. It's one of many excellent shows curated by Mary Ellen Riddle at RIFP, and we'll miss these shows in the future...
Thousands of twinkling lights: WinterLights at The Elizabethan Gardens. The gardens are lit up with thousands of lights and music and garden creatures and it's a very fun event. WinterLights is from 6 to 9 p.m. Tuesday through Friday this week and next week. Tickets are $9 for adults, $7 for youth (ages 6 to 17) and $4 for children 5 and younger. * Friday night will be special at WinterLights because Santa and Mrs. Claus will be there - in case you've missed the other hundred opportunities to see Santa this month...
Free admission to the N.C. Aquarium on Roanoke Island. Through Friday you can get in free if you donate pet food or supplies to the SPCA Animal Shelter. If you bring 7 lbs. of food or rawhides, pillow cases, bleach, dog shampoo, blankets, paper towels or clumping kitty litter, you'll get free admission to the aquarium, which is open 9 a.m. to 5 p.m. this week (not Saturday and Sunday). Call (252) 473-3494...
A Civil War photography exhibit. Graveyard of the Atlantic Museum in Hatteras Village is hosting a photography exhibit called "Freedom, Sacrifice, Memory: Civil War Sesquicentennial Photography Exhibit." It commemorates the role the state played in the Civil War. The exhibit is on display through Dec. 29. For information call (252) 986-2995 or (919) 807-7389...
Party. Friday night there are some really fun things happening in the local restaurant/bars. Ask Fester (love these guys!!) at the Outer Banks Brewing Station; The UberLounge Christmas show at Ocean Boulevard (that's with Dan and Laura Martier and Mick Vaughn; Vinyl Headlights at Kelly's; Josh LaCount at Lone Cedar Café. And that's not all. See our By Night listings to see the full rundown...
Do something outside! Christmas weekend is supposed to be pretty warm - high 50s. Walk the beaches or climb Jockey's Ridge. Go see the birds at Pea Island or Lake Mattamuskeet. Walk the trails of Nags Head Woods, Kitty Hawk Woods or Buxton Woods, you get the idea...
Drive safely. Whether you're coming or going or just zipping around town, it's going to be busy!...
BTW, if you're looking for those Christmas lights at the Poulos house, head to KDH, milepost 9.5. Turn west at Pigman's Bar-B-Que and you'll find it...
Have a MERRY CHRISTMAS!