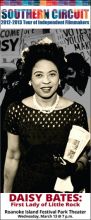 Another great independent film is coming to the Outer Banks courtesy of the Dare County Arts Council (DCAC) and Southern Circuit Film Tour. The documentary film Daisy Bates: First Lady of Little Rock, an insightful look at the life of a groundbreaking civil rights activist, will be shown Wednesday, March 13 at 7 p.m. in the theater at Roanoke Island Festival Park in Manteo. Tickets are $10 for adults, $8 for students and $5 for children. Tickets can be purchased at the door or at the DCAC Gallery in downtown Manteo. Director and producer, Sharon La Cruise, will be on hand to introduce the film, meet audience members and participate in discussions after the screening.
Prior to the screening at Roanoke Island Festival Park, a meet and greet reception with the director will be held at 6 p.m. in the DCAC Gallery. Light refreshments will be served. A question and answer session will follow the film.
The documentary tells the story of filmmaker Sharon La Cruise's attempt to unravel the complex life of Daisy Bates, a once well-known but now largely forgotten civil rights activist who was instrumental in the struggle to end segregation of Arkansas' buses, libraries and schools. It was a struggle that ultimately would divide much of Little Rock and the state of Arkansas and bring turmoil to much of the nation.
In 1957, as president of the Arkansas office of the National Association for the Advancement of Colored People (NAACP), Bates' recruitment of nine black students to seek entrance to Little Rock's all-white Central High School generated a constitutional crisis that pitted President Eisenhower against Arkansas Governor Orval Faubus and Arkansas' refusal to honor the federal court order to integrate their public school system. One day a rock shattered the window of Bates' home. Attached to the rock was a note that read: "Stone this time. Dynamite next."
After the successful integration, however, Bates struggled to remain relevant in what was then a largely patriarchal civil rights movement. "Adults and teenagers are always baffled as to why they've never heard of Daisy Bates before," notes director La Cruise. But ultimately this is a story of a driven person who rose from being an orphaned child to a newspaper publisher and national civil rights leader striving to make America live up to its ideals.
The New York Times called Bates "A heroine in the war to achieve integration." And Julian Bond, Chairman Emeritus of the NAACP, said of the film, "This is a well-told intimate story of a heroine of the modern civil rights movement who is not as well-known as she should be; Daisy Bates was a pioneer and path breaker. Congratulations to Sharon La Cruise for bringing her story to the screen."
More clips of the film can be viewed online at the Independent Television Service's website and at PBS' Independent Lens page. Golden Globe winner and Academy Award nominee Angela Bassett gives voice to Bates' recollections of this tumultuous time, much of which is drawn from Bates' personal letters. Don't miss this wonderful educational opportunity for all ages!
Sharon La Cruise works for the Ford Foundation in the JustFilms unit. She has worked in television and film for 20 years, both in the corporate and production aspects of the business. She has previously worked on Dixie Chicks: Shut Up & Sing; Going Up River: The Long War of John Kerry; Beyond Brown: Pursuing the Promise; Citizen King; Matters of Race; This Far By Faith: African-American Spiritual Journeys; Zora Neale Hurston: Jump at the Sun; and CNN's Through the Lens, The Road to the White House and The Planetary Police. She is a member of the International Documentary Association. She holds an M.A. in television journalism from New York University and a B.A. in history from Adelphi University.
The last film in the series will be shown Wednesday, April 10. Director/producer Jonathon Goodman Levitt's Follow the Leader, traces the experiences of three conservative 16-year-olds - Ben, DJ and Nick - who each dream of being President. Over three life-changing years, the three split into Republican, Democratic and Independent camps, as each is forced to reconsider his political beliefs and career ambitions and set off on his own path. (Time and location is to be determined. Check Outer Banks This Week and the Dare County Arts Council website for details as the date nears.)
The Southern Circuit Film Tour brings some of the best independent filmmakers and their films from around the country and the world to communities all over the South. Over the years, audiences from more than 50 communities have viewed more than 200 films and engaged filmmakers in post-screening discussions.
This project is funded in part by the Outer Banks Visitors Bureau.

You still have a chance to win a $50 gift certificate to ARTspace and a $35 gift certificate to Basnight's Lone Cedar Cafe!
For more information about ARTspace, check out their website.
For more information about Basnight's Lone Cedar Cafe, check out their website.
Last Week's Winner
Congratulations to Sylvia Morgan!!!
You won a $50 gift certificate to Ocean Annie's Craft Gallery and a $35 gift certificate to Full Moon Cafe & Brewery!
For more information about Ocean Annie's Craft Gallery, check out their website.
For more information about Full Moon Cafe & Brewery, check out their website.