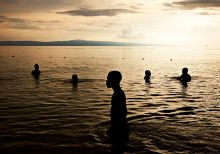 Sometimes when I look out there into that Wall O Traffic that is the bypass on a weekend (when I've got some time to kill because I'm trying to turn left or get across the street on my bike), I ponder the Outer Banks visitors - the fams in the minivans, the gents-in-the-front-ladies-in-the-back-ensembles in the sedans; the convoys of jacked-up trucks or motorcycles; the Canadians in the sensible Priuses (the passengers always seems to be asleep); the gangs of 20-somethings in their Jeeps - and my favorites are the watersports zealots headed to Hatteras Island. Recently I eyeballed an SUV pulling a mini Airstream trailer, surfboards and paddleboard strapped to the roof of the car, a kayak all cockeyed on the Airsteam, five or six bikes bungeed to the back of the SUV, a cooler and fishing poles and paddles on the front grill carrier - those peeps are going to suck the meat off the Outer Banks bones, and you've got to love them for it...
I probably looked like a tourist last weekend too - scouring the lot at Jennette's Pier for a precious parking space, my SUV all loaded down with beach gear, boogie boards and kids. (Me driving intentionally into this madhouse scene was all for the love of my teenage niece). * Have to admit, though, that the crowded scene at Jennette's is fun. * EVERYBODY was commenting on the odd signs that are posted in the bathhouses. Really weird. And nauseating. Go see them for yourself and then report back to me on what you think...
In my tourist mode I saw the The Lost Colony last weekend, though, really, on opening night it was mostly locals. I always love the show and it really does get better every year. I know everyone always says that, but it's true. * This week Dare County residents can see The Lost Colony for free on June 1 through 4. Bring a nonperishable item for the local food pantry and proof of residence...
I also spent a lot of time on a nourished beach! * Nags Head's beach nourishment project started at my hood's beach access so we had to check it out. The beach is definitely wider and the sand is clean and it's not causing TOO much inconvenience to people. Check it out at the Forrest Street beach access, MP 15.5...
Moving on... Manteo is a hotspot this weekend. First off, it's First Friday. Head downtown between 4 and 8 p.m. to catch live music (bluegrass to jazz to rock) in the streets and pubs, open doors in the shops and galleries, a Historic Inn Tour from 4 to 6 p.m., a rock climbing wall and much more. Dare County Arts Council is sort of grand central for the event, and they also open two art shows with receptions at this time. This month it's painter Holly Nettles and the Manteo/Bideford Postcard Exhibit. * While you're downtown, be sure to stop by The Full Moon Café, which is now also a brewery. Try owner Paul Charron's new brews: Sharon Stout, Baltimore Blonde, Red Wolf Ale, Lost Colony Ale and more. * Head to Manteo early, and you can do First Friday and The Lost Colony freebie in the same night...
On Saturday, head back to Manteo for Dare Day. (The Manteo Farmers Market is cancelled this weekend due the festival.) This is the 36th annual Day Day, held on the Manteo waterfront and featuring "The Blessing of the Season" at 9 a.m. as well as music, awards, hotdog and ice cream eating contests, vendors, games and lots of food. Think Polish sausages, funnel cakes and kettle corn...
Roanoke Island Festival Park is opening the Photojournalism of Chris Bickford in the Art Gallery on Friday, with a reception on Sunday from 2 to 4 p.m. Bickford's work is strong and moving, and his images have appeared in the New York Times and Time magazine. The show will run through June 28...
There's a lot happening down south too. The 12th annual Ocrafolk Music and Storytelling Festival is this weekend. It's a truly special event full of artisans and craftspeople, musical performances and storytelling - made perfect by the Ocracoke setting. I love this one! Go to www.ocracokefestival.org. * Remember, on Wednesdays throughout the summer you can catch the Ocrafolk Opry in Ocracoke at Deep Water Theatre, starting at 8 p.m. The island's best musicians, including Coyote and Molasses Creek, Katy Mitchell and many others, play here...
In Frisco this weekend, it's the OBX Paddle Palooza - a weekend of races and events on standup paddleboards. Go to www.obxpaddlepalooza.com. * REAL Kiteboards is hosting the Triple-S Invitational for a week starting on Saturday. It's a professional competition attracting the top 24 men and women kiteboarders in the world. You can watch the competitions then join in the fun with seven parties and seven bands over the weekend. Go to www.realwatersports.com...
BTW, did you hear that "Dr. Beach" ranked the Hatteras beaches at No. 5 in the nation this year? Ya ya. We don't need his rating to tell us how wonderful our local beaches are...
Be sure to check our By Night and By Day listings for a list of a whole bunch of other stuff that's going on this weekend, especially in the nightlife realm. From Comedy Club to bands to Red Wolf Safaris to wine tastings, there's more than I can talk about here...
On Sunday, support Dare County Arts Council at their Annual Meeting, Awards Ceremony and White Hot Cabaret at Kelly's. The very popular event features entertainers Mojo Collins, Laura Martier, Marsha Warren, Bill Rea, Tshombe Selby, Ruth Wyand and more, and everyone wears all white. Tickets are available at Dare County Arts Council, Amity in Kitty Hawk and KDH Co-op in KHD. Go to www.darearts.org for info...
One more thing, and I'll be on my way. NCSU's 59th Annual Sports Fishing School is being held Sunday through Thursday (June 5-9) on Hatteras Island. The school is for offshore, big-game anglers and includes two days of offshore fishing. Registration is still available. Call (919) 515-2261 or go to www.nscu.edu/cpe/fishing.html...
Have fun out there! Be safe. And tell us what you think of those bath-house signs at Jennette's Pier and the wider beaches in Nags Head...