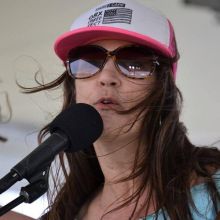 Fifth-generation Outer Banks native Lisa Brickhouse Davis is one of the most recognizable voices on the Outer Banks. She's a DJ and on-air personality on Jam Media's 99.1 The Sound, and she always seems to be everywhere around town, broadcasting live at local events, attending or volunteering at live music shows, events and festivals, and basically supporting people and the community wherever she goes. She's a badass go-getter with a big voice and a huge heart, and those qualities came together perfectly when she founded Dare2Care OBX Shred Fest.
Happening this Saturday, May 21, in Nags Head, OBX Shred Fest is a true community gathering. The event offers tons of fun, from live music, beer and food to roller derby, skateboard and BMX exhibitions to family-friendly activities, but the main purpose of the event is to show some love to local veterans and people with Intellectual and Developmental Disabilities (IDD) and to raise funds for programs, including music lessons, for these community members.
Basically running a one-woman show, Lisa was being pulled in a million directions this week, looking for last-minute housing for an aerial BMX squad, seeking additional sponsors, organizing her squad of dedicated volunteers, tracking forklifts and ATVs and on and on. But she can always find time to talk about the festival she founded in 2016. I caught up with her in the middle of her busy week and asked her a few quick questions to help shine some light on her extreme sports and music festival.
What got the idea for OBX Shred Fest rolling?
In 2006 I met Renate Maccharole, who helped create Special Olympics Dare County as well as the PACE continuing education program and Monarch group home for people with special needs. She asked me to be the announcer for the Special Olympics games, and I started that in 2007. That gave me the idea to help raise awareness for people with special needs and also for veterans. Everybody always says they want to support these groups of people, but they don't know how. Having worked with them so long and knowing that they love music, I thought it would be cool to support them through music by giving the opportunity for them to learn music and to play it. I set out to create a community event with extreme sports and music where our community at large and our veterans and special needs community members could all enjoy music together and raise some money for the music programs.
I had worked with extreme athletes in Aspen for years. People are so fascinated by them and think they are rock stars, which they are. My idea was to showcase extreme athletes but also to showcase the veteran whose leg was blown off and the special needs person who has to get up earlier than everyone else just to get going – to showcase the athletes but also the real heroes and warriors and have them walk amongst us.

The event is a fundraiser. Where does the money go?
The brainchild was for it to raise funds for music programs, one-on-one music lessons and a rock band for IDD members and veteran jams. The money raised helps fund all these music programs. The rock band, OBX Shredders and the music lessons are held at a space in Seagate North Shopping Center. For the veteran jams, I invite veterans to come and socialize through music, whether it's joining a drum circle, playing guitar, picking up an egg shaker or just listening.
For the price of admission to Shred Fest, you get six bands, pro skaters, roller derby, BMX athletes and family-friendly activities like arts and crafts. Of course, it wouldn't be possible to hold the event or raise money without our sponsors and volunteers. The support of the community and participants is what I love.
How can the community help?
Come to the festival! And we still have opportunities for business sponsors for day-of placement and signage. For $250 you'll get on-site banner placement, which will give you visibility at the festival and in photos and videos shot at the festival. You can email me at lisadabrick@gmail.com if you're interested.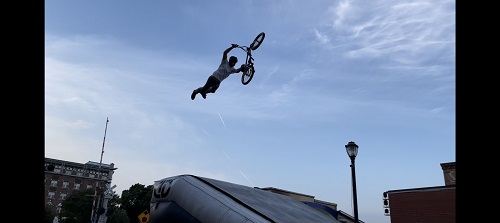 OBX Shred Fest Details
Saturday, May 21
Soundside Event Site, MP 16, Nags Head
1:30 to 8 p.m.
Shred Fest kicks off at 2 p.m. with a Veteran Honor Ceremony, including a presentation of the five military branch flags and the National Anthem.
Tickets
OBX Shred Fest tickets will be available to purchase at the gate the day of the event. General admission for adults is $25. Admission for veterans and active military is $15, and admission for kids ages 6 to 17 is $10. Kids ages five and younger get in free. A Family Fun ticket for four costs $60.
Music
Following the ceremony, the music begins and runs continuously until 8 p.m. On the lineup:
The OBX Shredders, the Outer Banks' first and only inclusive rock band
Sebi Music's Reggaeton artists Holden McOwen and Jahzel will lead a moving tribute performance to Ravann Rachelle and Sebastian Lopez
Duf Franco, acoustic indie rock
Revival Recordings' featured band Frontside, progressive pop punk
Stereo In Words, alternate rock
Big Al Staggs and the JA JA's are the headliners. Staggs is the original frontman for Left Wing Fascists (LWF)
Shredding
Alongside the musical entertainment is the shred part of the festival – ramps set up for BMX, skate and roller derby exhibitions. Chain Reaction Action Sports from eastern N.C. will bring its aerial BMX show. Back by popular demand is the Chicks in Bowls, a traveling group of professional Roller Derby women. They'll be sessioning on the ramp along with male and female skateboarders, including a ladies' only skate and a Grom Grind for ages 12 and younger.
Food
There will be alcoholic and non-alcoholic beverages for sale as well as delicious food from the Sooey's BBQ/Shipwrecks food truck and a hot dog/lemonade stand. There's a Family Fun Zone with arts and crafts and games as well as a Vendor Market.
Raffle
College of The Albemarle will be running Renate's Raffle Hut. Raffle items include a Kitty Hawk Kites Adventure Hang Gliding Package, a tattoo package from Vertigo Tattoo & Body Piercing, a complete skateboard deck set up and a pair of Impala Roller Skates from Wave Riding Vehicles, a beach cruiser, a jewelry package and gift certificates to Outer Banks restaurants. The proceeds from Renate's Raffle Hut go directly to help expand music programs for IDD community members.
Community Corner
The Dare2Care OBX Community Corner features several nonprofits and organizations including Dare County Special Olympics, OBX Pride, Room in the Inn, Mane and Tail, Talk It Out NC (which helps reduce underage drinking), Operation Comfort Warrior, the Hail Marys Ride (all-female motorcycle club), Vidant Community Health Worker Program, Carolyn Hall honoring her late son Ryker with lifesaving info on Narcan and fentanyl test strips, GEM (Gentle Expert Memory Care) and several more.  
Sponsors
The 5th Annual Dare2Care OBX Shred Fest is brought to you in part by the Outer Banks Visitors Bureau, OBX Pride, Wave Riding Vehicles, Village Realty, Tortuga's Lie, Jane Webster, Carolina Designs Realty, Atlantic OBX, Premiere Contracting, Dare County Arts Council, North Carolina Arts Council, VusicOBX, Sun Realty and JAM Media/OBX Today.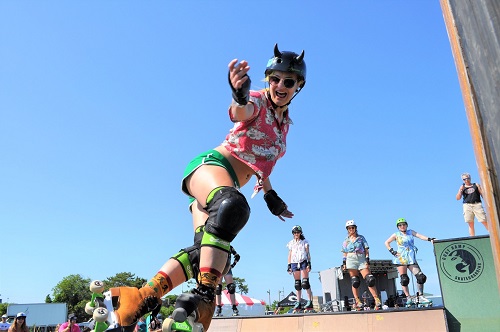 Photos courtesy of Dare2Care OBX Shred Fest