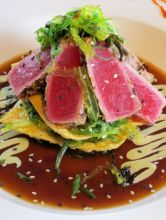 With Outer Banks Restaurant Week in the Fall, Taste of the Beach in March and numerous special events during the year featuring fish, shrimp, crabs and oysters, including the new Outer Banks Seafood Festival, a person could be forgiven for assuming that all we Outer Bankers do is eat.
We're exceedingly lucky to live where we do, and we're not shy about our appreciation for some of the freshest of nature's bounty. After all, how many places boast a seasonal food that you spend the bulk of the year craving, identifying every opportunity to savor as much of it as you can while it's available, only to immediately re-calibrate your focus to that food's next season as soon as the current one ends? Over the winter I likely ate my weight in oysters and already I'm pining away for Fall's first oyster roast. Most places are lucky to claim even one such food. But here on the Outer Banks it's now soft shell crab season! Be still my beating heart!
In light of all this, it's almost unseemly to note that Friday marks the beginning of the Spring 2013 incarnation of Outer Banks Restaurant Week. Continuing through Sunday, May 18, Outer Banks Restaurant Week gives local food enthusiasts and visitors an opportunity to enjoy 3-course (sometimes 4-course) prix fixe lunch or dinner menus at more than 20 participating restaurants throughout the Outer Banks at a pre-set price of either $20 or $35 (sales tax and gratuity not included). No tickets or advance purchase is required. Simply go to any of the participating venues and order off their special Restaurant Week menu. Below is a list of participating restaurants by locality.
DUCK: Red Sky Cafe, Sunset Grille & Raw Bar
KITTY HAWK: Ocean Boulevard, Black Pelican, Trio
KILL DEVIL HILLS: Chilli Peppers, Mako Mike's Restaurant, Brewing Station, Captain George's, Peppercorns, Flying Fish Cafe, Beachside Bistro
NAGS HEAD: Kelly's Restaurant and Tavern, Cafe Lachine, Pamlico Jack's, The Dunes, Sugar Creek Restaurant, The Brine & Bottle, Basnight's Lone Cedar Cafe
MANTEO: Stripers, La Dolce Vita
Let's eat! And always, please remember to tip your wait staff!
Other Happenings
Children & Youth Partnership for Dare County, a local nonprofit dedicated to supporting our community's children and families, has paired with Roanoke Island Festival Park to present KidsFest, a free, fun-filled day of face painting, musical performances, ice cream, art, blocks and bubbles and more for children 5 and younger. Kids will even be able to get up close and personal with a fire truck and a Coast Guard boat. The Friday, May 10 event will run from 9:30 a.m. to 12:30 p.m. at Roanoke Island Festival Park (rain date is May 17). For more information call (252) 441-4737 or visit the Children & Youth Partnership website.
From IMAX screens to your local multiplex to in-car DVDs to laptops and even smart phones, the number of platforms on which you can view a movie these days is nearly overwhelming. But there's one movie venue that has very nearly gone the way of the dinosaur - and that is the drive-in movie. Outer Banks Children @ Play Museum offers something very similar to the drive-in movie experience with its Movies on the Sound series playing this summer at the Outer Banks Event Site in Nags Head next door to Pamlico Jack's. The first movie, Disney's animated Brave, is showing Friday, May 10; gates open at 7 p.m. and the movie begins at dusk. Laugh-out-loud funny and full of adventure, Brave also features an entertaining and inspiring mother/daughter theme that dovetails nicely with Mother's Day Weekend. Trust me, all the "kids" will have a blast at this one! The movie is free. Yes, FREE! Parking is a mere $10/car. Proceeds benefit the Children @ Play Museum. Bring towels or low-backed chairs and dress appropriately - this time of year even a warm day can quickly turn cool after sunset. Concessions will be available. The next movie will be Disney's Toy Story 3 on Friday, May 24. After that, the series continues each Friday through July 26. All scheduled movies are rated G or PG. For more information and a list of upcoming movies call (252) 261-0290 or visit the Children @ Play Museum website.
Accompanying our focus on food, the Outer Banks is also developing a reputation as a runner's hot spot. The 30th Annual Yuengling Nags Head Woods 5K Run bursts from the starting line this Saturday, May 11 at 8:30 a.m. Runners from throughout the East Coast participate in the race that weaves through the Nags Head Woods Ecological Preserve in Nags Head, one of the best remaining examples of mid-Atlantic maritime forest and deciduous hardwoods. A Fun Run begins just a bit earlier at 8 a.m. Following the race, an oceanfront post-race party will be held from 12:30 p.m. to 3 p.m. at the Ramada Plaza Nags Head Beach Hotel in Kill Devil Hills. For more details see the event's Facebook page.
Does your wardrobe need a wake-up call? Is your closet a temple to the goddess of bad fashion decisions? Curious about what the fashion trends and style "buzz" mean for you? On Saturday, May 11 from 11 a.m. to 3 p.m. the worlds of fashion and fundraising unite with Couture by the Shore, a Spring fashion show event at Kelly's Outer Banks Restaurant and Tavern in Nags Head. Runway models present the latest in clothing, jewelry, hair and makeup for looking your best at any age. The event includes a luncheon, raffle, giveaways, an auction of spring and summer "must haves" and much more, all to benefit the Outer Banks Relief Foundation. Participating retailers are Amity's, Birthday Suits, Charlotte's, The French Door, Gray's, Jewelry by Gail, Lady Victorian, Sunshack, Whalebone Surf Shop, Foxy Flamingo and Life's a Beach. Tickets are $40/person.
When we think about the most influential people in our lives, our mom is usually at or near the top of the list. This Sunday (it's Mother's Day, if you haven't been paying attention) how about treating your mom to the Mother's Day Buffet at Basnight's Lone Cedar Café on the Nags Head/Manteo Causeway? From 11 a.m. to 3 p.m. Mom will have her choice of delicious fresh seafood, quiche, fried chicken, salads, local vegetables and desserts! (See menu) Prices are $20/adult, $10/children 6-12 with children younger than 5 eating for free.
Another option is Ocean Boulevard's Mother's Day by the Ocean Brunch on Sunday from 11:30 a.m. to 3 p.m. Call (252) 261-2546 to reserve your seat to share this very creative brunch menu with Mom only steps from the Atlantic Ocean! (See menu)
Visit OuterBanksThisWeek.com for even more activities, events and happenings! Oh...and call your mom.

This week you have a chance to win a $50 gift certificate to Ocean Annie's Craft Gallery and an evening cruise for two on the Crystal Dawn!
For more information about Ocean Annie's Craft Gallery, check out their website.
For more information about Crystal Dawn, check out their website.
Last Week's Winner
Congratulations to Nancy Klapatch!!!

You won a $50 gift certificate to Hurricane Mo's and $50 gift certificate to Gray's Outer Banks.
For more information about Gray's Outer Banks, check out their website.