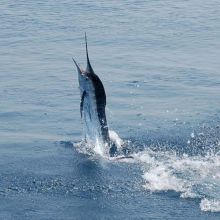 Everybody knows that fall is the prime fishing season on the Outer Banks, right? Surf fishing is legendary in the -ber months, especially on Hatteras and Ocracoke islands, but pier fishing, offshore fishing and inshore fishing should not be overlooked. If you've been dreaming about snagging a nice fat fish, now is the time to do it.
When the weather is cooperating (as in not blowing 20 as it is while I'm writing this), the white marlin bite has been hot offshore. Captains are reporting some of the best marlin fishing on the East Coast in years, and the boats have been coming to the docks in the afternoon with their white marlin flags waving. Sailfish and blue marlin have been caught in good numbers as well. Grand Slams (blue marlin, white marlin and sailfish) have been reported, along with good catches of wahoo, dolphin and some tuna.
The weather is supposed to be windy mid-week, but by later in the week they're calling for calmer seas and light winds. So if you want to get in on that white marlin action, you'd best book now for a good Friday, Saturday or Sunday trip.
My family had our own poor-man's grand slam this weekend. In our secret honey hole near Oregon Inlet, our boatful of anglers caught a striped bass, several speckled trout and puppy drum and a flounder. Other inshore anglers are reporting lots of speckled trout, gray trout, croaker, spot, bluefish and sea mullet. Speckled trout and puppy drum fishing has been great all summer, and it looks like that will continue well into the fall.
In the surf, fall's favorite fish, the red drum, are starting to bite down Hatteras way. Sea mullet, spot and croaker are biting in the surf as well. On the piers anglers are reporting catches of sea mullet, spot, croaker, bluefish and Spanish mackerel.
So what are you waiting for? When the weather cooperates (and it can definitely be fickle in the fall), fishing is at its best. Come on down and drop a line in the water. See our Fishing page for fishing reports and charter information.
Otherwise, there's a lot of competition going on this week.
The 45th annual Eastern Surf Championships have been going on all week at Jennette's Pier in Nags Head, and they'll continue through Saturday (if the waves will cooperate). It's super-fun to hang out on the beach by the pier for the day, and the surfing entertainment is just a bonus. Be sure to hit Cahoon's Market for some of their kick-A take-out chicken salad or spicy Thai noodles while you're in the neighborhood.
If the surfing is tired at the pier this weekend, look the other way for the Eastern Surf Kayak Association Contest. This one runs Friday, Saturday and Sunday and features surf kayakers riding the waves.
Kitty Hawk Surf Company is presenting the first annual Outer Banks Kayak Fishing Tournament on Saturday. You can choose to fish the ocean or the sound from Kitty Hawk Pier to Hatteras Inlet. Fish a mile offshore in the Atlantic Ocean to 5 miles inland allowing you to fish in the Roanoke, Albemarle and Pamlico Sound. You decide where the fish might bite. The first 20 people to register will receive a Captains Bag. The tournament will starts Saturday, September 22 at 6 a.m. For more information contact events@kittyhawk.com or (252) 441-1719 ext.206. The price to enter the tournament is $25 per person. To register, go to the Nags Head store of Kitty Hawk Surf Co. or www.kittyhawk.com. Captains meeting is Friday night at Kitty Hawk Surf Co. in Nags Head.
The Outer Banks Triathlon is Saturday and Sunday on Roanoke Island. Three distances will be held on Roanoke Island starting and finishing next to Dare County Regional Airport and the N.C. Aquarium. The swim portion is located at the Old Swimming Hole next to the airport. The bike will be an out-and-back race on Highway 64, over the Mann's Harbor Bridge and into the village of Mashoes. The running portions of the three races will be out-and-back courses through the airport, through the Mother Vineyard neighborhood and along the bike path to Heritage Point subdivision. They always need volunteers, so if you can help out this weekend go to www.obxmarathon.org for info.
The 4th annual Throw Down North of Town Surf Contest, presented by the Southern Shores Surf Club, will be held on Saturday at the Chickahauk Beach Access in Southern Shores. Don't miss a chance to win a brand-new surfboard shaped by Clark Shape and GFG. The contest is for all ages, from kids to seniors, and there are longboard and body board divisions too. A cash purse is up for grabs. To register and for more information contact Greg Sherman at 305-5035, Randy Jones at 202-2573 or Stephen Lamm at (757) 619-4495. The contest begins at 9 a.m.
If you love good wine and good music, this is the weekend for the Currituck Food & Wine Festival at the Cotton Gin/Sanctuary Vineyards in Jarvisburg. On Saturday from noon to 6 p.m., enjoy sampling wines from many N.C. wineries and beer brewers, along with live music. Advance tickets are available at all Cotton Gins and online at www.sanctuaryvineyards.com. Tickets cost $20 in advance, $25 at the door.
In the planning ahead department, it's time to order your lobsters in the Annual Lobster Feast at All Saints Episcopal Church in Southern Shores, scheduled for Saturday, September 29 from 3 to 8 p.m. You can enjoy a full lobster dinner on site, or get take-out. Reservations for dinner or take-out must be made in advance so they can know how many live lobsters to order. Call (252) 261-6674. A portion of proceeds goes to community charities. Take-out lobster is $15. Take-out dinner is $25.
And just so you know: If you're planning a trip to Ocracoke via Hatteras, you might want to check in with the Ferry Service ahead of time. Ferry service between Hatteras and Ocracoke could be delayed for the next several weeks as sand once again is filling up the channel, despite recent dredging. Because of the shoaling, only smaller Hatteras Class boats, which draw less water and are easier to maneuver in the shallow passage, began running the route on Monday. Travelers using the Hatteras Inlet route could encounter delays, load weight restrictions and possible suspensions of service.
The Ferry Division says travelers can get up-to-date information by going to www.twitter.com/ncdot_ferry or call the Hatteras terminal at (252) 986-2353.
It looks like we're going to have some cooler fall weather and northeast winds for the rest of this week. Hope you can find lots of great reasons to get out and enjoy it. Need some more ideas for things to do? Check out our By Day and Nightlife sections for the low-down on all that's going down on the Outer Banks This Week!

This week you have a chance to win a $25 gift certificate to Mike Dianna's Grill Room and $30 to Island Revolution Surf Company!
For more information about Mike Dianna's Grill Room, check out their website.
For more information about Island Revolution, check out their website.
Last Week's Winner
Congratulations to Mary Tracy!!!

You won a two night stay at the Outer Banks Inn & a beginner hang gliding lesson from Kitty Hawk Kites!
For more information about The Outer Banks Inn, check out their website.
For more information about Kitty Hawk Kites, check out their website.