With an annual tree-lighting, parade and home tour, Roanoke Island and Manteo have long been the epicenter of an Outer Banks Christmas. Those things aren't happening this year, but there is still plenty of holiday-oriented fun around the island. If you want to get into holiday spirit, this is the place to do it.
For starters, the island is looking especially festive, as you can see in this photo of the Ella View at the Roanoke Island Maritime Museum. The Town of Manteo's staff has been busy hanging their lighted decorations and banners and adorning their facilities with greenery and ribbons. The town and the Roanoke Island Garden Club again sponsored their business wreath contest, so there are more than 30 spectacular wreaths dressing up the town's doors. Check out the winners at Roanoke Island Festival Park, Charlotte's, The Lost Colony, The Christmas Shop, R.D. Sawyer Motor Co., The Corner Gals OBX, Island Perk Coffee Shop and 108 Budleigh.
Speaking of contests, the Town of Manteo's decorating contest for homes and businesses is also leading to a lot of festive sprucing up. The best-decorated home and business will each receive $100. The town is also hosting an online talent competition, with the winner receiving $100. The deadline for these entries is Friday, December 11. For information on how to enter, click here.

WinterLights
The best way to get in the holiday spirit on the Outer Banks (and safely out of the house in 2020!) is The Elizabethan Gardens' WinterLights display. Volunteers and staff were busy this fall transforming the gardens into an illuminated winter wonderland with more than a million twinkling lights. Guests are invited to stroll the garden paths at night to enjoy all the displays and music, stopping at open-air fires along the way to warm up. WinterLights, presented by Southern Bank, is open Tuesday through Sunday every week in December and on Fridays and Saturdays in January (closed December 24, 25, 31 and January 1). Times each night are 6 to 9 p.m. Admission costs $11 for adults, $9 for youth and $6 for children, and season passes are available. Tickets can be purchased online only for pre-selected timed entry. Masks are required. Purchase tickets here. 
Christmas on the North End
Island Farm is hosting a new event called Christmas on the North End on the first two weekends in December. Celebrate the holidays in 19th-century tradition, the farm's historic homeplace will be decorated inside and out, and interpreters will share how Roanoke Island families celebrated the Christmas holiday through traditions of food, traditions and crafts. There will be make-and-take holiday activities for children. The event will be held on Saturday and Sunday this weekend and next, December 4 and 5 and 11 and 12. Admission is $8 for ages 6 and older, $4 for children ages 3 to 5 and free for ages 2 and younger. Reservations are not required for this event. Masks are required indoors at all times, and outdoors where social distancing cannot be maintained. For more information, click here. 
Downtown Manteo Shopping Spree
For your holiday shopping adventures, Roanoke Island and Manteo have more than 60 locally owned stores and more than 30 restaurants for when you need a break, so this is a place where you can check off everything on your list. Twenty-four businesses in Downtown Manteo are making the shopping and dining even sweeter with the possibility of winning some great prizes. When you spend a minimum of $20 at participating businesses before December 11, you will be entered to win a two-night stay in Manteo plus a $500 shopping spree! Click here for details.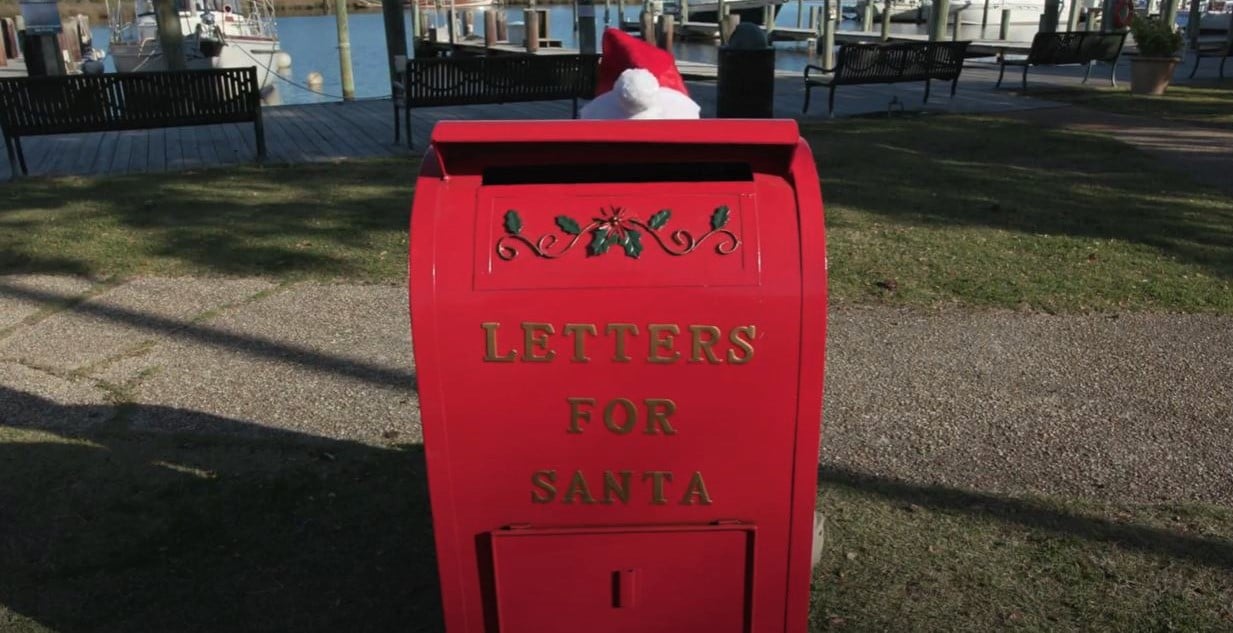 New in downtown Manteo is a bright red Letters for Santa Mailbox. You'll find it on the waterfront on Queen Elizabeth Street.
Special Shopping Events
Local shops are hosting special events all throughout the season. Dare County Art Council in Downtown Manteo has new December exhibits and a wealth of local art to peruse. Downtown Books is hosting a unique shopping opportunity on Saturday, December 19: a safe, socially distant, in-person, drive-through book signing with celebrity chef Vivian Howard. She'll be signing her new book This Should Make it Taste Good. It will be held at Outer Banks Distilling from 1 to 3 p.m. Tickets must be purchased in advance here.
Giving Spirit
Manteo is also offering opportunities to be generous this season. A Drive-Thru Holiday Food Drive to benefit local food pantries is being held on Saturday, December 19 from 10 a.m. to 3 p.m. at Magnolia Market in Downtown Manteo and at the Pea Island Cookhouse on Sir Walter Raleigh Street (behind Ace Hardware). The Pea Island Cookhouse will be open that day, so you'll have a rare chance to step inside this little gem of a historic attraction.
Three inns in Manteo are currently hosting a Christmas Toy Drop-Off. Burrus House Inn, Roanoke Island Inn and White Doe Inn are collecting toy donations for children ages 5 to 18 until December 11. A list of needed items is on their Facebook page. For more information contact (252)-473-9851.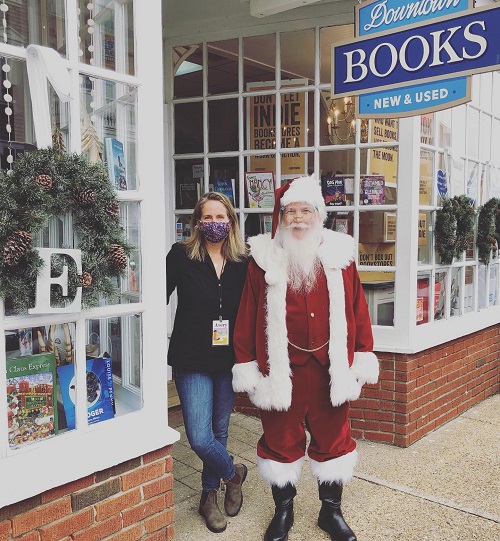 Santa will be strolling around Downtown Manteo on Saturday, December 5 and Friday, December 11.
For more festive holiday-oriented activities, be sure to check out our Daytime and Nightlife events listings.