I love this time of year. In the past month, the activity level on the Outer Banks started stirring with the onset of spring. Now, with this week's welcome of May, it's awoken completely. With so many events and programs occurring across the area during the day and restaurants upping the number of their evening events and musicians, this 2018 season promises to be good. For just a taste of what you can get excited about, simply check out the selection of events and activities happening this weekend. From athletic championships to fundraisers – and of course let's not forget about Cinco de Mayo – I recommend putting off that spring cleaning for just a few more days and clear your schedule for these awesome activities.
First Friday
Head into the weekend (and month) on the right foot by starting it with First Friday on the Manteo waterfront. On the first Friday of each month, this Outer Banks event brings the community together for an evening of live music, book signings and art exhibits. Downtown shops, attractions and restaurants open their doors with exciting deals for the occasion. Check out the festivities, and when you're ready for dinner, follow your nose toward any of the delicious aromas flowing from the downtown restaurants. Be sure to stop by Dare County Arts Council for the Cornelio Campos art exhibit opening. Campos' works blend Mexican folklore and anthropological symbols and at the same time make political statements on issues like immigration. The reception will be held from 6 to 8 p.m. and will include Latin-themed food and drink along with music by Tropical Mazter. Also be sure to stop by Downtown Books, where author Kristy Woodson Harvey will be signing her popular Southern novels, including her latest, The Secret to Southern Charm.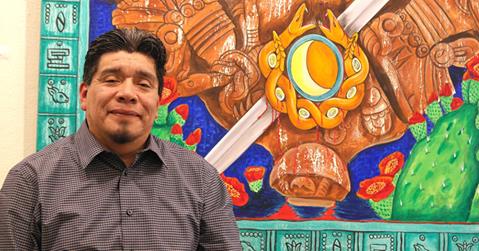 Photos above: Painter Cornelio Campos and one of his paintings, courtesy of Dare County Arts Council
PS: This weekend at Dare County Arts Council it's also the opening of the 21st annual Mollie Fearing Memorial Art Show. The opening reception will be held on Sunday, May 6, from 2 to 4 p.m. and is free. A variety of artists exhibit work in the show, and the reception is always a great time. If you miss the opening, you can still see the show through May 29 at Dare County Arts Council.
Cinco De Mayo Celebrations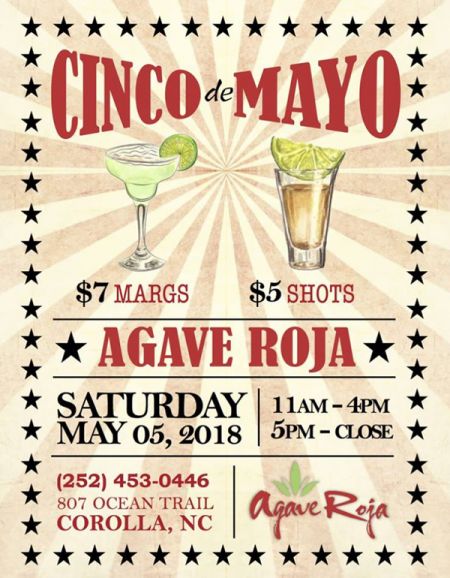 This weekend you'll also find many incarnations of Cinco de Mayo celebrations. Pre-game this holiday with Rooster's Southern Kitchen's Spirits for Giving on Friday, May 4, from 6 to 7 p.m. This monthly event benefits different local charity each time, and this month 100% of the ticket proceeds go to A Reason to Smile. In honor of Cinco de Mayo, the tasting features tequila. Taste six different varieties of tequila and enjoy the selection of appetizers and small plates that they're paired with. Tickets are $25 each. Get yours by calling (252) 441-4594.
The Cinco de Mayo Backyard Fiesta at Outer Banks Brewing Station will be happening on Friday as well. From 5 to 9 p.m. the family-friendly event will benefit Children at Play Museum. There will be a Mexican buffet, live music, kids' activities and a raffle. Tickets are $25 in advance and $30 at the door (youth $12). Call (252) 261-0290 for advance tickets.
Head to Corolla on Saturday, May 5, to toast the actual holiday at Agave Roja's Cinco de Mayo celebration. They'll offer drink specials including $7 margaritas and $5 shots to complement their extensive menu of tacos, enchiladas and specialty dishes all afternoon and evening.
Derby Day Celebrations
Let's not forget that Cinco de Mayo shares the day with the Kentucky Derby. Rooster's Southern Kitchen's Derby de Mayo lets you get the best of both worlds. Wednesday through Saturday enjoy drink specials, including both mint juleps and margaritas, and order some quesadillas and nachos before you dig into the Southern classic, Kentucky Hot Brown. Gather round the bar at Rooster's on Saturday afternoon starting at 4 p.m. to watch the race (start time 6:45 p.m.) and partake ithe festivities. 
If you'd rather a more traditional Derby Day, don your finest hat or favorite seersucker for the Run for the Roses Kentucky Derby Party at The Elizabethan Gardens. This event is classic to the max. On the Great Lawn you'll sip mint juleps and enjoy a generous Southern buffet and Derby pie while you place your bids and your bets between the event's silent auction and the race's horses. Gather around the large-screen televisions to cheer on the horses of your choice. This event is from 3:30 to 8 p.m., and a complete schedule can be found here. Outer Banks Blue Reality sponsors the Kentucky Derby Party and proceeds from the admission tickets go to the Dare Education Foundation, the Beach Food Pantry and The Elizabethan Gardens. Tickets are $125 per person.
These are just a few of the many great events happening this weekend. Be sure to check out our Daytime events listings to learn about others, including the ESA Mid Atlantic Regional Surfing Championships at Jennette's Pier and Relay for Life at First Flight High School. Although the above programs will occupy your weekend nights, check out what else is happening during the week on our Nightlife listings.
Looking Ahead: Artrageous is Next Weekend!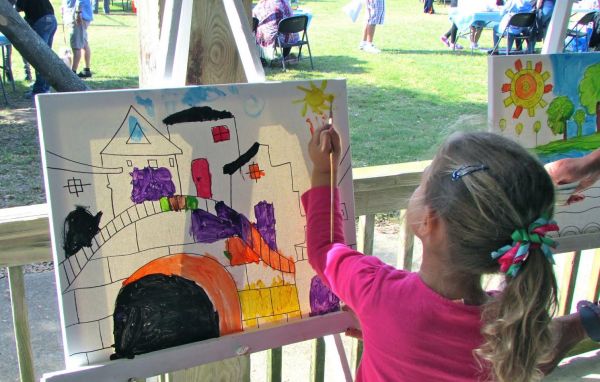 Dare County Arts Council's 29th Annual Artrageous Kids Arts Festival is coming up on Saturday, May 12 from 10 a.m. to 3 p.m. Held in Dowdy Park in Nags Head, this is a must-do family-oriented event. There will be more than 20 high-quality art activities for kids plus several performances, live music, food and local art vendors. It's an event that the locals look forward to every year – and it's free!
Photo: Courtesy of Dare County Arts Council