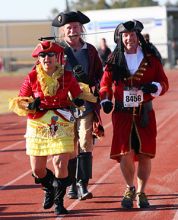 Calling all scallywags, buccaneers and swashbucklers to the Outer Banks! It's time to lace up your running shoes for the annual Flying Pirate Half Marathon. This two-day event docks its ship this Saturday and Sunday, April 13 and 14, for a weekend of physical activities, philanthropy and fun. Both a Jolly Roger pirate exposition and series of races, the event includes a half marathon, a 5K course and fun run. At the half marathon's end, the participants gather for the Pirate Jamboree to reward their hard work with food, drink and live music.
The Flying Pirate Half Marathon attracts professional and amateur runners from all ages and walks of life. In fact, many of the race's participants travel just for the run, totaling the number of racers to around 2,000 each year! Of course, it has its share of local runners, such as the 85-year old grandmother who's raced five in Flying Pirates. However, Outer Bankers make up a fraction of the 50 states and 10-plus countries represented at the event each year.
Ray Robinson, the race director, remembers the three women who made the trip from China last year just to compete in the half marathon. "And they won it too," he says.
It's easy to see the half marathon's appeal. Ray describes it as, "the most scenic half marathon on the East Coast."
The 13.1-mile course starts in Southern Shores' enchanting forest and follows the bike/foot path through Kitty Hawk, into Kill Devil Hills and finishing in Nags Head Woods. Runners absorb the sights, sounds and smells of the maritime forest, coastal villages and beaches. Along the way, they are cheered on by hundreds of volunteers and spectators, some ringing cowbells, DJing motivational jams from their porches and even offering fun detours en route for hopscotch courses and champagne toasts. The race is more than a chance to see what the Outer Banks looks like, it's an opportunity to get a feel for the local communities and what living here is like, to get that sense of small-town support that permeates the area.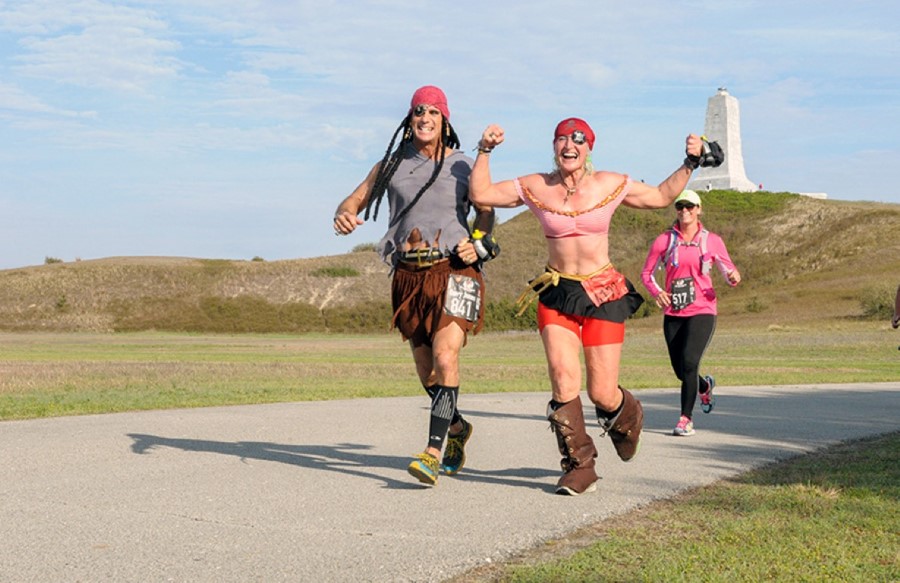 You never know what each year's Flying Pirate event will bring. If you were there a few years ago, maybe you saw a particular couple jogging through the course. He wore his tuxedo and she showed off her wedding dress. The finish line meant the end of their race and the start of a new life together as they exchanged their vows and got married then and there. After getting engaged at an earlier Outer Banks Sporting Events race, it seemed fitting for their relationship to progress with the race events.
As you probably guessed, wedding attire isn't exactly the norm at the Flying Pirate Half Marathon. More in line with Outer Banks culture and heritage, on the other hand, pirate dress is expected, and you better believe that people take the theme seriously. The Pirate Jamboree post-race after party includes a costume contest along with the awards ceremony. For some participants that matters more than who finished first or last. The Jamboree also includes free food and cold beer.
Diversity and pirate theme aside, though, the best part of this event is the role it plays within the Outer Banks community. As a charity event, all of the net proceeds go toward the Dare Education Foundation and the Outer Banks Relief Foundation. In addition to this, many Outer Banks hotels, inns and vacation rentals offer deals and special for the out-of-town runners who travel to this event. Since this event began, the Flying Pirate Half Marathon has contributed about $50 million to the local economy. Read about that here.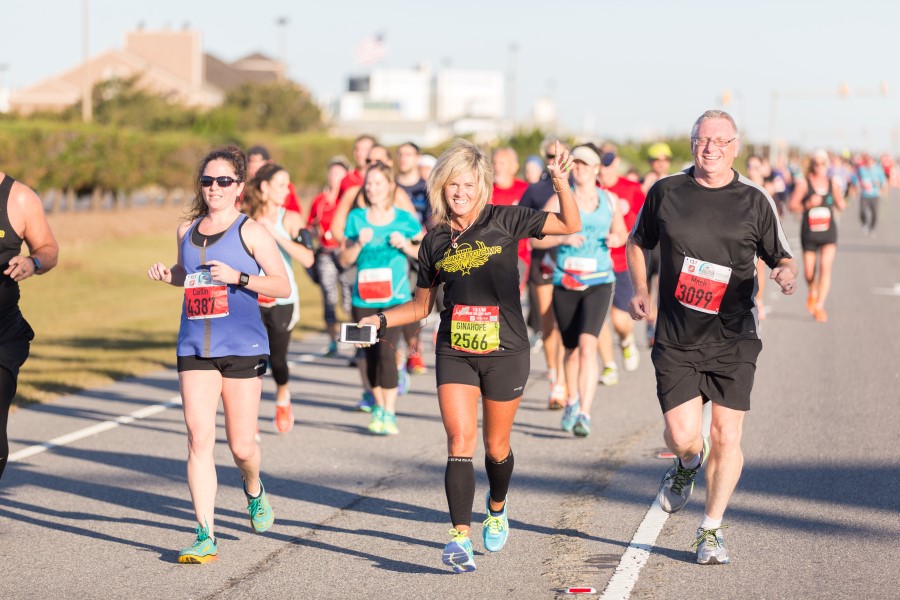 The half marathon, 5K and fun run rely on volunteers, and about 800 come out each year to show their support. Volunteers cheer on runners and do anything from checking in with the runners, working as Course Marshalls, decorating and managing the Jamboree and everything in between. It's a great way to support and cheer on the event's racers without actually having to run yourself. This year's event still has plenty of room for more volunteers, and you can sign up for any job here.
And if you do want to run but feel a little intimidated by the distance, fear not, me mateys. The Flying Pirate includes a Double Dare 5K run around the Wright Brothers Memorial and a First Flight Fun Run.
The 5K will be held on Saturday morning at 7:30 a.m., followed by the awards ceremony at 9 a.m. to recognize the top three runners across three different age groups. Then rise and shine bright and early for Sunday morning, where the half marathon kicks off at 7 a.m. from Dominion Energy in Southern Shores and finishes behind the Wings in Pirate's Quay Shopping Center in Nags Head. There, you'll find the Pirates Jamboree, which is free for all runners but open to everyone. You can party down, pirate-style, with cold beer, good eats and live music by Jonny Waters & Company.
Registration for the event is still open. Whether you want to run, volunteer or support, visit the Outer Banks Sporting Events website to learn more about how you can get involved with this beloved Outer Banks activity.