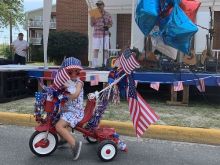 With six major fireworks shows, three parades, a sand sculpture contest, live music, an apple pie contest, a road race, a beer run and so much more, July 4 is a big deal on the Outer Banks.
The visitors will be streaming across the bridges this weekend, ready to join the celebrations on Monday, July 4. Next week will be one of the busiest weeks of the summer on the Outer Banks, so expect crowded beaches, roads, waterways, ferries, stores and restaurants. You'll be happiest if you go into the week with a mindset of making the best of it. Slow down and be patient and be kind to people along the way.
Photo: The Town of Manteo Fourth of July Bike Parade, photo courtesy Town of Manteo.
Also, be sure to keep safety in mind as you celebrate. Keep an eye on kids when they're near the water or around traffic, stay hydrated, reapply your sunscreen, be extra cautious crossing the roads and designate a sober driver for all vehicles and boats. And remember: Personal fireworks are illegal in North Carolina, so leave them to the professionals.
If you plan to head out to watch the fireworks, keep in mind that you can see them for miles, so you don't necessarily have to right to the launching site to enjoy them. Go to the beach a few accesses away to avoid the crowds or watch from your house if possible. Walk or bike if you can to avoid the traffic. If you do walk or bike, bring a flashlight or wear glow sticks so cars can see you. If you're boating for the fireworks, make absolutely certain your running lights are working before you head out because you and a lot of other boats will be returning to shore in the dark.
I don't know what's happening meteorologically, but the temperatures on the Outer Banks have been so nice and cool for the last couple of weeks – upper 70s and low 80s with light winds. The forecast calls for more of the same through the weekend and into next week. Let's hope the rain holds off for the July Fourth celebrations. 
Saturday, July 2
Ocracoke Fireworks Show
NPS Docks, southern end of the village
6 p.m. DJ Tommy Hutcherson at NPS docks
9:15 p.m. Fireworks
You'll be able to see the fireworks from all around the harbor and from many locations in the village. The NPS parking lot will be closed. Ocracoke continues its celebrations on the 3rd and 4th, so see below.

Outer Banks Running Company organizes the Independence Beer Mile at Outer Banks Brewing Station on July 3.
Sunday, July 3
Independence Beer Mile
Outer Banks Brewing Station
11 a.m.
In this race you only have to run 1 mile – and you get to drink a 10 oz. beer every quarter mile along the way. At the after party, prizes are given to the fastest male and female runners. There's a costume contest too – American patriotism is obviously the theme. Check in and register from 10 to 11 a.m. in the backyard. The cost to enter is $40. For info calll (252) 489-8239 or click here.
Ocracoke Independence Day Celebrations
11 a.m. to 2 p.m. Island-Wide Scavenger Hunt. Sign up at Spencer's Market.
6:30 to 8:30 p.m. Old-fashioned Square Dance with Molasses Creek at Berkley Barn.
Monday, July 4
Freedom 5K and Fun Run
Kill Devil Hills Town Hall, 102 Town Hall Drive, Kill Devil Hills
7:30 a.m. 5K, 8:10 a.m. Fun Run
Click here for the link to preregister. Runners/walkers get a t-shirt and a medal. The cost is $45 for the 5K and $28 for the Fun Run. Prizes are awarded to top finishers.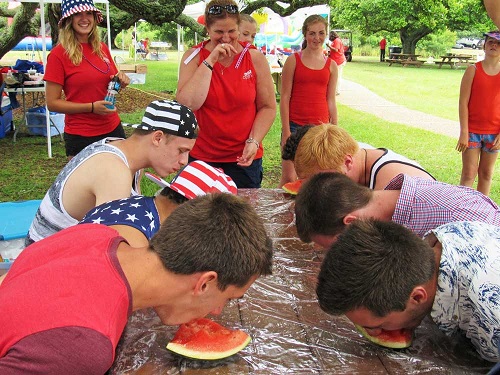 Watermelon Eating Contest at Historic Corolla Park, photo courtesy of Currituck County Dept. of Travel and Tourism
Corolla Independence Day Celebration & Fireworks
5 to 9 p.m.
Historic Corolla Park
5 p.m. Food trucks, live music with The Black and Blue Experience Band, family fun activities
9 p.m. Fireworks
Free parking on site will begin at 3 p.m. until it's full. Walk or bike to the site if possible.
Town of Duck 4th of July Parade
9 a.m.
The 1-mile route begins on Scarborough Lane, travels east to Ocean Way and continues onto Christopher Drive to end at Pamela Court. No part of the parade is on Duck Road. A free post-parade party with music, refreshments and parade awards is held at Duck Town Park.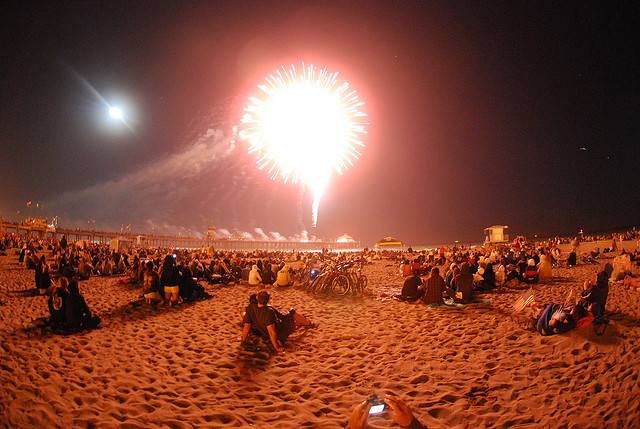 Kill Devil Hills Fireworks Show
 Avalon Pier, 2111 N. Virginia Dare Trail, MP 6, Kill Devil Hills
9:15 p.m.
Nags Head Fourth of July Fireworks Spectacular
9:25 p.m.
Nags Head Fishing Pier, 3335 S. Virginia Dare Trail, MP 11.5 
Town of Manteo Fourth of July Celebration & Fireworks
Downtown Manteo
3 p.m. National Anthem and flag presentation at Courthouse stage
3:15 to 5:15 p.m. Decorated Bike Contest and Kids Parade, Independence Day Trivia, Apple Pie Contest, games in downtown Manteo at Courthouse stage
5:15 to 7:15 80s band The Deloreans at Roanoke Island Festival Park stage
7:45 to 9:15 p.m. 82nd Airborne Division Band and Chorus at Roanoke Island Festival Park stage
9 p.m.: Fireworks show at Roanoke Island Festival Park
Avon Fireworks
Avon Fishing Pier, 41001 N.C. Highway 12, Avon
9:15 p.m.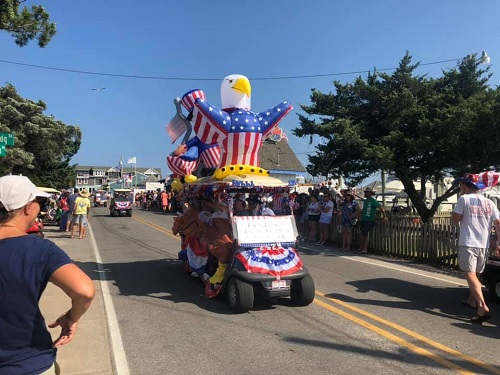 Ocracoke Old Time Independence Parade, photo courtesy Visit Ocracoke
July 4th in Hatteras Village
6 p.m. Golf Cart Parade, 6:30 p.m. Village Cookout
Parade starts at Teach's Lair Marina and goes down Eagle Pass Road. Anyone can enter; just be in the lineup by 5:45 p.m. The free cookout is in the Community Building.
Ocracoke Island Independence Day Celebrations
9:30 a.m. NPS talk and pony meet at Ocracoke Pony Pens
9:30 a.m. to noon  42nd annual Sand Sculpture Contest, NPS Lifeguard Beach, cash prizes. Signups start at 9 a.m.
10 a.m. to 12:30 p.m. and 1:30 to 4:30 p.m. Ocracoke Lighthouse Tours (no climbing). Chester Lynn will talk between 10:30 a.m. and 12:30 p.m.
4 p.m. Old Time Independence Parade
Theme: Famous Duos. Parade starts at Wheelie Fun Golf Carts and ends at NPS docks parking lot. Sign ups at 3 p.m. at Wheelie Fun.
5:30 p.m. Singing of the National Anthem and awards ceremony for parade and Sand Sculpture Contest at Books to Be Red stage. Bring your own seating.
5:45 to 6:30 p.m. Storytelling with Donald Davis at the lawn of Books to Be Red
7 to 10 p.m. Community Beach Bonfire Under the Stars at the Ocracoke Day Use Area/NPS Lifeguard Beach. Bring seating and marshmallows to roast.
To see all of the many fun things to do this week, from free yoga classes to art shows to live music, see our Daytime and Nightlife listings. Be safe out there and have fun!