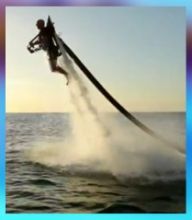 Every once in a while the next big thing comes along and shakes up the watersport world. For a long time there was just surfing and sailing and water-skiing. Then came windsurfing. Followed by Jet-skiing. Remember when that was new? It caused quite the hubbub in the early 1990s when people were trying to figure out how to regulate it. Then it was Parasailing. And kiteboarding - that innovation spread like wildfire on the Outer Banks. Last summer, stand up paddleboarding took off as the new watersport of choice. All of these sports pretty much stair-stepped up from each other - the lineage of each is easy to trace back to something before it.
But this summer, there's a new watersport in town and it's light years beyond anything else we've seen so far. Kitty Hawk Kites is offering water-propelled flying on jet packs. You know that kind of futuristic stuff that back in the 1970s (if you were alive then) we imagined would be the crazy Jetsons-style future of the 2000s? Well, that's here. And it's available to you on the Manteo waterfront. Kitty Hawk Kites started booking its first JetPak trips on the JetLev R200 this week.
Here's how it works: It starts with a floating 200 hp marine engine and a hose that is connected from it to an ultralight backpack. The water pumps through the hose to two jet packs/rocket boosters on the backpack. The participant wears the backpack, and as water shoots through the jet packs, the participant is propelled above the water.
The participant uses controls and a motorcycle-style throttle to make turns, to fly up to 30 feet above the water or to dive down to 30 feet below the water. The little boat in the water follows you wherever you go, providing constant fuel to the jet packs. You can see videos of the sport here and here.
Kitty Hawk Kites offers JetPak lessons from onboard the "Launch Pad," a 32-foot pontoon boat that's docked on the Manteo waterfront. You have to be at least 16 years old and weigh more than 88 pounds and less than 333 pounds. On a KHK tour, the flight crew gives instructions on the way out into the sound. Participants then take turns operating the JetLev R200 JetPak apparatus under the supervision of the flight crew. Each participant receives two flights with the JetPak. First-timers are under the control of a crewmember and they wear a helmet that allows them to hear the instructor. The second run, they control the JetPak on their own.
A KHK trip is about 2.5 hours long, with each participant getting about 30 minutes of flight time. Cost is $250 for beginners, $225 for advanced students and $25 for observers (those who just want to watch a friend try it out). If you've done it, please comment below and tell us about it. We all want to know. Click here if you want to see more and book a trip.
OK, y'all, we're creeping closer and closer to Memorial Day weekend. It still seems pretty tame around here, like the locals still have control of the zoo. But all that's going to change next week. Are we ready? Will we ever be? Things are going to ratchet up quickly from here. This is our last locals weekend. Soon it'll be strangers in the Harris Teeter instead of your kids' teachers and your book club friend. Soon the line at the ATM will be six cars deep and making a left turn will make you late for work. Get out there and enjoy this weekend!
Those of you with really little people in tow should make it a point to get to Kids Fest on Friday at Roanoke Island Festival Park. It's a festival for ages 5 and younger only, and there's lots of fun things to do - games, stories, fire trucks, activities, art projects, face painting, music and more. It lasts from 9:30 a.m. to 12:30 p.m.
With skin-baring season upon us, it would be a good idea to take advantage of the Outer Banks Hospital's Free Skin-Cancer Screening on Friday. From 10 a.m. to 2 p.m. they'll be offering free screenings, but you need to pre-register by calling (252) 449-4500.
Friday night, local teenagers can check out the talent of their peers at the Battle of the Bands at First Flight High School Stadium from 6:30 to 9:30 p.m. Following that event, Dare County Parks and Rec is hosting Rockin' in the Rec with a DJ in the Dare County Recreation Center. It's from 9 p.m. to midnight and there will be chaperones and supervision.
The Coastal Gardening Festival is from 9:30 a.m. to 2:30 p.m. at the Outer Banks Arboretum and Teaching Garden next to the Baum Center in KDH. The festival offers plants, yard art, jewelry and home décor for sale, plus food, educational displays, kids' activities, raffles and more.
Kitty Hawk Kites' Hang Gliding Spectacular and Air Games is all weekend (Friday, Saturday and Sunday) on Jockey's Ridge. It's the world's longest-running hang gliding competition and it's fun to watch.
On Saturday, there's a rare opportunity to go inside the Coast Guard Station Oregon Inlet. They're having a Coast Guard Station Open House in celebration of National Safe Boating Week and to kick off the boating season. In addition to the Coast Guard, you can meet EMS officials, surf rescue staff, fire fighters, police officers and more safety personnel. You'll be able to tour the station, boats and the helicopter. There will be lots of activities for kids. It's from 10 a.m. to 4 p.m.
The Jarvisburg Music and Wine Festival at Sanctuary Vineyards sounds really fun on Saturday. In addition to local wines and beers, there will be music by Yo Mama's Big Fat Booty Band, Zack Mexico, Pairadocs and more. There will be seafood and barbecue. Hay rides and more. Cost is $25 in advance, $30 at the door. Hours are noon to 6 p.m. Sanctuary is in Jarvisburg on mainland Currituck County, not far from Kitty Hawk.
There's another music festival on Sunday, this one across the Currituck Sound from Jarvisburg in Corolla. The Mustang Spring Jam is at Mike Dianna's Grill Room in Corolla and it's a benefit for the Corolla Wild Horse Fund. Enjoy great food, cold beer and fine wine while checking out some of the best live music the Outer Banks has to offer, including Hungry Mother, Nat Hall and the Corolla Allstars, The Paul Rowlen Project, Da Little Big Band featuring Laura Martier and The Tom Principato Band. Mustang rides will be offered for $6. This event goes on from 2 to 10 p.m. and tickets are just $10.
Don't forget that it's Spring Restaurant Week on the Outer Banks. Through Friday, at least 20 Outer Banks restaurants are offering special three-course prix fixe lunches and dinners for one low price. See details and participating restaurants on the link. It's a great excuse to try a new restaurant or revisit on old favorite - like I said, before the masses descend on us and we can't go out to dinner anymore!
One final thing: Theatre of Dare is offering its last show of the season on Friday and Saturday nights and Sunday afternoon in Manteo. Their show is Forbidden Broadway and it's a satire on Broadway shows.
I know, I know, you're ready to be off on your JetPak adventure, so I'll let you go. Don't forget to browse amongst our By Day and Nightlife listings. There's a lot going on this week. Oh, and be sure to enter our Facebook Giveaway this week (see below)! Pedis and Champagne for two at Aqua Spa plus a little shopping trip at The Cottage Shop. Good times...

This week you have a chance to win a Free On-the-go Pedicure and Mimosa for you & a friend at Aqua Spa plus a $25 Gift Certificate to spend at The Cottage Shop.
For more information about Aqua Spa, check out their website.
For more information about The Cottage Shop, check out their website.
Last Week's Winner
Congratulations to Erin Collingl!!!

You won a $75 gift certicate to 1587 Restaurant plus $50 worth of tickets to The Lost Colony!
For more information about 1587 Restaurant, check out their website.
For more information about The Lost Colony, check out their website.