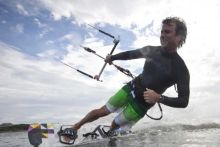 All across the Outer Banks are people doing their best to make a living while still finding time to enjoy this wonderful place they call home. In this edition of Get to Know a Local, you'll meet one of them: Brian Klauser, owner of Ocean Air Sports in Avon.
Ocean Air Sports is one of the most trusted names in watersports on Hatteras Island. It started out as Windsurfing Hatteras in 1987 and has been the premier windsurfing shop on the Outer Banks ever since. Klauser later purchased Windsurfing Hatteras and changed the name to OceanAir Sports to reflect their diversification into other watersports like kiteboarding and paddleboarding. Located right on the Pamlico Sound in north Avon, Ocean Air Sports is a nationally regarded windsports outfitter and a top Outer Banks destination for windsurfing, kiteboarding and wing foiling. They offer lessons and rentals, including kayak rentals, and sell the gear you need to get set up in any of these sports.
From October 22 to 29, Ocean Air Sports is hosting OBX-Wind 2022, one of the largest windsurfing events in the country and drawing hundreds of competitors from around the world to Hatteras Island. Throughout the week there are windsurfing events, races, clinics and gatherings at Ocean Air Sports and locations around Avon.
Keep reading to learn more about longtime local Brian Klauser and his Hatteras Island lifestyle.
How long have you lived on the Outer Banks and how did you end up here?
I blew in with the wind in 1998.
What do you do for a living and how did you get into this line of work?
I started working in action sports retail in 1990 and have stuck with it this whole time.
What did you do before you were in this business?
I spent a lot of time working in snowboard/skate shops.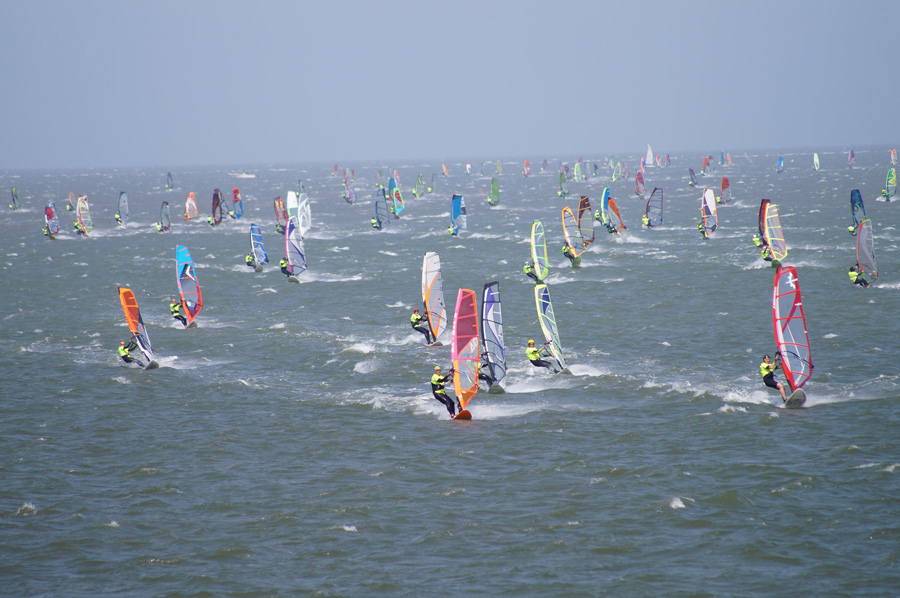 Photo: OBX-Wind windsurfing competition, which is being held October 22 to 29, draws hundreds of competitors to compete on the Pamlico Sound behind Ocean Air Sports.
What motivates you in your job?
We have a lot of high-end gear and I have to know how it all works so that I can sell it. So, I have to ride everything we sell. 
What's your favorite thing about your job?
It's different every day. That keeps it interesting. I like sharing my personal experiences on all the gear that we sell and getting customers stoked to try new stuff to improve their own experience on the water.
What's the most challenging part of your job?
It's different every day. You never know what to expect. Over the past 25 years, we have had a few hurricanes that have really messed things up down here and we have had some serious cleanup and repairs to do.
What's your favorite OBX town or village?
Avon for sure. 
What is your favorite thing about living on the Outer Banks?
The wind and the water. 
What is your favorite season on the Outer Banks? 
I like all the seasons because of the different weather they bring, but I could also say that I like winter the best. After a busy year, it is nice to have a break with the traffic and be able to go to the beach and not see another soul for miles in any direction.
What do you do for fun?
My favorite thing to do is kitesurf in the waves. When I'm not kiting, windsurfing, wingsurfing or surfing, I like to go fishing and cruise around the sound in my boat.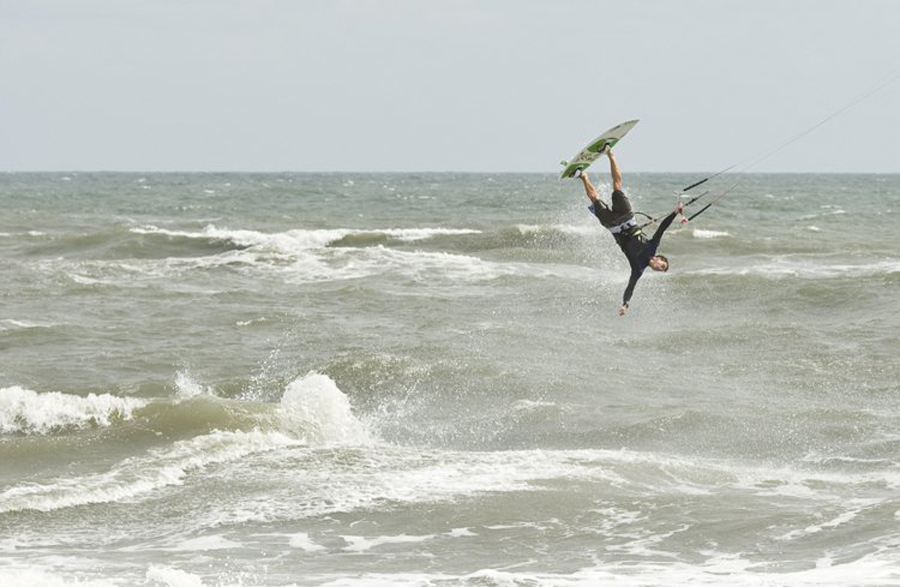 Photo: Klauser kitesurfing in the ocean waves in Nags Head.
What do you do in the off-season?
Catch my breath. Get kite sessions on nice days. Travel. Get ready to do it all over again.
What's your favorite beach access?
Ramp 34 just north of Avon has to be one of the nicest beach accesses on Hatteras Island. But I do spend a good amount of time down at the Billy Mitchell beach access on the south side.
Describe your perfect day off.
Fishing in the morning. Kite session in the afternoon. Cold beers on the beach for sunset.
Do you see more sunrises or sunsets?
I see 100 times more sunsets than sunrises.
What's one thing you wish more Outer Banks visitors knew?
I think one of the most important things OBX visitors need to know more about is the wind speed and direction. These two things can make or break your vacation, and you can use them to your advantage. Don't like the conditions at the beach closest to your house? Chances are there is a different-facing beach somewhere out here that will have glorious conditions. Don't be afraid to explore a little.
Where do you go on vacation?
I live on vacation so it can be difficult for me to also go on vacation. But I do: either somewhere warm to surf or kite or somewhere cold to snowboard.
For a celebratory dinner, would you rather order take-out, go out to eat or cook something at home?
I like to cook. I like to celebrate with a nice filet mignon cooked in the cast-iron skillet smothered in caramelized onions, asparagus on the side.
What is your favorite local seafood?
I love going offshore and catching yellowfin tuna. To cook it, I roll the tuna in Montreal Steak Seasoning and sear it in a hot skillet for a minute on each side, then slice and serve with soy sauce.
Do you have any side hustles?
Yes. Gotta pay college tuition for my two awesome kids, my daughter who's a sophomore at UNCW and my son who's a junior in high school.
Do you have any pet projects or is there a local nonprofit that you're passionate about?
Before COVID we held a paddleboard race to raise money for the Hatteras Island Cancer Foundation. We took a break from it for the past couple years, but for 2023 I want to make it bigger than ever and have it include all paddle sports.
What's one item on your bucket list?
One thing that comes to mind is kitesurfing at One Eye in Mauritius.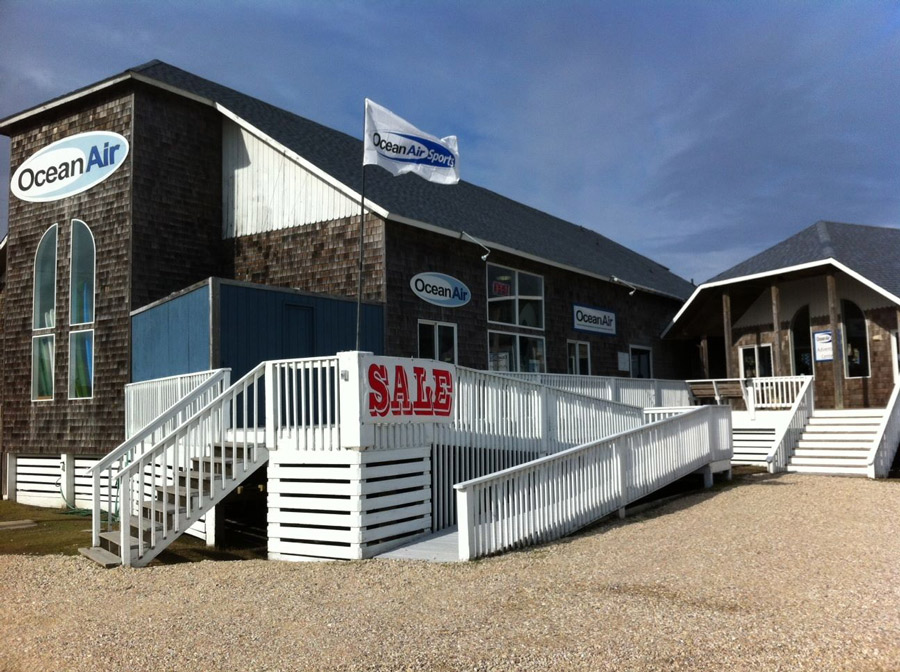 Ocean Air Sports
39450 N.C. Highway 12, Avon
(252) 995-5000
oceanairsports.com