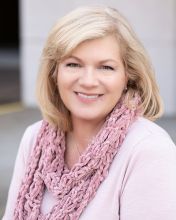 All across the Outer Banks are people doing their best to make a living while still finding time to enjoy this wonderful place they call home. In this edition of Get to Know a Local, you'll meet one of them, Dawn Eskins, owner of Studio 12 and Swept Away Cafe in Avon.
Dawn's family is from Carova Beach and were some of the few original residents of the tiny beach enclave. Dawn's grandfather, Jim Smith, was the first fire captain at Carova Beach and he helped launch and run the fire station there. His wife, Carrie Evelyn Smith, served on the Currituck Planning Board in the early 1970s. Growing up, Dawn got to experience the joys of the quietest and most remote beach area on the Outer Banks.
What brought her back to the Outer Banks in adulthood was her husband's job as a bridge builder. Her husband and son are part of four generations of bridge architects who have collectively worked on the Bonner, Basnight and Rodanthe bridges that link the islands of the Outer Banks. When her husband was tapped to work on the Rodanthe bridge, the "Jughandle Bridge" as it's known, the couple decided to leave their home in Camden, North Carolina, and settle on Hatteras Island. Dawn was thrilled to come back to the Outer Banks. "It felt like we'd come home," she says. "You can really simplify and slow down here." 
A graphic designer, a nationally known pastry chef, the busy owner of one of the nation's first cupcake shops, Carolina Cupcakery, and having appeared in such TV shows as Cupcake Wars, House Hunters and Extreme Home Makeover, Dawn was ready for a slower pace, more family time and a return to her first loves — art and the Outer Banks.
For her new life on Hatteras Island, she decided to buy Studio 12, a make-your-own art studio, and Swept Away Café, a coffee shop on the premises. Studio 12 was already an established island business, and Dawn is continuing the beloved artistic traditions established by Carolyn Schena, the founder of Studio 12, who sadly passed away in 2019. She recently sold her cupcake business to a trusted employee and friend, to focus solely on Studio 12 and Swept Away Café, but she will continue to sell Carolina Cupcakery cupcakes in the café.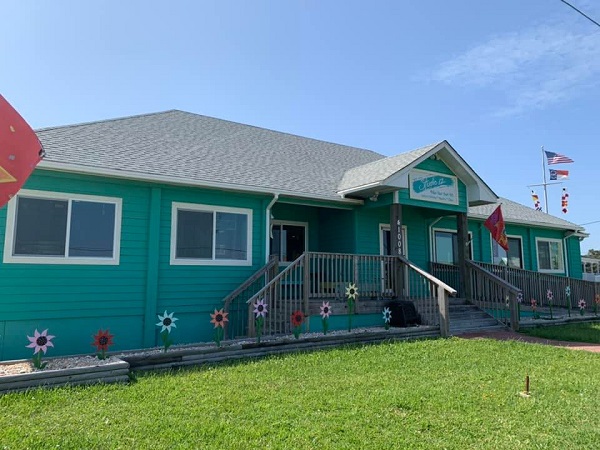 Photo: Studio 12 and Swept Away Cafe are right along N.C. 12 near Avon Pier.
Pottery painting, mosaic boards and glass fusion are just a few of the artistic pursuits available for walk-in at Studio 12. There are also makers' classes in pottery throwing, wire-wrapping jewelry, canvas painting and more. There are potters wheels and pottery classes as well. Studio 12 also has a gift shop filled with inspirational art pieces designed entirely by local artists.
On site is Swept Away Café, featuring espresso drinks, handmade Italian sodas, pastries fruit smoothies, acai bowls and gourmet Carolina Cupcakery cupcakes.
Dawn is obviously a dynamo who's full of energy and enthusiasm for life. Keep reading to get to know her a little better and see what her life in Avon is like.
How long have you lived on the Outer Banks and how did you end up here?
I've lived here four years, since the start of the Jughandle Bridge.
What did you do before you were in this business?
I owned Carolina Cupcakery.
What motivates you to work hard in your line of work?
Creative expression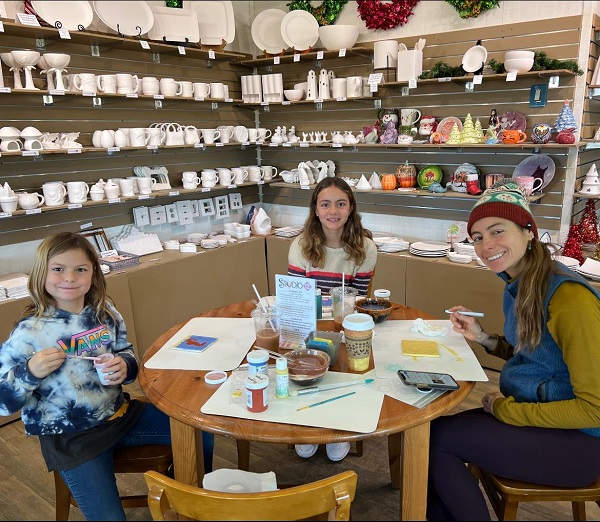 Photo: Studio 12 is a space for creating art and spending time together.
What's your favorite thing about your job?
I like working with families who are here on vacation and getting them excited about their art.
What's the most challenging part of your job?
Coming up with original and unique ideas.
What is your creative outlet?
Playing guitar and painting
What's your favorite OBX town or village?
Avon on Hatteras Island
What is your favorite thing about living on the Outer Banks?
The air and the light
What is your favorite season on the Outer Banks?
Spring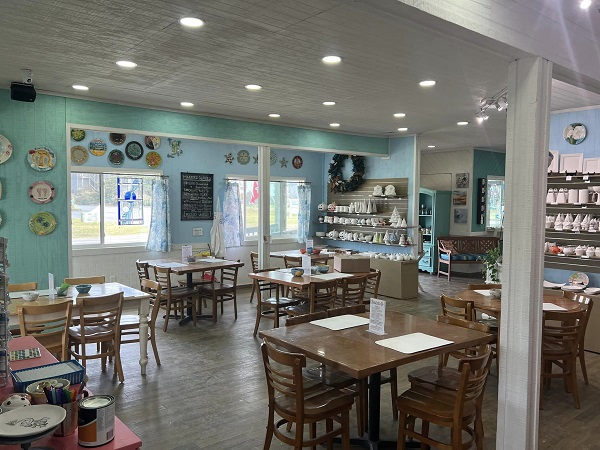 Photo: The spacious, colorful interior of Studio 12 is designed to inspire creativity.
What do you do for fun?
Drive off-road trails in our Jeep.
What do you do in the off-season?
Work up ideas for new classes and studio projects
Describe your perfect day off.
I'd be on the beach, and there would be a light breeze, full sun and boogie board–grade waves.
Do you see more sunrises or sunsets?
Sunsets over the sound
What's one thing you wish more Outer Banks visitors knew?
The importance of checking the ocean for riptides and dangerous currents before heading into the water. Visitors tend to think they know the dangers, but the water is different every day.
Where do you go on vacation?
Banner Elk in the North Carolina mountains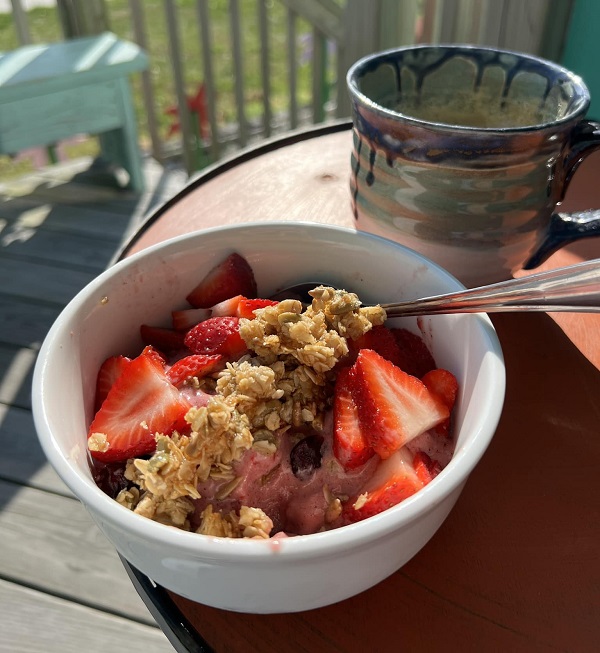 Photo: Alongside smoothies, coffee, pastries and cupcakes, Swept Away Cafe has added acai bowls to its menu.
For a celebratory dinner, would you rather order take-out, go out to eat or cook something at home?
Grill at home or eat seafood at Hatteras Sol or Pangea 
Do you have any side hustles?
Phoenix Fire Jewelry. I cast Cremains into glass necklaces for families to have as a discreet keepsake. They look like waves in glass, but the loved one's ashes are permanently cast in the glass.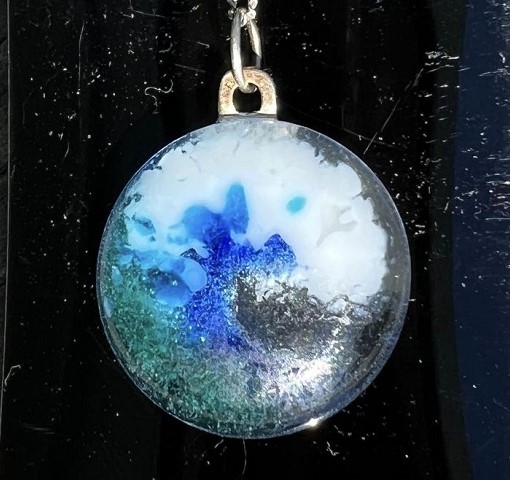 Photo: Dawn's line of Phoenix Fire Jewelry fuses a small amount of the ashes of your loved ones into glass jewelry.
Do you have any pet projects or is there a local nonprofit that you are passionate about? 
LifeNet organ donation. My brother is a two-time heart transplant recipient.
What's one item on your bucket list?
To start kiteboarding (this summer?).
Want to go?
Studio 12 and Swept Away Cafe, 41008 N.C. Highway 12, Avon, (252) 995-7899