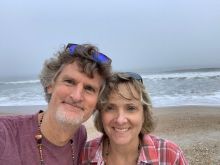 Behind every Outer Banks business are people doing their best to make a living and still have the time to enjoy this beautiful place they call home. In this edition of Get to Know the Locals, you'll meet two of them: Bob and Jane Chestnut, who own and run Ride The Wind Surf Shop in Ocracoke.
Ride The Wind has been open since 1985, and the Chestnuts purchased it in 1999. Jane had worked summers on Ocracoke when she was in school, and she introduced Bob to the island. While living, working and raising their kids in Rocky Mount, N.C., they had spent a great deal of time on the island as an escape from their high-pressure jobs running a wholesale plumbing business. When Jane saw that Ride the Wind Surf Shop was for sale, they decided to make a change and go for the simpler island life full time.
"Our kids were small, and we wanted to spend more time with them," Bob says. "Pre-Ocracoke life was nonstop business, and Jane and I wanted to improve our quality of life."
Compared to their plumbing business in which it seemed like "someone was always upset about something," the Chestnuts loved the idea of a surf shop. "Who isn't having fun in there, right?" Bob says. "We planned to keep it fun and upbeat, not sweat the small stuff and focus on making sure the visitors are enjoying their vacation."
Twenty-two years later, Ride The Wind is a beloved Ocracoke staple selling merchandise for the beach and surf lifestyle and offering surf lessons along with surf, SUP and kayak rentals. Bob and Jane are partners in life and work, and they love living on Ocracoke Island.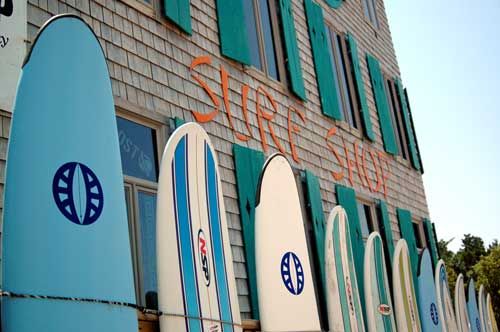 Q&A with Bob Chestnut
How long have you lived on Ocracoke Island? Where did you move from? 
We moved here in the spring of 1999 from Rocky Mount, N.C.
What did you do before you were in this business? 
We ran a plumbing wholesale business that supplied plumbing materials from Raleigh to the coast.
What motivates you to work hard in this business? 
I enjoy meeting and talking to visitors to the island. We have a great following, and people are truly interested in how we're doing. Since our kids grew up in the business, people always want to know what they're up to. You have to live up to those kinds of expectations, and we feed off of it.
What's your favorite place on Ocracoke Island? 
Are you kidding? THE BEACH! We both love to surf, and Jane's an avid sheller. An afternoon at the beach is my happy place.
What is your favorite thing about living on Ocracoke? 
The community. I love that you know everyone and people are involved in the community and care about one another.
What is your favorite season on Ocracoke? 
Definitely the fall. The weather's great, the waves are good, and business has slowed down enough so we can enjoy the beach again.
What do you do for fun? 
Surf and hang out at the beach with Jane.
Describe your perfect day off.
Spend some time at the beach, catch some waves and get the family together for family dinner night.
Do you see more sunrises or sunsets? 
I'm a morning person. I'm checking the surf at sunrise most mornings. But during the summer I also catch the most beautiful sunsets from our dock in the harbor. Jane is definitely down for sunsets; most of the time she leaves the beach because it's dark.
What's one thing you wish more Ocracoke visitors knew? 
How much we appreciate them visiting with us! It seems like everyone is caught up in cramming as much into their vacation as possible. Ocracoke is the place where you slow down. If you can't get to everything, come back more often!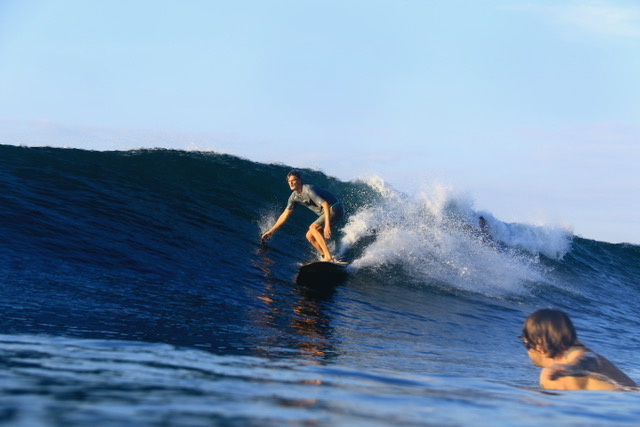 Where do you go on vacation? 
We're constantly looking for a place just like Ocracoke! We like it warm and with consistent surf. Most of the time that means Central America. We've had some great trips to Costa Rica, Mexico, El Salvador, etc.
For a celebratory dinner, would you rather order take-out, go out to eat or cook something at home?
During the season, nothing beats a family night out at one of our great restaurants. Off season I'm the chef of the house and enjoy doing special dinners.
If you had a friend visit, where would you take them for breakfast, lunch and dinner on the island?
First, we'd get a coffee at Ocracoke Coffee and sit on the porch and solve the world's problems. Then, we'd get a real breakfast at the Pony Island. Lunch at Smacks [SmacNally's] for sure. Dinner at The Flying Melon, with fried green tomato and shrimp appetizers.
What is your favorite local seafood? 
My favorite fish is grilled tuna, but I can eat my weight in shrimp – boiled, panned in butter or fried with my homemade cocktail sauce!
What is the most popular thing you sell at Ride the Wind? 
This summer, Shibumi sun shades. Hey, it works! Lots of Solar Recover for those who got too much sun.
What is the most popular activity at Ride the Wind? 
Kayak rentals. There's no better way to explore the soundside of the National Seashore.
What's your favorite thing about your job? 
Definitely meeting and talking to our customers.
What is your least favorite thing about your job? 
All the paperwork and office time!
Do you have any side hustles? 
Airbnb. We have three places we rent. Jane and I clean the smallest, our garage apartment.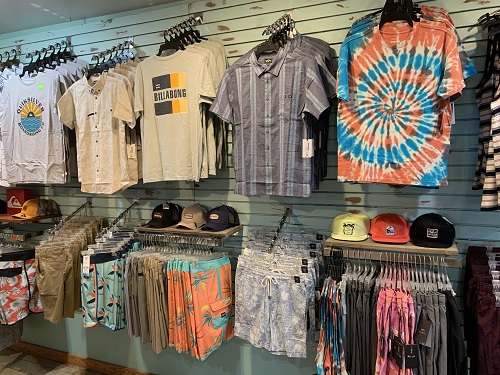 How has the pandemic affected your business?
We've been incredibly busy – more people than ever want to visit Ocracoke. However, getting merchandise for the shop is a real challenge.
What's the first thing you want to do when COVID is over? 
We're waiting to book our next surf trip until things have normalized a bit, so when things are finally "over" we'll be looking for an out-of-the-country surf spot.
What do you see yourself doing in five years? 
Sitting on a warm beach with a cold one between surf sessions.