All across the Outer Banks are people doing their best to make a living while still finding time to enjoy this wonderful place they call home. In this edition of Get to Know the Locals, you'll meet two of them: Karen Loopman-Davis and Tina Mackenzie, the women of the two-couple team that owns Outer Banks Brewing Station.
Located in the heart of Kill Devil Hills, Outer Banks Brewing Station is more than a brewery. It's a restaurant serving a chef-driven menu for lunch and dinner. It's a casual place to hang out with friends and family in the pub or outdoors in the spacious backyard under a working wind turbine that partially fuels the brewery. It's a nightclub, the only one on the Outer Banks with a real stage to draw some top-notch live music. And it's a community event center that hosts fundraisers and events of every sort. The Brewing Station has been at the heart of the Outer Banks community for almost 23 years now, and the four owners are known for their willingness to step up for the community and the environment.
Photo: Tina Mackenzie, left, and Karen Loopman-Davis, the women of the team that drives the Outer Banks Brewing Station
Tina and Karen are hands-on owner-operators, along with Tina's husband, Eric Reece, and Karen's husband, Aubrey Davis. Tina is the pastry chef and the manager and planner of parties and events at the Brew Pub, while Karen is the front-of-the-house manager and self-described Brew Pub Mom. While taking care of and mentoring their staff and working hard to provide an exceptional experience at the Brewing Station, these two women are also busy raising children, actively contributing to community causes and having fun along the way. Read on to learn more about Tina and Karen and what makes them love their lives on the Outer Banks.
How long have you lived on the Outer Banks and how did you end up here?
Karen: 22 years. I'm originally an Upstate New Yorker who married Southern. We met in Virginia through the Appalachian Trail. I moved down here while the rest of the partners were getting this project started.
Tina: About 22 years. I'm originally from Oregon. I met Eric in Thailand in the Peace Corps, and that's where he and Aubrey had the idea for the Brewing Station. After the Peace Corps, Eric and I moved to California and then to the Outer Banks.
What did you do before you were in this business?
Karen: Just about everything! I taught GED/literacy and ESL for an adult Ed program including in a county jail and supported education for children in migrant camps (little-known fact: much of New York is rural and there is a lot of agriculture that depends on migrant labor). In high school and college, I worked on horse farms, at a veterinary hospital, at a Labrador breeding kennel in NY and at a dude ranch in Colorado. I fought forest fires in Montana and waited tables in the White Mountains of New Hampshire. I tutored Spanish at the Learning Center here in KDH for a few years, too.
Tina: I worked in a residential treatment program for kids, then mostly in health care on research projects with the intention of going to nursing school.
What motivates you to work hard in your line of work?
Karen: It's our family's business. If we don't put our all into it, how can we expect our employees to want to put in their all?
Tina: I like to make people happy with food.
What's your favorite thing about your job?
Karen: Being able to be a part of the community and host events to support it. Most favorite is the staff we have. We really care about each other like a large, at times dysfunctional, family.
Tina: The ability to be creative and work with many different types of people.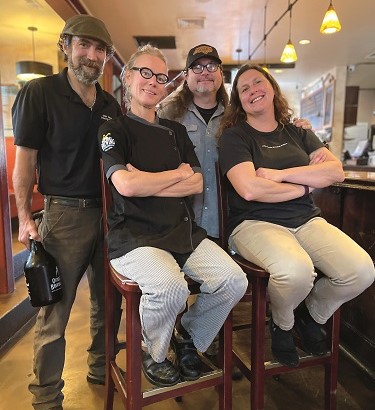 Photo: Tina and her husband, Eric Reece, on the left; Karen and her husband, Aubrey Davis on the right.
What's the most challenging part of your job?
Karen: My staff, lol. Also being in the customer service industry, some complaints or demands are legit, but whew, other times ... it makes for good stories though.
Tina: The seasonality and pace of the job and never knowing what is going to happen, sometimes from one moment to the next.
What's your favorite OBX town or village?
Karen: KDH of course! Although the Hatteras Island villages are special too, it definitely takes a tougher breed than me to live there.
Tina: Kitty Hawk
What is your favorite thing about living on the Outer Banks?
Karen: The uniqueness of a barrier island and how close to nature and weather we are on a daily basis. I never paid attention to which way the wind blows anywhere else I lived. And the ospreys; they are my favorites.
Tina: The beach, the ocean and the community.
What is your favorite season on the Outer Banks?
Karen: Isn't everyone's favorite fall when the water's still warm but the beaches are less crowded?
Tina: Fall
What do you do for fun?
Karen: Read, walk the beach, walk my dogs on Bay Drive, go out to lunch with my family and friends, cook, see live music.
Tina: Cook, garden, beach it, hang with friends
What do you do in the off-season?               
Karen: Travel! To Ocracoke and beyond!
Tina: Now, mostly go to soccer games, but I love going on beach walks with friends and our dogs or travel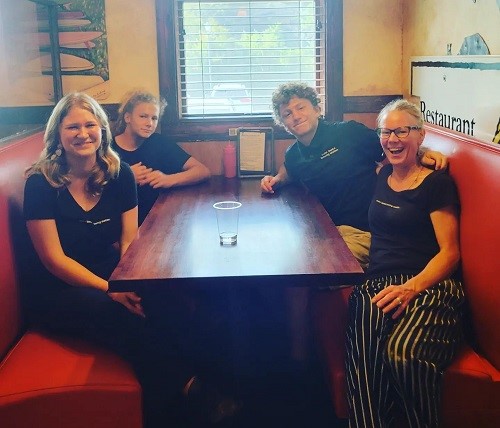 Photo: Tina and her children at Outer Banks Brewing Station
What's your favorite beach access?
Karen: For a long time it was 5th Street. There was a fishing hole for hubby, a surf break for my daughter. Time and beach nourishment has shifted those spots. I still like the accesses between Prospect and Ocean Bay Boulevard in KDH.
Tina: It always changes
Describe your perfect day off. 
Karen: Getting chores and errands done early, exercising, then chilling with my friends around a firepit or a local watering hole.
Tina: Coffee, reading, beach with friends, exercise, projects around the house, nice dinner
Do you see more sunrises or sunsets?
Karen: Sunsets, we have a view of the sound
Tina: Sunsets. I often watch them out the window while I am at work.
What's one thing you wish more Outer Banks visitors knew?
Karen: I'd say that amenities and hours and staff are limited here. Seems like half the tourists know this, but the other half want the unspoiled beaches but expect to have the same choices of a big city. 
Tina: That I pick up a lot of their cigarette butts.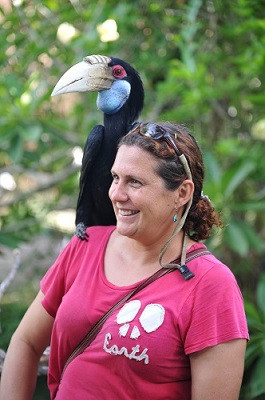 Photo: Karen on one of her world travels.
Where do you go on vacation?
Karen: The mountains of North Carolina/Tennessee and also abroad, mainly Latin America (I love the Andes and studied abroad in Chile), the Caribbean and Asia. 
Tina: Anywhere, there are so many places to see
For a celebratory dinner, would you rather order take-out, go out to eat or cook something at home?
Karen: We usually go out (Thai Room, Ocean Boulevard or Salt Box), but we enjoy oyster roasts or seafood boils at home with friends and family, too.
Tina: Go out to eat or have someone cook for me at home.
What is your favorite local seafood?
Karen: Rockfish, sheepshead, trigger, blackfin tuna. Anything fresh, really but rockfish is near perfect.
Tina: Tuna or fried oysters
Do you have any side hustles?
Karen: Not at the moment
Tina: Making carrot cakes for people 
Do you have any pet projects or is there a local nonprofit that you're passionate about?
Karen: I'm enjoying First Flight Rotary Club. Really great people and I like that they think globally and act locally. I'm always impressed by the OBX Community Foundation, the OBX Relief Fund and OBX Interfaith Community Outreach in the reach and resources they are able to provide.
Tina: ICO (Interfaith Community Outreach). I really like that they help people with things like rent or phone bills, stuff that becomes a necessity when you are in need.
What's one item on your bucket list?
Karen: I've done most things on my original bucket list. Except go to India and Laos. Also, I would love to see the catacombs of Rome. And hike the Appalachian Trail again and maybe do the PCT or CDT. Sorry, I know you said one.
Tina: Hiking in Peru. I also just heard about a hike in the Alps. I have always wanted to hike in Italy so I could eat good food and burn it off.
To learn more about Outer Banks Brewing Station click here.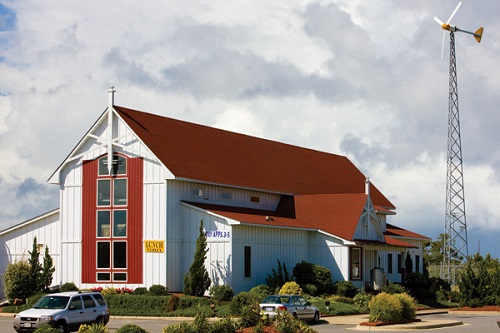 Check out these links for all of the Outer Banks' holiday sales, feasts, events and nightlife this weekend and beyond. Also don't miss our Thanksgiving events blog.