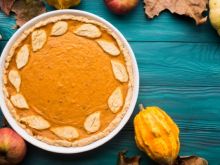 With Halloween behind us, it feels like I'm already seeing displays of Christmas decorations and holiday specials in stores and around my neighborhood. Putting up lights, starting my gift shopping – it's all tempting, but I refuse to fall into the trap (yet). I'm saving my festive energy for my favorite foodie event of the year: Thanksgiving.
With two weeks until Turkey Day, it's time to start planning. You may be hosting a holiday gathering or traveling to visit family and friends. Personally, I love dining out on Thanksgiving. It gets knocked for being less conventional, but think about it: You still get a delicious meal without the craze of planning a menu, preparing 10 dishes and all the cleanup. With elegant and delicious Thanksgiving feasts in the works among Outer Banks restaurants, take your pick of holiday experiences for various styles and budgets. Here are a few that already have me drooling.
For the quintessential homey feeling that comes with gathering around a Thanksgiving spread, several restaurants provide buffets. You can take your pick of surf and turf delicacies or, heck, just go straight for the pie since no one can stop you.
Have you ever tried a Thanksgiving brunch? Get a jump on the day's festivities at Red Sky Cafe in Duck. Their annual Thanksgiving buffet begins as early as 10:30 a.m. and continues until 4:30 p.m. The restaurant takes a decidedly coastal-Carolina approach to the holiday. The health-conscious, Southeastern flair that Chef Wes Stepp is known for is evidenced in dishes such as charred raw tuna with ginger and Mattamuskeet Crab Cakes with Redneck Risotto. And, yes, there are still the classics in the form of fire-roasted turkey and sage. Prices are per head at about $30 for adults and $15 for ages 12 and younger. Call (252) 261-8646 for reservations.
On the other end of the island, Basnight's Lone Cedar also gets the show going early, and they keep it rolling throughout the day with their Thanksgiving buffet from 10:30 a.m. to 7 p.m. Known for its seafood, Lone Cedar won't disappoint with its spread of fried oysters, shrimp and grits, sea scallops and crab dip in addition to turkey, cranberry sauce and the other holiday traditions. It's also one of the few Thanksgiving restaurants that seats walk-in parties; however, spots will be limited. Reserve your seat by calling (252) 441-5405. The buffet costs around $37 for adults and $19 for ages 5 to 12. Younger children eat for free.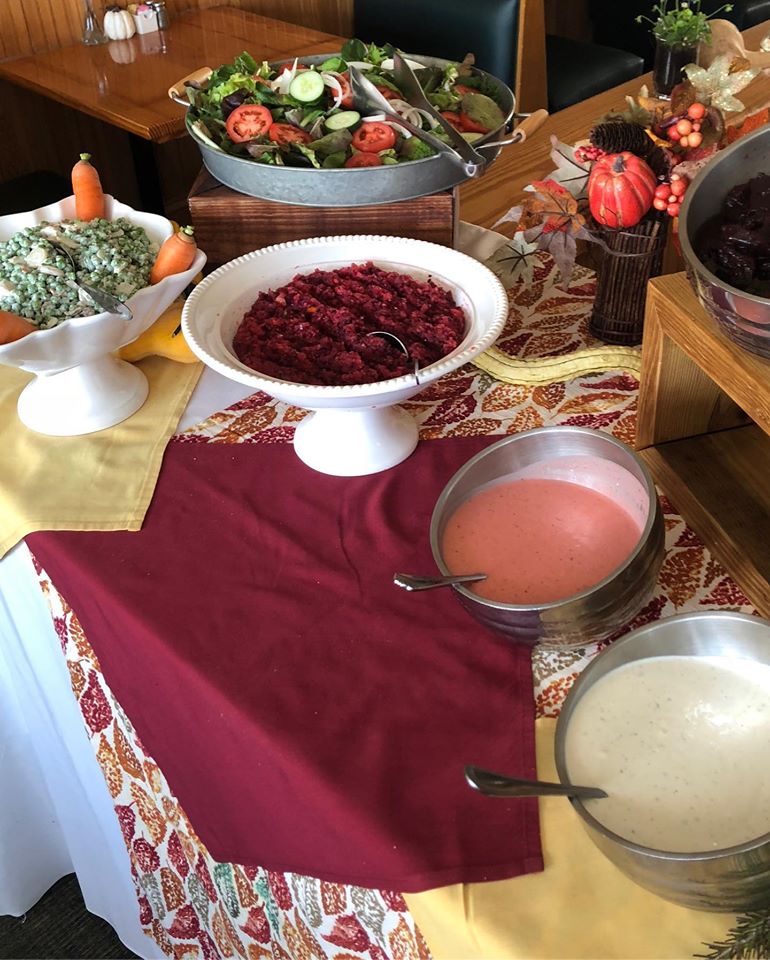 Photo: Thanksgiving at Basnight's Lone Cedar Cafe
Thanksgiving is also a time of giving, which is the mission this year at Jimmy's Seafood Buffet in Kitty Hawk. Their massive buffet takes on a festive theme for the day, and it offers a free, family-style feast for anyone facing financial difficulties or spending the holiday alone. If you or anyone you know can't make it out of the house, Jimmy's will even deliver food orders to them. The buffet will be held from 2 to 4 p.m., and reservations aren't necessary.
Beyond the buffets, other Outer Banks restaurants celebrate Thanksgiving with a prix fix menu in which multi-course meals showcase fall's best flavors.
Many travel to the Outer Banks for Thanksgiving. For visitors staying at the Sanderling Resort in Duck, they have a Thanksgiving dinner at the Lifesaving Station practically at their fingertips. Enjoy four courses inspired by local and seasonal fare taking forms like Foraged Wild Mushroom Bisque and Slow-Roasted Rockingham County Free-Range Turkey. The menu provides a starter, salad, main course and dessert for each diner; cost is $60 per adult and $30 per child ages 4 to 13. Join them between 12 and 8 p.m.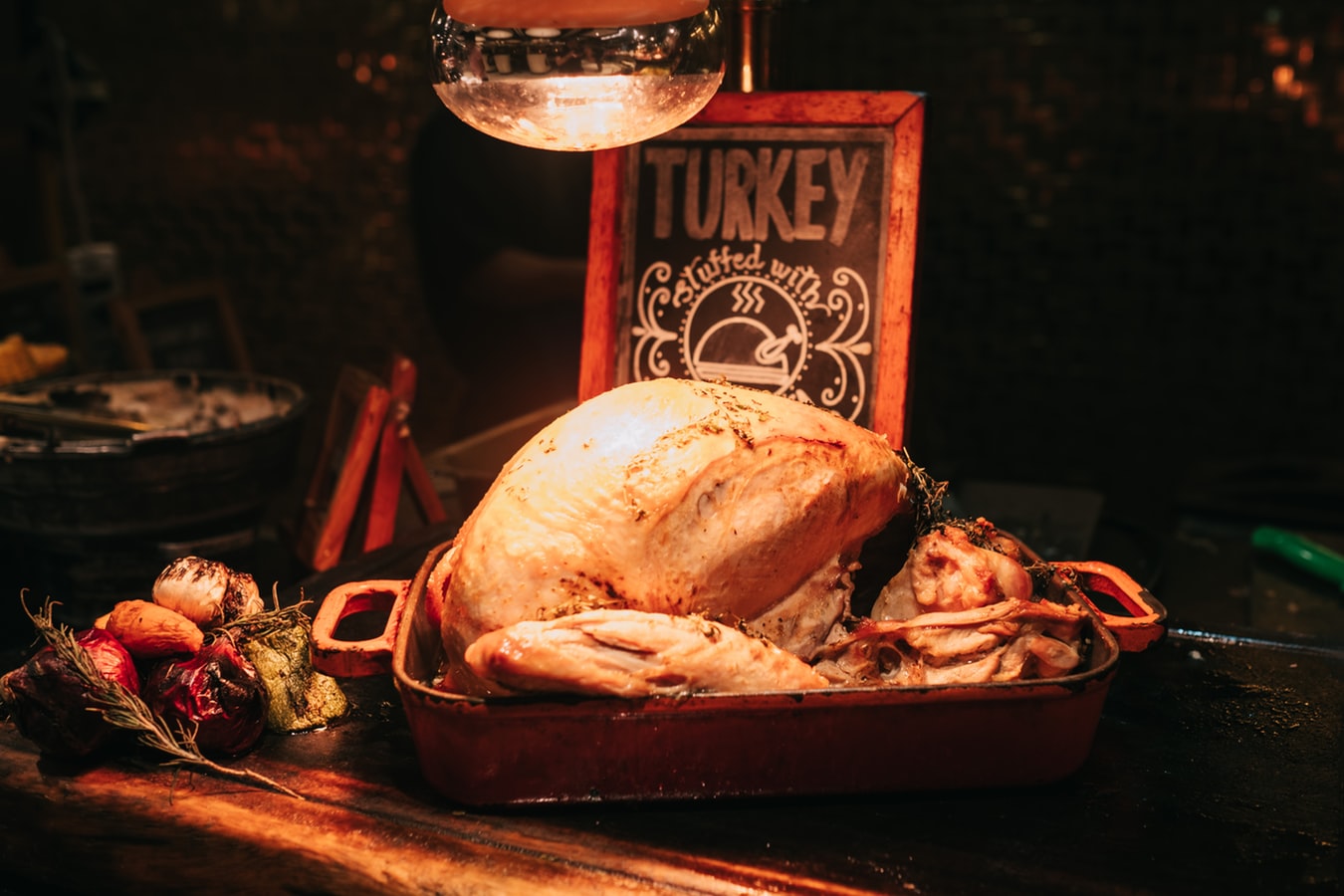 For an elevated Thanksgiving Day celebration, find Ocean Boulevard reimagining traditional dishes in their gourmet-fusion style. The four-course menu includes options such as Panko-Encrusted N.C. Turkey and Pumpkin Cheesecake. Reservations are already filling up, so reserve your spot soon. Dinner will be served from 2 to 8 p.m. Meals are $65 per adult and $25 per child younger than 12 years old. A limited children's menu will be provided upon request.
If you have a Thanksgiving restaurant of choice, tell us about it in the comments section. Who has the best pie or the richest oyster dressing? No matter where you eat out this Thanksgiving, be sure to tip your server for their hard work in creating an effortless and memorable holiday.
For other upcoming holiday happenings, check out our Daytime Events section. Trivia nights, beer tastings, live music and more can be found on our Nightlife page.