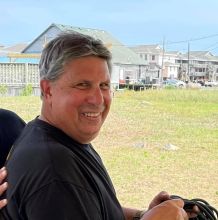 After which animals are the Canary Islands named? 
Along what river is Pocahontas buried?
These are just two of the deceivingly simple questions you might encounter at a trivia night event with Greg Smrdel. Hopping around the Outer Banks to host trivia events every night of the week – even in the off-season – Smrdel and his business partner, Ami Hill, love to stump their attendees with trivia in categories like math, science, sports, movies, spelling, dead or alive, Dr. Suess, celebrities, the Outer Banks and women's footwear, to name just a few.
Most of all, they strive to make their trivia nights fun. Their events are hugely interactive and hilarious. Smrdel is a comedian and peppers his trivia act with humor and new jokes that he's trying out for his comedy shows with Laughing Gull Comedy Club. Every night he picks the most ridiculous answer of the evening for everyone's entertainment.
After decades of working in radio and hotels, Smrdel is having a blast and loving his life as a comedian and trivia host in the local watering holes and as a DJ for digital radio station Radio Free Outer Banks. He's also an author of several books, including a popular book of trivia about The Andy Griffith Show.
"I did the 9 to 5 for most of life," he says. "Now I'm willing to work seven days a week just to have fun."
Smrdel also hosts private trivia events and has been hired to host trivia nights at weddings and corporate events. He says it's a great way for groups to bond over a fun activity.
Where to Catch Greg Smrdel's Outer Banks Trivia
Mondays: Shipwrecks Grill and Taphouse, 6 p.m. (closed March 1)
Tuesdays: Sandtrap Tavern at 6 p.m.
Wednesdays: Buffalo City Distillery, Point Harbor, 6 to 8 p.m.; Mulligans, Nags Head, 6 p.m.; Noosa Grill, Kill Devil Hills, 7:30 p.m.
Thursdays: Nouvines, Manteo, 6:30 p.m.
Fridays: Wabi Sabi, Manteo 6:30 p.m.
Saturdays: Wild Goose Wine Bar, Corolla, 5 p.m. (every other Saturday)
Sundays: Tap That OBX, Kitty Hawk 4 p.m.
For updates and additions to the schedule, follow them on Facebook.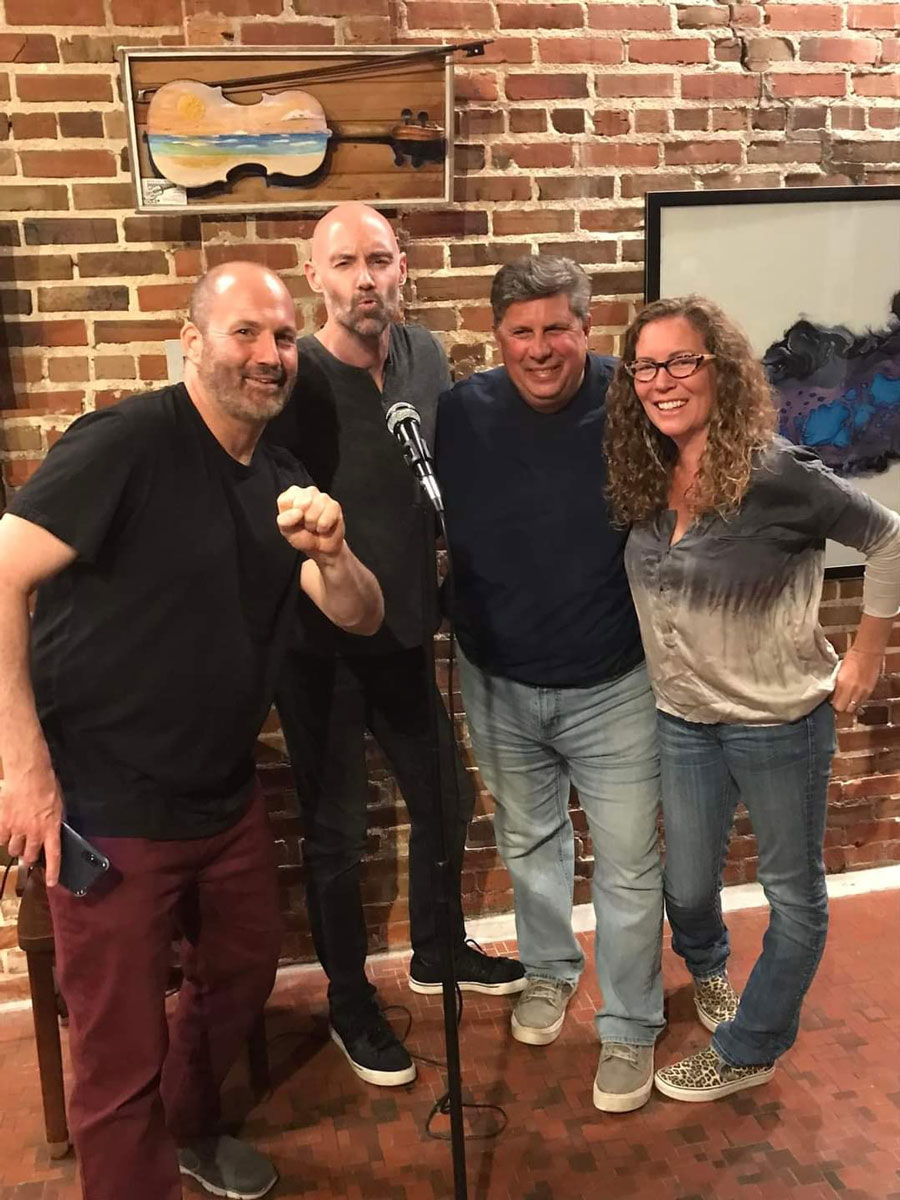 Greg Smrdel and Ami Hill, on right, with Kevin Whelan and Hatton Jordan at a Laughing Gull Comedy Club event.
Laughing Gull Comedy Club Pop-Ups
Smrdel's Laughing Gull Comedy Club pops up around town periodically. The next one is Friday, March 3 at Sandtrap Tavern in Kitty Hawk. He also has a show on Saturday, March 4 at Buffalo City Distillery but it's sold out. Check Facebook for the spring and summer schedule.
Other Places for Outer Banks Trivia Nights
Trivia nights are extremely popular on the Outer Banks, especially in the off-season when all the restaurants and bars are less crowded. Here are some of the other places to try:
Longboards Island Grill, Kitty Hawk, reopening March 3
Black Pelican, Kitty Hawk, nightly trivia in the bar
Jolly Roger Restaurant, Kill Devil Hills – Mondays 6 p.m.
Outer Banks Brewing Station, Kill Devil Hills, Thursdays, 9:30 p.m. (arrive early, it's popular)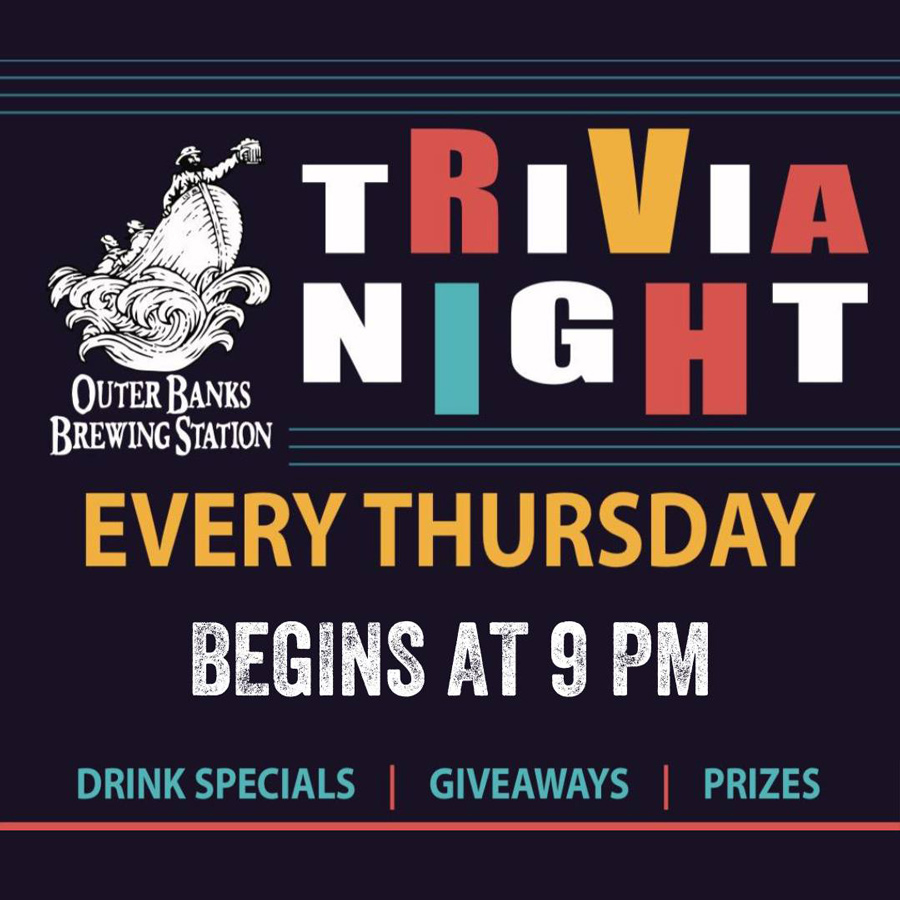 Lost Colony Waterfront Beer Garden, Nags Head, Fridays, 6 p.m.
Poor Richard's, Manteo, Wednesdays, 7 p.m.
Stripers, Thursdays, 6:30 pm – Closed until March 7
By the way, did you know the answers to the trivia questions above? According to Smrdel, the Canary Islands are named after canines not birds. And Pocahontas was buried along the River Thames in London.
Looking for more fun things to do this week? Be sure to check our Daytime and Nightlife pages.