Trick or treat? Why pick one? I prefer tricks and treats, which is why the Outer Banks is the place to be this Hallo-week. Hallo-week is the term I've given the series of festivities leading up to October 31st – the spookiest day of the year. We take Halloween seriously here on the Outer Banks, and we've created a culture around it. It's a culture of parades and parties, festivals and fall, costumes and candy. It's happening this week, and you won't want to miss it!
Trick or Treat Under the Sea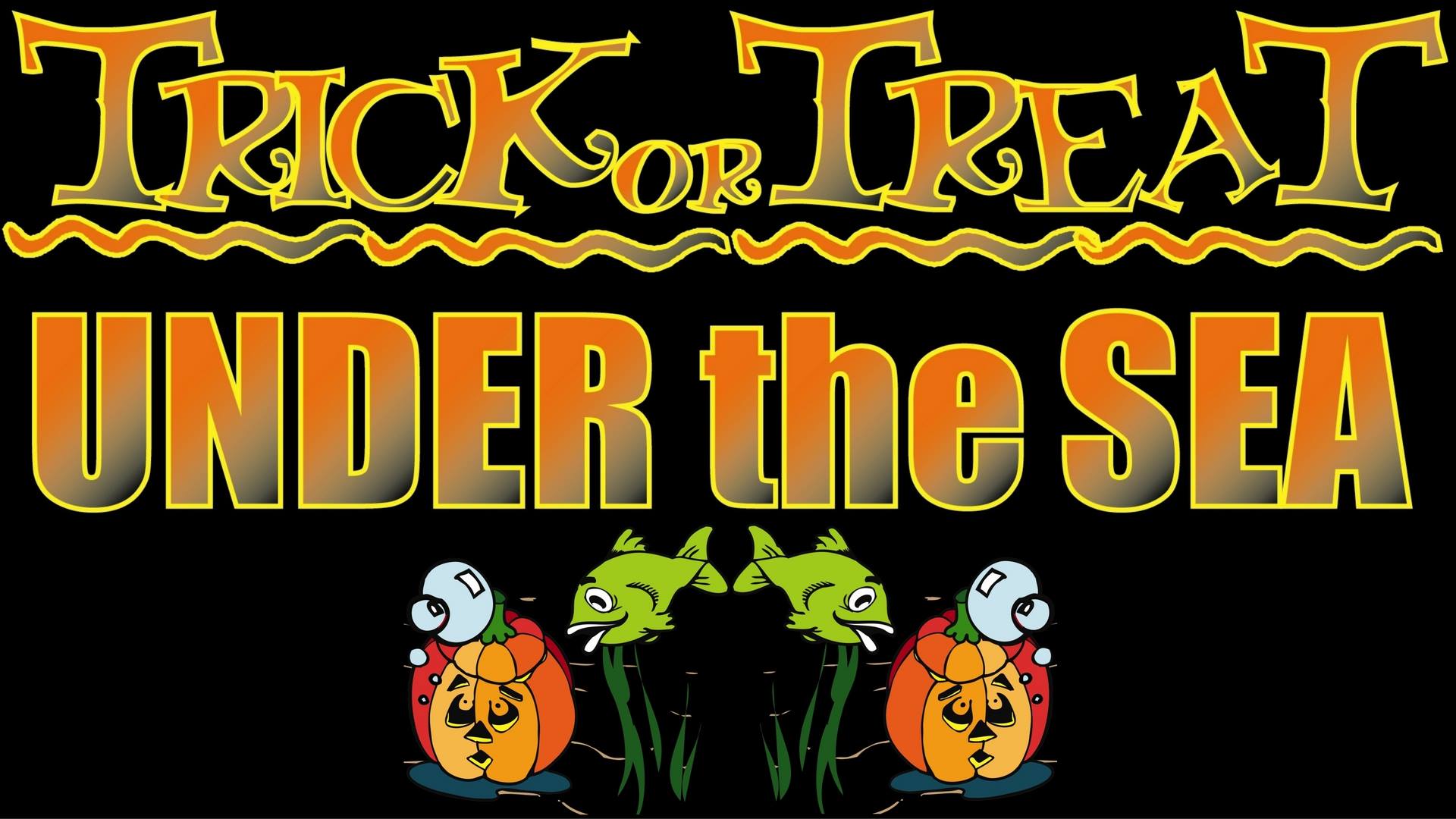 Go trick or treating with an Outer Banks twist. The North Carolina Aquarium is reviving the old, adored Halloween tradition, Trick or Treat Under the Sea. Don your costumes and grab your pillowcase to fill with candy as you wander under the aquarium lights' spectral glows. Play the Halloween-themed games. Get your face painted. Venture around a corner and come face to face with a shark or a costumed diver – a definite way to get a good scare or a laugh. This event takes place on Wednesday and Thursday night from 6-8:30 p.m.
Wanchese Woods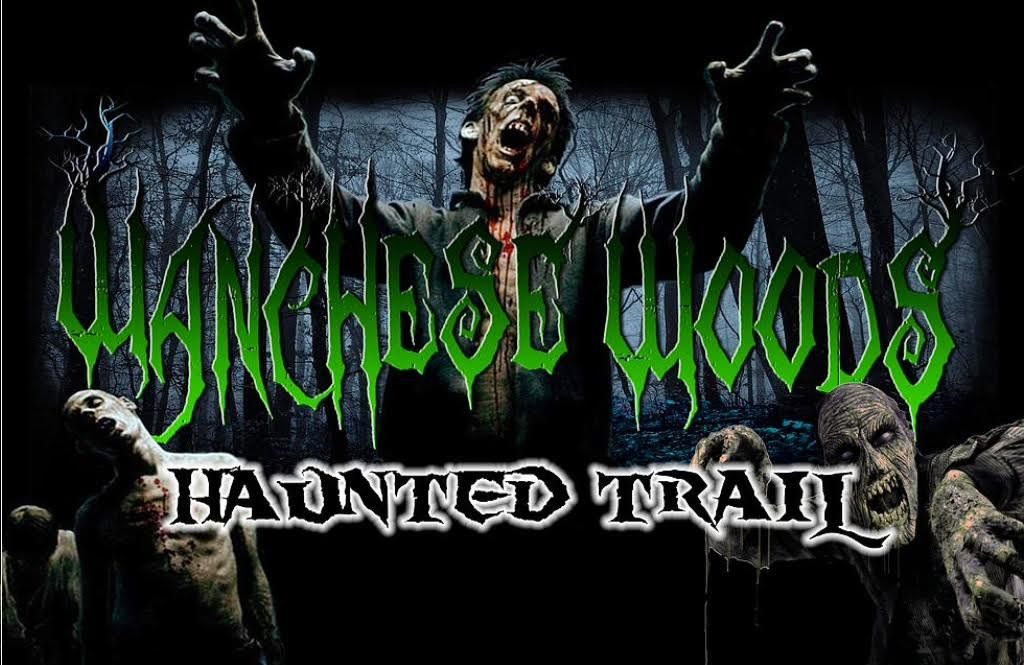 It's night. You can barely make out the path through the darkness in the thick trees. You're in the middle of the woods in Wanchese. No one around for miles to hear you scream. Who knows what's ahead of you ... or behind you. Scared yet? Imagine what it'll be like when you're really there at Wanchese Woods. Check out this haunted trek through the backwoods of Wanchese, happening this Friday, Saturday and Sunday night from 7 until 11 p.m. If nothing gets you into the Halloween spirit like a good scare, shivering in anticipation and shrill screams, brave Wanchese Woods. Admission is $15 (cash only).
Harvest Hayday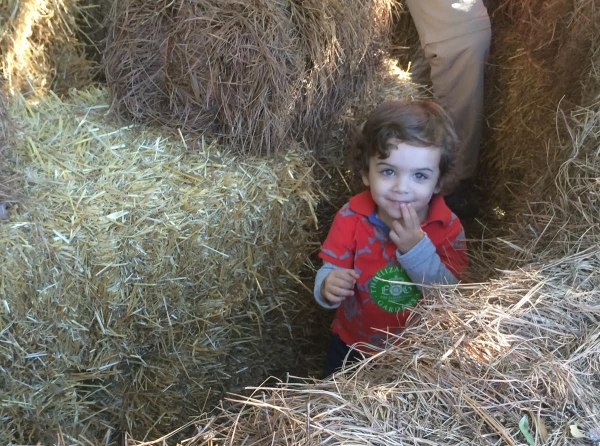 Fall is a sensory experience, probably more than other seasons. The colorful fall leaves dazzle our eyes. Our mouths water for the taste of spiced apple cider. Our noses recognize that warm, dusty smell of hay, dry leaves and pumpkin. You get the idea. There's a place where you can indulge in all of these autumnal glories and more: Roanoke Island's Elizabethan Gardens this Saturday from 10 a.m. until 1 p.m. Harvest Hayday is a local favorite when it comes to fall festivities. Check out the flora's changing colors on the hayride. Join your family in the scarecrow stuffing. Get your face painted. Find your way through a maze. Hungry? Apple cider and pumpkin pie will satisfy rumbling tummies. Chilly? Bonfires will get icy hands feeling toasty. It's a fun-filled fall festival that gets you into a Halloween-y mood. Admission is $9 for adults, $6 for youth and children ages five and younger are free. Members and Friends of Elizabethan Gardens have free admission.
Trick-or-Treat Night Fundraiser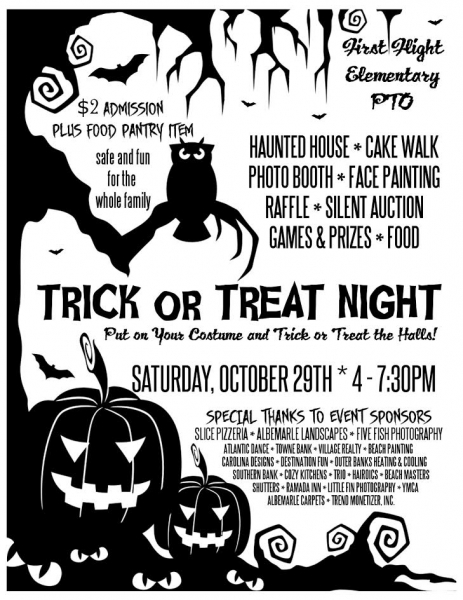 After the Hayday, continue your Halloween happenings in Nags Head at First Flight Elementary's Trick or Treat Night. You're invited to dress up in your costume and trick or treat through the school's halls. Think of it as practice for Monday night. After getting your fill of candy, check out how the familiar library turned into a scary haunted house. Or try Halloween-themed games. Participate in the cakewalk to take home some delicious goodies. There's even a raffle and silent auction that are complete with prizes and merchandise supplied by local businesses. This event is from 4-7:30 p.m. on Saturday night, October 29. Admission is $2 plus a non-perishable item for the food bank. Proceeds from this fundraiser benefit the First Flight Elementary Parent-Teacher Organization.
Outer Banks Brewing Station's Halloween Weekend Events
If you're looking for a little Halloween fun that adults can enjoy, you'll find plenty at the Outer Banks Brewing Station this weekend.
Friday: Get a good scare with some classic Halloween films at the Brewing Station's Halloween Film Festival. Next step: Hit the dance floor to shake off said scares at the after party. Music will be provided by D.J. Ninja. The after party starts at 10:30.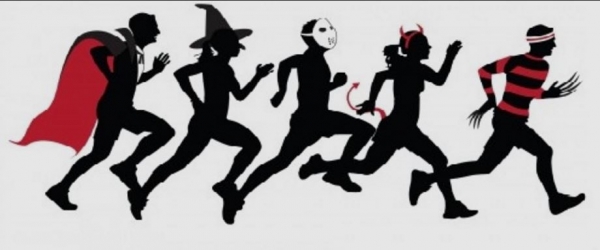 Saturday: Dress up as your favorite witch, ghost or zombie and join the Brewing Station's Halloween-themed Beer Mile, better known as The Beer Witch Project. Other Halloween ghouls and ghosts will be serving up the Brewing Station's best potions and other concoctions (it's beer, guys). After the run you're invited to the after party in the Brewing Station's back yard. There will be live music and an awards ceremony for the fastest runners and best-dressed participants. Registration is from 5-6:30 p.m., and the first wave of runners begins at 7 p.m. Admission to this event is $38.50, which includes the after party.
Monday: Celebrate Halloween in style ... exotic, erotic style, that is. The Brewing Station's Exotic Erotic Halloween Ball is a Halloween tradition with costumes, live music, beer and dancing. What more could you ask for? Oh, and there's a $100 prize for the best costume. Regatta 69 provides the music that'll have you partying and dancing, tricking and treating the night away. This event begins at 9:30 p.m.
Outer Banks Halloween Parade of Costumes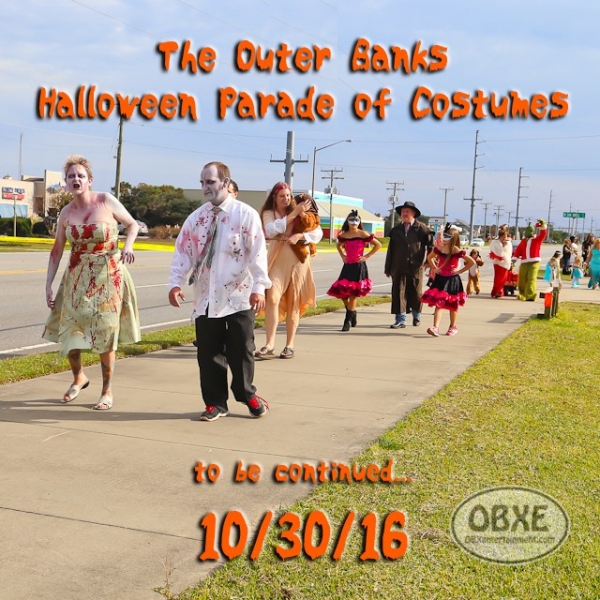 Can't wait to see everyone's Halloween costumes? Me either. Thankfully we get a sneak peak of them at Kelly's annual Outer Banks Halloween Parade of Costumes. Join unearthly creatures on a spooky parade starting at Kelly's Restaurant and Tavern as they show off their Halloween finest. The parade is preceded by the Halloween Festival, which includes live music, trick or treating, a pumpkin carving contest and much more to celebrate Hallo-eve on Sunday. Registration for the parade and the Halloween Festival begin at 2 p.m. and the event lasts until 4:30 p.m.
Trick or Treat at Historic Corolla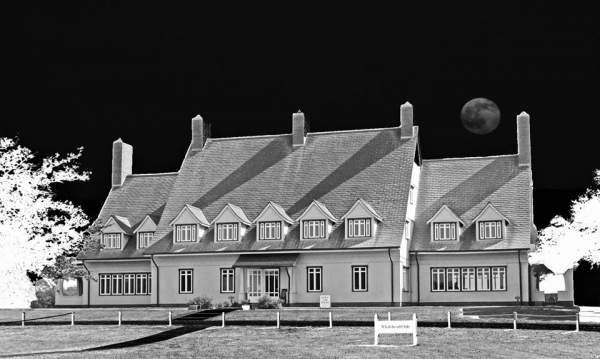 Trick or treat with a twist. Children are invited to enjoy an early 20th-century type of Halloween at Historic Corolla Park this Monday. They'll start trick or treating at the lighthouse, check out the Trunk or Treaters with decorated cars and treats then trick or treat at the Whalehead Club before their final stop at the historic boathouse. Who knows, there may even be a hayride included too. Local businesses may also be around giving away goodies. Participants are asked to arrive by 5:45 p.m. for the event's start at 6 p.m.
Haunted House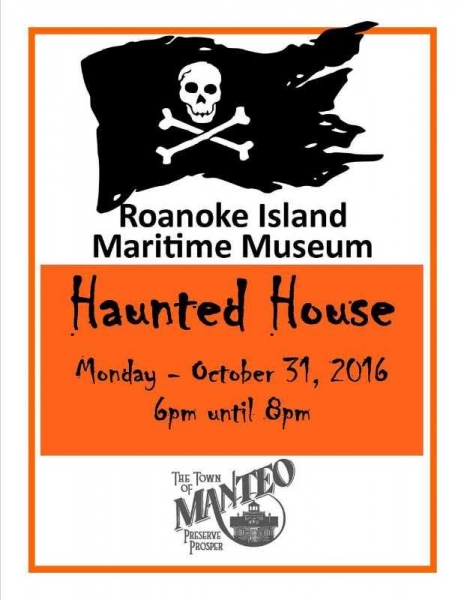 On your trick or treating route Monday night, be sure to include a stop at the Roanoke Island Maritime Museum's Haunted House. See this beloved location expose its Mr. Hyde side when those brave enough venture inside for the maritime Halloween scares. This event is free and lasts from 6-8 p.m. And, of course, the streets of downtown Manteo are the best place to make a major candy haul you'll find! 
---
And that concludes this Halloweek's activities and events. When you're ready for a break from all of the Halloween-themed festivities (is that possible?), be sure to check out our Daytime Events and Nightlife listings for more happenings. You'll find live music, festivals, information on the Outer Banks Fall Restaurant Week and more. In the meantime get back to planning your costume and carving your jack-o-lantern – Halloween approaches!