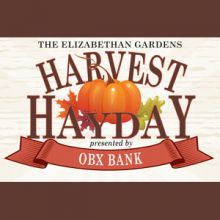 Some of us spent our youth in or near rural areas where fall festivals, with their corn mazes and pumpkin-growing contests and hayrides, were a fixture of the autumn calendar. Here on the Outer Banks we have Harvest HayDay at The Elizabethan Gardens on Roanoke Island, held this year on Saturday, October 25 from 10 a.m. to 1 p.m. This family-oriented event combines all the colors, flavors and fun of fall. Activities include stuff-a-scarecrow, educational stations and crafts, face painting, a hay bale maze, hay rides through the gardens, live music, story time and games as well as hot cider, pumpkin pie and bonfires to ward off the chill. Gardens Members and Friends are admitted free. For non-Members admission is $9; children 14 and younger are admitted free with a paying adult. For more information call (252) 473-3234 or visit The Gardens' website.
Free Dental Clinic Returns to Dare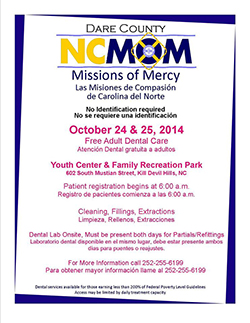 The North Carolina Missions of Mercy free adult dental clinic returns to the Outer Banks this Friday and Saturday, October 24-25. The clinic, to be held at Dare County Youth Center and Family Recreation Park in Kill Devil Hills, provides adults with free dental care including dental exams, cleanings, fillings and extractions. Registration begins at 6 a.m. each day, and patients will be seen on a first come, first serve basis based on dental procedure. Registration will close once the maximum number of patients that can be seen is reached, so arrive as early as possible. For more information call (252) 255-6199 (after 6 p.m. Thursday, Oct. 23); dial 4 for a status update on the length of the wait for treatment.
March for Babies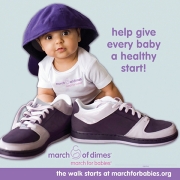 America's most popular walking event, the March of Dimes March for Babies, raises funds to support community programs that help expectant mothers have healthy, full-term pregnancies in addition to funding much-needed research into the factors that lead to early births and illnesses. The Outer Banks incarnation of the national walk-a-thon will be held Saturday, October 25 at 11 a.m. at Roanoke Island Festival Park in Manteo. Register on-site on Saturday and join with the more than seven million people nationally who participate, donate and/or sponsor. For more information visit the event website.
Psycho Drama, Qu'est-ce Que C'est?
You still have an opportunity to attend this weekend's performances of Psycho Beach Party, a Theatre of Dare production entering its second-week run this Friday, Saturday and Sunday, October 24-26. Best described as a mash-up of Gidget, Frankie Avalon and Annette Funicello's beach party epics and Hitchcockian psychological suspense thrillers, Psycho Beach Party is the story of Chicklet Forrest, a teenage tomboy desperate to join the Malibu Beach surf crowd - if only her multifarious personalities would stop getting in the way. Tickets are $11/adults and $6/students. Friday and Saturday shows begin at 7 p.m.; the curtain goes up on Sunday matinees at 2 p.m. All performances will be held in the auditorium of the College of the Albemarle's Roanoke Island Campus in Manteo.
Halloween Happenings
Down in Hatteras Village you can Trick-or-Treat for UNICEF when you embark on your candy junket. Come to the Hatteras Fire Station for your free UNICEF collection box. Also, from 5-7 p.m. the folks at the Hatteras Fire Station will be serving free hot dogs and snacks, so stop by before or after your Trick-or-Treating for a little sustenance.
Get a head start on the Zombie Apocalypse with the Comfort Inn South Oceanfront's Outer Banks Zombie Walk Friday, October 24 at 7 p.m. Walking dead festivities will include a Zombie Mixer, Zombie Walk & Zombie Ball! For more information call (252) 441-6315.
Ghost Tours of the OBX will send a shiver up your spine with spooky Wednesday night tours of downtown Manteo. The 90-minute tours begin at 8 p.m. and are an easy walk with frequent stops. Prices are $13/adults and $8/children aged 10 and younger. Call 252-573-1450 for reservations. Visit the Ghost Tours website for more information and meeting location.
Wanchese Woods Haunted Trail is open Fridays and Saturdays from 7 to 11 p.m. through Halloween. Admission is $15/cash only. Wanchese Woods is located at 1101 ER Daniels Road in Wanchese. Visit the website for more information.
PsychoPathbrings the mysterious (and sometimes ghoulish!) history of Roanoke Island to life at The Lost Colony's Waterside Theatre from 7 to 11 p.m. on Fridays and Saturdays from now through Halloween. Regular admission is $15 with a FASTPASS option available for an additional $10.
Does applying your own Halloween make-up fill you with dread? Then let the professionals at Aqua Spa in Duck handle the task anytime Friday, October 31 from 9 a.m. to 5 p.m. Whether your haunting vision is of transforming into a beautiful princess, a sexy doctor or a gory zombie, Aqua's talented makeup artists will give you the perfect face! Men are welcome, too! Each 50-minute make-up session is $65.
Play in the Clay
Aspiring pottery artists on Hatteras Island, or anyone with an itch to try something new, will want to check into the Beginner Hand-building Pottery Class for youth and adults held regularly at Kinnakeet Clay Studio and Showroom in Avon. Local potter Edith Camp will provide the guidance as you create your own piece of functional pottery using slabs of clay, patterns, textures, stamps and your imagination. Get your hands dirty as you transform a lump of clay into a functional object, then choose a glaze. Kinnakeet Clay Studio will then dry, bisque fire, glaze and re-fire your creation. Upon completion of this two week process, they'll ship your new piece of pottery to you, wherever you call home. The class fee is $35 and projects will vary weekly. Call (252) 995-0101 to reserve your space. The next two classes are scheduled for Thursday, October 16 and Tuesday, October 21 at 12 p.m. each day.

This week you still have a chance to win a two-night stay at the Days Inn Oceanfront & a $35 gift certificate to Gray's!
For more information about Days Inn Oceanfront check out their website.
For more information about Gray's Outer Banks check out their website.
Last Week's Winner
Congratulations to Dawn Pearson!!!
You won a pottery class for two from Kinnakeet Clay & a $35 gift certificate to the Atlantic Coast Cafe!
For more information about Oasis Suites Hotel check out their website.
For more information about Atlantic Coast Cafe check out their website.