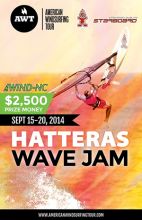 Hatteras has it goin' on this week! First, stop by the Hatteras Wave Jam (running through Saturday, September 20) based in Avon and see why wind and water conditions off Cape Hatteras make this chain of barrier islands the premier wavesailing destination on the East Coast. Pre-registration is required. See the website for more information.
Next, John Cole, Warning Coordination Meteorologist for the National Weather Service office in Newport, will recognize the 60th anniversary of Hurricane Hazel on Friday, September 19 from 2 to 4 p.m. at the Graveyard of the Atlantic Museum in Hatteras Village with a free presentation on hurricanes in general and the 1954 super storm in particular. For more information call (252) 986-2995 or visit the museum's website.
And then, to top it off are two Must Attend food events! The 17th Annual Chicamacomico Banks Chili Cook-Off is a two-day event beginning Friday, September 19 from 5 to 9 p.m. and continuing through Saturday, September 20 from 10 a.m. to 9 p.m. at the KOA Campgrounds in Rodanthe. Featuring a pig pickin' and live local musical entertainment on Friday, the cook-off continues on Saturday when local and visiting chili chefs compete in several categories for the title of Best Chili on the Coast. Bands include Soul House Revival, the Jonny Waters Band, Denny Blue & The Shakers and more! Raffles, children's games and family fun of all kinds round out the event.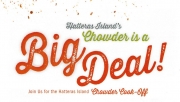 In addition to competition chili, we also have another foodie option in the 8th Annual Hatteras Island Chowder Cook-Off held at the Village Marina Motel in Hatteras on Saturday from 11 a.m. to 2 p.m. Professional and home cooks square off to win bragging rights for the best incarnation of the distinctive Hatteras-style chowder. A mere $6 donation gets you in the door with full access to the chowder tasting and judging, a raffle contest and live music by Lucas Wayne. All proceeds raised from the 100% volunteer-run cook-off go to benefit the Hatteras Island Cancer Foundation.
Helping The Ol' North State Make a Good First Impression
Folks with an interest in how North Carolina is being marketed may want to attend the State of North Carolina Mid-Year Marketing Update presented the Division of Tourism, Film & Sports Development this Friday, September 19 from 9:30 a.m. to 2 p.m. in the Event Room at Roanoke Island Festival Park in Manteo. This seminar is an opportunity to learn how changes in the state's tourism marketing efforts will affect our region. Leaders from all sectors of North Carolina's travel industry will highlight recent performance trends, provide updates on current marketing programs and co-op initiatives and gain insight from partners to help fuel the state's strategic planning for FY 2014-15. Visit the event website to register.
The Don Bryan Cultural Series brings the North Carolina Tap Ensemble to the Outer Banks for two much-anticipated performances. Proclaimed one of the best in the world by Lane Alexander, founder and artistic director of the Chicago Human Rhythm Project, the tap ensemble is the third program of the Bryan Series' first year of arts programming. The first performance will be held this Friday at Manteo High School with a second performance on Saturday at First Flight High School in Kill Devil Hills. Tickets are $15 in advance, $20 at the door and both shows start at 7:30 p.m. The directors of the Bryan Series are proud to present these young dancers as the third program in its first full season of outstanding performances.
Honoring Currituck's Dynamic Heritage
As tempting as it might be to hop in the car and head south down Highway 12 for chili and chowder in Hatteras, you might also consider heading north and taking the scenic drive this Saturday to Whalehead in Corolla for Currituck County's Heritage Day, a celebration of Currituck County's cultural heritage. From noon to 4 p.m. you'll enjoy great food, the award-winning CCHS Marching Knights and Currituck County Chorus, antique cars, kite flying demos, children's activities and local arts and crafts! Currituck residents and homeowners are admitted free; admission for non-residents is $10, which includes lunch and the Whalehead tour. Dog on leashes are welcome to this family-friendly event, and parking is free.
Looking Ahead
One of the Outer Banks' most anticipated musical events is just around the corner! The 3rd Annual Outer Banks Bluegrass Island Festival glides into its slip at Manteo's Roanoke Island Festival Park for four days, running from Thursday, September 25 through Sunday, September 28, bringing an almost unbelievable array of bluegrass talent to our modest little collection of barrier islands. Top notch performers include Ricky Skaggs & Kentucky Thunder, Rhonda Vincent & The Rage, The Steep Canyon Rangers, Blue Highway, The Wayfarers and a multitude of others! On Thursday night at 11:30 p.m. The Wayfarers will host a bluegrass jam and dance at the Banjo Island Jam Bus in the parking lot, and everyone is invited to join in the jam! Tickets are $40/adults and $15 for those aged 12 and younger. For more information and to purchase tickets visit the event website.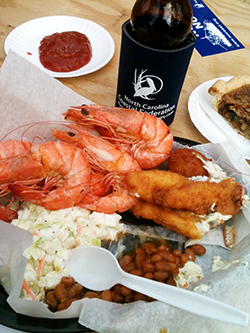 The North Carolina Coastal Federation is hosting its 3rd Annual Fish Fry and Shrimp Boil on Friday, September 26 from 4:30 to 7 p.m. at its Manteo office on Grenville Street. Stop by and enjoy dinner and family-friendly activities while you help celebrate our local waters and recognize the importance of responsible stewardship of these resources into the future. Tickets are $15/adults and $10 /children and can be purchased at the following outlets: N.C. Coastal Federation in Manteo, Front Porch Café in Manteo, Café Lachine in Nags Head and Basnight's Lone Cedar Café in Nags Head. For more information call (252) 473-1607 or visit the Federation website.

This week you still have a chance to win a one-night stay at the Oasis Suites and a $35 gift certificate to the Outer Banks Olive Oil Company!
For more information about Oasis Suites Hotel check out their website.
For more information about Outer Banks Olive Oil Co. check out their website.
Last Week's Winner
Congratulations to Jessica Smith!!!
You won a couples surf lesson from Island Revolution and a restaurant tour from Outer Banks Restaurant Tours!
For more information about Island Revolution check out their website.
For more information about Outer Banks Restaurant Tours check out their website.