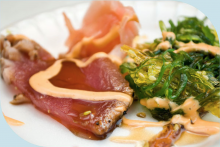 I've said it before and I'll say it again. On the Outer Banks, we love to celebrate food. Lucky for us there's a whole week dedicated to the foodies every spring and fall that features the latest and greatest chefs on the beach. It's the perfect time to try something new or, if you're like me, revisit your go-to spots to dine on all your favorites at a reduced rate. It's a food lover's paradise. And in addition to all those good eats, Halloween is upon us, which means a slew of costumed parties and spooky happenings. Dine or dash (on a haunted trail, that is), this week is sure to be a good one.
Fall Restaurant Week
No snobbery here! Outer Banks Fall Restaurant Week is all about great food, and with the talented local chefs on this island, we've got it by the boatload. Here's how it works: Participating restaurants are offering a three-course lunch or dinner at a fixed price of either $20 or $35 all week long. Head on over to the restaurant that speaks to you and request their special Fall Restaurant Week menu. No tickets required! Fall Restaurant Week begins tomorrow on Friday, October 30 and runs through Saturday, November 7 so you've got two weekends and all the time in between to dine out. View a list of participating restaurants and their menu offerings here.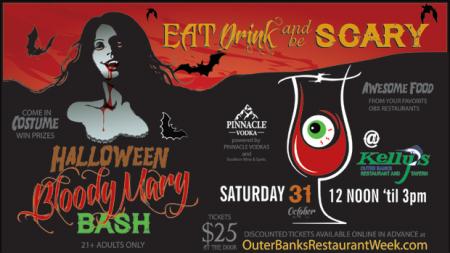 Some of my all-time favorite dinner spots are in the lineup so you can bet I'll be taking full advantage of this week. Not to mention, the featured event of Fall Restaurant Week is for the Bloody Mary fans, and I'm a big one. The Halloween Bloody Mary Bash is happening on Saturday, October 31 at Kelly's Restaurant in Nags Head. You can get your Bloody with exciting garnishes like shrimp, bacon, crab legs, cheeseburger sliders and more – a dream come true for the brunch experts like myself. There will be light bite food accompaniment from Outer Banks restaurants, and costumes are encouraged – especially vampires! The event runs from noon to 3 p.m.
Artrageous Art Extravaganza
Those of us who were kids on the Outer Banks in the last 25 years all know Artrageous. It's the place where we sponge painted T-shirts, pieced together stained-glass ornaments and dug through bins of foam blocks and noodles to forge the perfect creation out of foam and duct tape. It's an art festival for kids, complete with live art demos and musical entertainment, and there are local art vendors displaying their work too for the adults who are no longer compelled by pipe cleaners and googley eyes.
Because of the rain earlier this month, Artrageous was rescheduled for this Saturday, October 31, and I can't think of a better day for an art festival than Halloween. This will be the 26th year for the festival, which has always succeeded in encouraging kids to create. Admission is free and open to the public, and the event will be held from 10 a.m. to 3 p.m. at the Dare County Family Recreational Park in Kill Devil Hills. After the kids wash the paint from their hands, hang up their creations for the porch guests on Halloween night.
Blackbeard Pirate Jamboree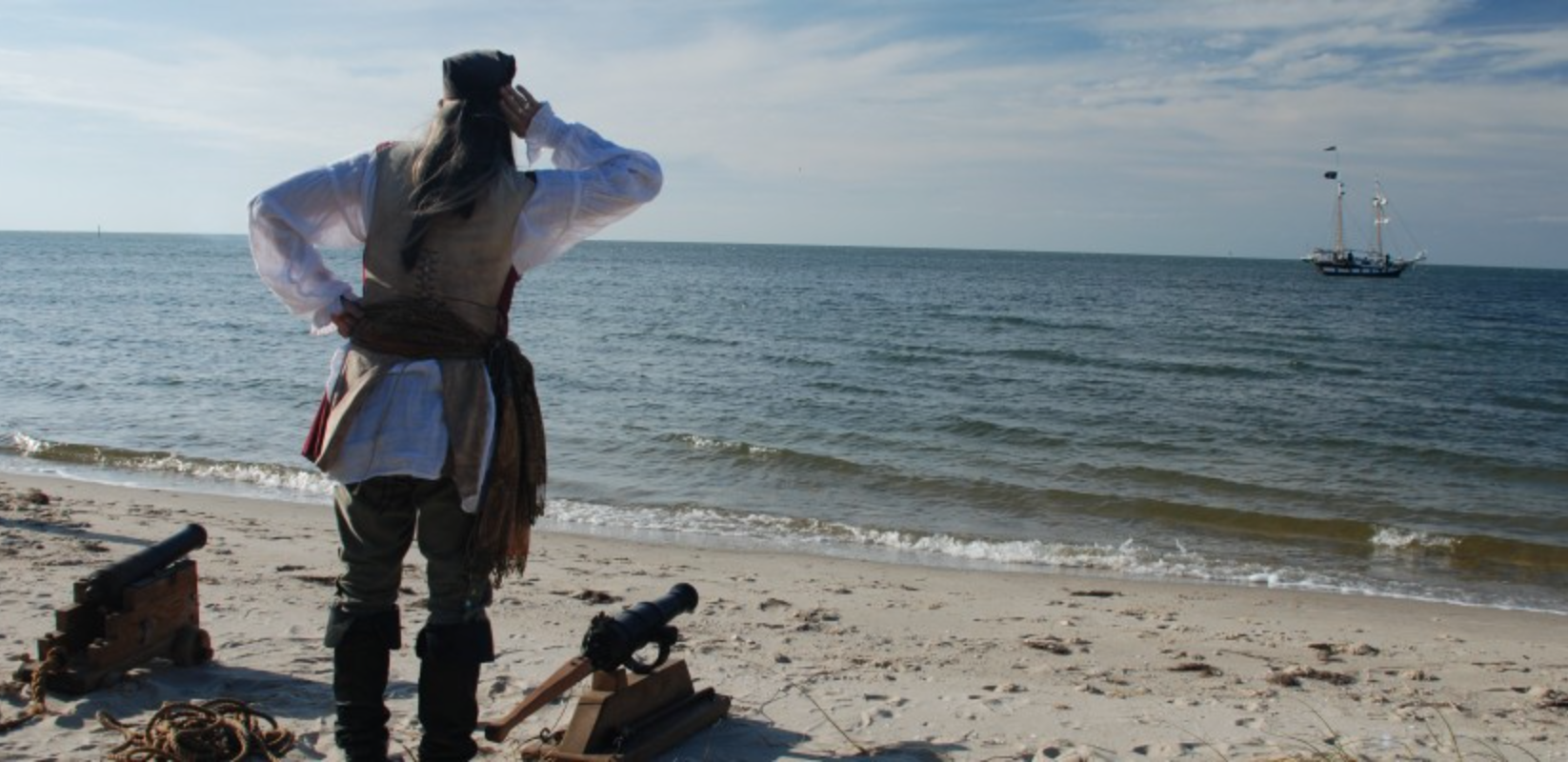 It's a pirate's life for Ocracoke this weekend as the annual Blackbeard Pirate Jamboree returns to celebrate the maritime history of Ocracoke and Hatteras Island. We're talking pirate activities for kids, an arts and crafts pirate market, hearty seafarers' grub and a three-way battle between ships in Ocracoke Harbor. Keep an eye out for members of Blackbeard's crew – rumor has it they will be invading Ocracoke by both land and sea. The three-day swashbuckling event is free and family friendly. It runs from 10 a.m. to 7 p.m. Friday, October 30 through Sunday, November 1. I'd go down to Ocracoke any day of the week, but this weekend is sure to be a really fun time to visit as the village comes alive with pirates and the mischief that goes along with them. Make sure you're there for the treasure hunt! Schedule of events here.
Halloween Parties
Exotic Erotic Halloween Ball
Exotic or erotic, don your most creative Halloween costume for this 21 and older party at the Outer Banks Brewing Station. There are contests for both costume categories with $100 prizes and live party rock dance music all night. I've been to this party on Halloween night several times now and it's always a great time. The Exotic Erotic Halloween Ball goes from 9:30 p.m. to 2 a.m.
Kelly's Annual Halloween Party
After the afternoon's Bloody Mary Bash, return to Kelly's Restaurant after dark for their annual Halloween Party. This is another big one with DJ Fresh playing dance music and a costume contest at 11 p.m. The 18 and older party will be happening from 9 p.m. to 2 a.m.
Basnight's Halloween Bash and Costume Contest
The Outer Banks' very own Jonny Waters and Company will be jamming in Halloween style at Basnight's Lone Cedar for their Halloween Bash and Costume Contest. $100 goes to the best dressed, and the bash runs from 9 p.m. to 1 a.m. with the costume contest beginning at midnight.
Poor Richard's Halloween Party
This local bar always does it big, and Halloween night is no exception. The band for the night is TBA, but we do know that there will be a costume contest and some seriously spooky cocktails. Head to Poor Richard's Halloween Party from 8 to 11 p.m.
Disguise Your Wicked Self Bash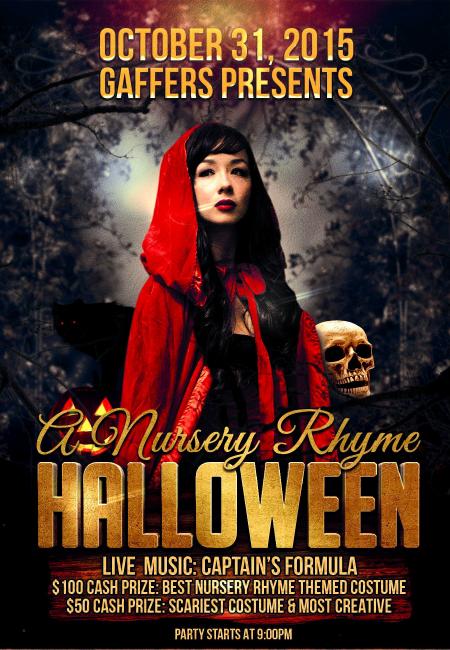 Prepare to get wicked at the Turner's High Moon Bar Disguise Your Wicked Self Bash. Dress yourself in your spookiest garb for the party beginning at 8 p.m. in Avon.
A Nursery Rhyme Halloween
If you're in Ocracoke for the Pirate Jamboree, make plans to stay overnight on All Hallow's Eve because the Halloween parties there are a whole different experience. Gaffer's Sports Pub goes all out in their themed decorations each year with this year's party theme being A Nursery Rhyme Halloween. Go dressed in your best nursery rhyme-themed costume for a chance to win a $100 cash prize or your scariest costume for a $50 cash prize. The party starts at 9 p.m.
Ocracoke Oyster Company Halloween Party
Ocracoke Oyster Company is kicking things off early at 5 p.m. with a Pirate Jamboree sword fight and music from Motley Tones. As the night gets darker and the local haunts come out, Bryan Mayer will take the stage until midnight. Come dressed in your best costume to compete in the Halloween costume contest.
Howard's Pub Halloween Party
At Howard's Pub in Ocracoke, it's going to be an '80s Halloween Party with Raygun Ruby performing from 8 to 11 p.m. Does anyone have an '80s-themed Halloween costume?

Don't forget this is the last weekend for the PsychoPath and Wanchese Woods scares. I've seen some of the creatures out and about at community events this week, and they give me chills even in the daylight. We hear both PsychoPath and Wanchese Woods have some extra bloodcurdling – or um, special – surprises planned for those brave enough to walk the trails on Halloween night. Get the details and check out all the Halloween late night events on our Nightlife & Events page. Happy Halloween!