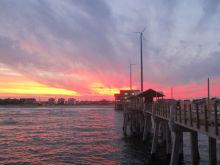 Spring is the hopeful season - school kids are hopeful about the time off from school; businesses and workers are hopeful about the money they'll make; gardeners are hopeful about their summer tomatoes; tourists are hopeful about the perfect summer vacation...
Numerous new businesses are setting up shop on the Outer Banks with high hopes. * Here are a few that I know about: Two new Italian restaurants in Corolla: Bambino's Little Italy (from the owner of Cosmo's) and Giovanni's Trattoria and Pizzeria; Tommy Karole of the Fin and Claw in Corolla has opened a new restaurant, The Paper Canoe, in Duck at the old Duck News Café building; Debra Sinkage of Argyles is making homemade gelato and bonbons and selling them at her new shop, The Sweet Duck in Scarborough Lane; Sweet T's is a new wine/beer bar and coffee shop in Duck; Hooters in Kitty Hawk is out, Pete's Pour House is in; Prime Only is out, Firefly is in; Fish Heads Grill and Bar is the new restaurant at Outer Banks Pier; Scammell's is a new surf shop and ice cream shop on the Beach Road at MP 16 in Nags Head; Birthday Suits has a brand-new flagship store in the works in Kill Devil Hills; the J.Crew outlet is going to start stocking their children's line, Crew Cuts; Native Vine is opening a wine bar called Trio in Kitty Hawk; La Dolce Vita is the new restaurant inside The Elizabethan Inn in Manteo (and I hear it's good); the Outer Banks now has major risk-taking opportunties with OBX Skydiving at the airport; Native Island Board and Paddle is a new outfitter in Manteo... * I'm sure I missed a lot, so post a comment below if you have the inside scoop on other new businesses...
Psstt ... rumor has it that Tuesday Morning, a national discount retailer of home goods, electronics, etc, is coming into the old Seamark building in Nags Head. Not sure that's a good thing, but there it is...
Of course, the big hopeful of the season is Jennette's Pier at Nags Head. The pier opens to the public this Saturday. Arrive at 10:45 a.m. to see the U.S. Army Golden Knights Parachute Team land on the beach. A dedication ceremony starts at 11 a.m. It will be free to visit the facility and fish on the pier all day on Saturday. After that, the pier will be open 24/7 for fishing for $12 a day for adults and $6 a day for kids (with longer-term passes available), but you'll be able to go into the pier house and park at the beach access for free... (Thanks to Pier Architect Chip Hemingway for the photo of the pier)...
What else is going on this week, you say? Well, let me tell you...
Nags Head is celebrating its 50th anniversary this year, and in May it's all about art in Nags Head. Did you know that the Town of Nags Head has a fantastic permanent art collection of local artwork in its buildings? Check out the collection at a reception on Wednesday from 4 to 7 p.m. with a tour of the collection and many of the artists in attendance. * Every Tuesday and Thursday from 2 to 4 p.m. for the rest of the month, docents will be on hand to conduct tours of the art collection...
Kelly's is a happening spot this week. On Wednesday, show up for Mini-Astrology Chart Readings at 6 p.m. and the David Neal CD Release Party from 7 to 9 p.m. (David is a local singer/songwriter and he's got a lot of well-known local musicians backing him up). * On Thursday at 7 p.m., Kelly's is hosting LUNAFEST, a film festival of nine short films by, for and about women. Cost is $10. I went to this a couple of years ago and it's very cool...
On Wednesday, The Elizabethan Gardens is hosting a gardening workshop with international bulb expert Brent Heath. Call (252) 473-3414 for information...
Got technology that you don't know how to use? Thursday from 9 a.m. to noon, the Outer Banks Chamber of Commerce is hosting a class on learning to use your iPad and iPhone. Now that's useful...
You do know that it's Outer Banks Restaurant Week, right? Through Sunday, about 20 Outer Banks restaurants are offering special deals on three course, prix fixe meals or menus. Plus there are a couple of Crab Crawls in which you can sample crab-based dishes at three consecutive restaurants. See http://www.outerbanksrestaurantweek.com...
The second weekend of the Theatre of Dare's 20th Anniversary Show is this weekend - Friday and Saturday at 7:30 p.m. and Sunday at 2 p.m. Relive the best of the last 20 years with TOD with musical numbers and comedic scenes from our past seasons. It's at the COA Roanoke Island campus. See www.theatreofdare.org...
On Saturday head to The Cotton Gin in Jarvisburg for the Currituck Spring Food & Wine Festival. Taste wine from the three local wineries, enjoy barbecue and other eats, dance to live music, take a hayride and more. It's from noon to 6 p.m. Call (252) 491-2387...
Saturday at Ronaoke Island Festival Park, UNC Pembroke is presenting Godspell, a musical of Biblical parables woven around a dozen songs. The show is at 2 p.m. and 7 p.m. and it's free. Call (252) 475-1500...
One of Kitty Hawk Kites' major annual events, the 39th Annual Hang Gliding Spectacular, is going on from Friday through Sunday. This weekend on Jockey's Ridge and at Jockey's Ridge Crossing shopping center you'll see hang-gliding competitions and demos amidst a festival atmosphere for the whole family. See www.kittyhawkkites.com or call (252) 441-4124...
The Engelhard Seafood Festival is on Friday night and Saturday. This is a great homespun festival, and it's not too far away, only 50 minutes, but it's difficult to access this year because Highway 264 to Hyde County is closed due to the fire. If you want to go, you'll have to drive all the way to Columbia and go around Lake Mattamuskeet to get to Engelhard. Or take the ferry from Ocracoke...
Wanna hear some live music? Port O' Call has - get this - Molly Hatchet on Thursday, as well as John Brown's Body on Friday and Remedy on Saturday; Kelly's has Cheap Thrills on Friday and Saturday; Brewing Station has Former Champions on Friday and DJ Sho on Saturday; The Pit has Fish Out of Water on Saturday; Poor Richard's has Chunky Monkey on Friday; Howards Pub has Frozen Head and the Squirrels (love 'em) on Saturday...
Like I said above, I probably missed something. Leave us a comment if you know of any other new businesses on the banks or anything big that's going on that I missed... And, keep looking around the site. The events pages are packed with info for the day and night. The shopping and dining pages are full of deals and the Deal of the Day is always sweet...