If all goes as planned, OBX Taste of the Beach will be back for 2021. The Outer Banks Restaurant Association team is working hard to make its annual food and wine celebration happen. They've moved it ahead a month to April 16 to 18, and they've made some changes due to COVID, of course, but the events are stacking up on the calendar. If you want to attend any Taste of the Beach events this year, it's time to get into planning mode. Event tickets are on sale now, and with the way we've been cooped up for the past year, it's safe to assume that these tickets will sell out quickly. As an example, the Wine and Brine OBX Oyster Tour with Dan Lewis to benefit N.C. Coastal Federation is already sold out, as is the Duck Tapas Crawl. Make haste, people!
More than 40 events are listed on the website. You can scroll through the entire list or sort the events by day, category, venue or town. You can also tell exactly how many tickets are left for an event, which is very convenient if you're planning on attending events with friends.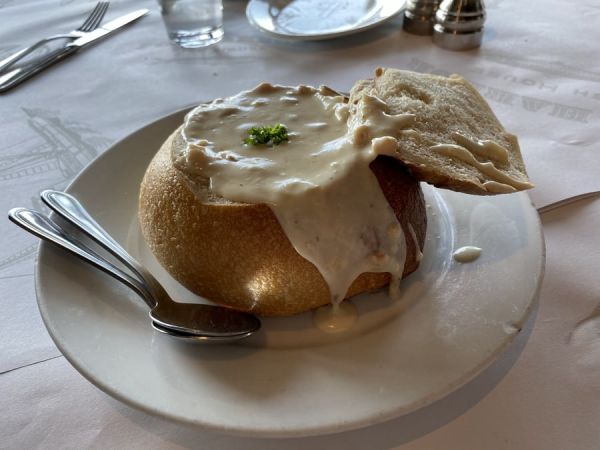 Unfortunately, the Grand Tasting event didn't make the cut this year due to the crowds it always draws. But the popular OBX Chowder Cookoff & Crawl is happening over the course of two days, Friday, April 16 and Saturday, April 17, with 15 restaurants vying for the title of the Outer Banks' Best Chowder. Instead of one big gathering, the Chowder Cookoff will be held crawl-style. The crawl consists of five restaurants in three locations: Kitty Hawk, Kill Devil Hills and Nags Head/Manteo. A crawl among each location group costs $20, and at each of the five restaurants, you get a chowder tasting. A Diehard ticket for tastings at all 15 locations is $50. Chowder can be picked up to go or enjoyed in-house (with some precautions that are listed on the website).
The entire weekend is jam-packed with events, so there is truly something for everyone. Meat eaters will love The Pigman's BBQ & Wings Showcase with beer, wings, ribs and barbecue in the Pigman's backyard on Sunday afternoon, and seafood lovers will appreciate Lone Cedar Cafe's Farm and Sea to Table, dinner, while vegans will have their own event at Powered by Plants Five-Course Dinner at Johanna's Restaurant in Wanchese on Friday night.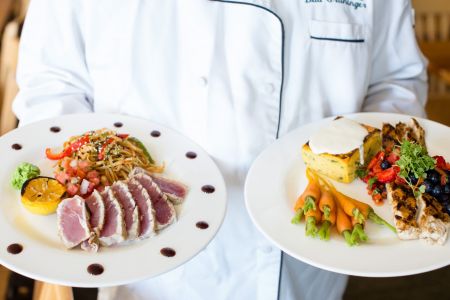 Breakfasts and brunches are planned at Sandtrap Tavern, Lucky 12 Tavern, Shipwrecks Taphouse and Grill, The Blue Point, Red Sky Cafe, Outer Banks Brewing Station and NC Coast (brunch boards!), while multi-course dinners are being offered at Black Pelican, Dirty Dick's Crab House, Owens' Restaurant, Blue Water Grill and NC Coast Grill & Bar.  
Those looking for live music will find it at Outer Banks Brewing Station's Jazz Brunch (with bottomless mimosas) and at Vine Dining at Sanctuary Vineyards (with award-winning wines, local food trucks from Mulligan's, Outer Banks Brewing Station, Coinjock Marina and at picnic tables spaced among the vines).
Wine lovers will love TRiO's event featuring Wine Spectator's #1 Wines of the Year (with a chef's tasting menu), while beer lovers can enjoy Beer Yoga aka Pints with Pickles at Outer Banks Brewing Station.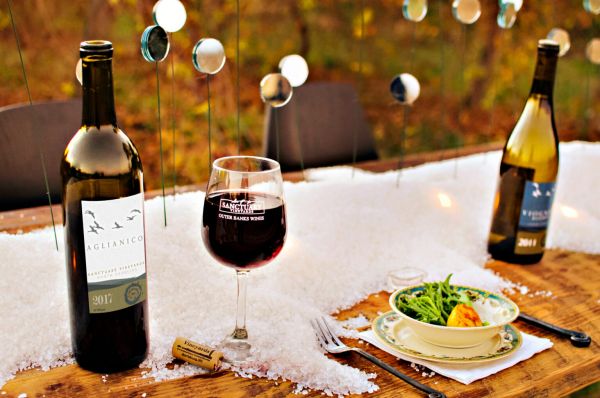 New to the lineup this year is an event called Passport to the Outer Banks. Scheduled for Saturday, this event divides the Outer Banks into three regions: Northern Beaches, OBX Central and OBX South. For each area you buy a passport (or a universal passport to all three). All regions will encompass four stops pairing food and drink. Limited numbers of tickets and multiple stops will help keep the numbers of people in one place at a safe level. Other new events include Flavors of Mexico - A Street Food Celebration at La Fogata in Kitty Hawk, Tastes of Latitude 35N at Good Winds in Rodanthe, a Vintage Beer Lunch at TRiO in Kitty Hawk, a Duck, Bourbon and Beer Dinner at the Brewing Station in KDH, A Pirate Party at NC Coast in Duck and a Barking Brunch at Sandtrap Tavern (pooches welcome).
Get online and start browsing all the events, and don't hesitate on booking. Here's the link to the website again.
For more fun Outer Banks events, visit our Daytime and Nightlife sections.