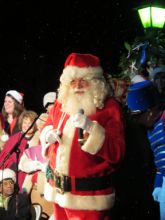 With Thanksgiving and all its leftovers behind us now, it's full speed ahead to Christmas. Holiday events will come fast and furious for the next few weeks, but this week is especially loaded! So put that turkey sandwich back in the fridge and, instead, partake of the variety of festive and family-friendly holiday events scheduled throughout the Outer Banks.
Manteo's holiday festivities begin with The Grand Illumination on Friday, Nov. 30 at 6 p.m. set at the Old Courthouse on Queen Elizabeth Avenue in Downtown Manteo, only steps away from the picturesque Manteo Waterfront. The Grand Illumination is a musical and dramatic celebration of the season and the spirit of new beginnings, perseverance and hope that has characterized the holidays for generations of Outer Bankers. The evening's events will include Christmas carols by choirs from Manteo High School and First Flight High School, performances by Echoes of Heritage, Elizabethan-era songs and dances by St. Andrews Guild from Raleigh, dramatic readings, musical contributions from many other local singers and musicians and the lighting of the Town Christmas Tree. Grab yourself a cup of hot chocolate, warm up by the bonfire and enjoy a heaping dose of small town holiday cheer and good will.
The Manteo festivities continue Saturday, Dec. 1 with the 41st Annual Big Little Town Parade presided over by 2012 Grand Marshal Marjalene Thomas. The parade route begins at Manteo High School and weaves through residential neighborhoods and Historic Downtown Manteo. After the parade stroll over to the Roanoke Island Maritime Museum Boat House for pictures with Santa courtesy of the Manteo Elementary School Parent Teacher Organization. Rain date for the parade is Sunday, Dec. 2 at 2 p.m. For more information visit the Town of Manteo website or call (252) 473-2133.
A long-time favorite holiday event, Outer Banks Hotline's two-day 24th Annual Festival of Trees runs Friday, Nov. 30 through Saturday, Dec. 1 at Jennette's Pier in Nags Head. The yearly holiday fundraiser directly supports Outer Banks Hotline's services to clients through crisis intervention and prevention programs including a 24-hour crisis phone line, shelter, advocacy and support services for victims of domestic abuse as well as emergency response to survivors of sexual assault. Hotline also provides prevention and education programs on topics such as bullying, safe dating skills, personal safety training and more.
Friday's festivities begin at noon with a Holiday Bazaar full of fabulous yet affordable gift options, holiday musical performances by local school and youth groups, a silent auction, cookies and punch and the Tree Viewing (until 5 p.m.). At 6 p.m. things kick into high gear with the Rocking Christmas Party featuring party food by Outer banks Brewing Station, a cash bar for drinks, a 50/50 raffle, selection of the silent auction winner and music by local favorites Old Enough to Know Better. Tickets are $20 for adults, $10 for students (with I.D.). Children younger than 6 get in free.
Saturday's early schedule runs from noon to 3 p.m. and includes a continuation of the Holiday Bazaar, free photos with Santa and a variety of musical entertainment. At 6:30 p.m. get dressed up and come out for the Gala Holiday Social. Catering will be provided by Outer Banks Brewing Station, and a cash bar will serve beer, wine and soft drinks. Music will be provided by local band Shaky Town. At 8 p.m. the Benefit Auction begins and an impressive selection of dazzlingly decorated and gift-laden Christmas trees, as well as desirable objects ranging from sparkling jewelry to vibrant oil paintings, will be auctioned off by ever-entertaining guest auctioneer Bill Rea. Tickets are $50 per person. Come on out to Jennette's Pier, one of the Outer Banks premier venues, gaze out over the nighttime Atlantic, contribute to a great cause and get in the Christmas spirit at Festival of Trees.
If you'll be packing up the kids Friday afternoon and heading to Downtown Manteo for the Grand Illumination, get started just a little earlier and stop in at Duck's Cottage Downtown Books from 4 p.m. to 6 p.m. where Suzanne Tate and James Melvin will be signing Davy Sand Dollar: A Tale of a Spiny Animal, the latest offering in their wonderful creative partnership. Do a little shopping while you're there. Books make great gifts and they're easy to wrap, pack and transport!
The Town of Duck swings into the holiday spirit with its Second Annual Duck Yuletide Celebration on Friday, Nov. 30 and Saturday, Dec. 1. On Friday Duck merchants' doors will stay open late so you can find the perfect gift for that special someone or perhaps yourself! Duck eateries will provide welcome shopping sustenance by hosting one of their famous Duck Tapas Crawls from 5 p.m. to 8 p.m. Participating restaurants will serve a tapas plate and a cup of holiday cheer, all at a special price to please the wallet.
On Saturday Santa trades in his sleigh for a day and arrives by fire truck at 3 p.m. at the Duck Town Green. Enjoy the holiday tunes of Emme St. James & Her Jazz Gentlemen and sing along with your favorites. The event, which features an art exhibit and reception, announcement of the town's Business Decorating Contest winners and light refreshments in exchange for food or cash donations to the Beach Food Pantry, culminates with the lighting of the Town's Crab Pot Tree.
More than 25 crafters will exhibit their wares at the Wanchese Christmas Craft Show, Saturday, Dec. 1 from 9 a.m. to 4 p.m. at the Wanchese Community Building, next to the Wanchese Fire Department on Old School House Road. The show features a variety of craft creations and one of them may be the unique gift you're seeking.
One of the newer holiday events sure to become a traditional favorite of many - it's already one of mine - is The Elizabethan Gardens' WinterLights, a spectacular 22-night event of holiday lights and sights that runs Tuesday through Saturdays from Dec. 1 to January 5. The Grand Illumination opening celebration takes place Saturday from 6 p.m. to 9 p.m. Stroll along enchanted garden paths and discover the joy of the season with holiday lights, sights and sounds transforming The Elizabethan Gardens into an illuminated winter wonderland. The radiant glow of the gardens, traditional holiday décor and fantastical displays are a spectacle to behold. You'll find holiday warmth and charm inside and out with festive food and drink in the "Embellished" Hall, beautifully bedecked trees gracing the Gatehouse and Reception Hall, crackling open-air fire pits warming the Great Lawn as well as seasonal gift shop and plant sales. Garden's executive director Carl Curnutte assures me that this year's WinterLights will surpass last year's amazing displays. Truly hard to imagine. Admission for Non-Members: Adults $14; Youth (ages 6-17) $8; Youth (5 and younger) $6. Admission for Members/Friends: Adults $10; Youth (ages 6-17) $7; Youth (5 and younger) $5. For info or details, call (252) 473-3234 or visit www.elizabethangardens.org.
Another impressive lightshow starting Saturday is the Poulos Christmas Lights in Kill Devil Hills near the entrance to Nags Head Woods. The display is entirely produced by the Poulos family and has been featured on the Today Show and on HGTV. It's a must-see.
Only a true Scrooge could resist such a bevy of holiday happenings, and there's more in the queue. Looking ahead, make sure you mark your calendars now for the "Christmas Past" celebration Saturday, Dec. 8 at Island Farm on Roanoke Island. More details will be provided in next week's blog about this fun and educational holiday activity for the entire family. Until then, let the holiday spirit do its good work.

This week you have a chance to win a $50 gift certificate to Ocean Annies's and a $25 gift certificate to The Blue Point Restaurant!
For more information about Ocean Annie's, check out their website.
For more information about The Blue Point Restaurant, check out their website.
Last Week's Winner
Congratulations to Jamie Boaz‎!!!

You won a one-night stay at First Colony Inn and a $50 gift certificate to Gray's Family Department Store!
For more information about First Colony Inn, check out their website.
For more information about Gray's Family Department Store, check out their website.