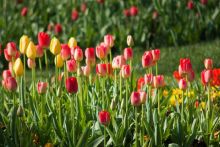 Here in the first week of spring, it's the perfect time to swoon over The Elizabethan Gardens. It's the perfect to time to stroll around looking at the first of the tulips and the last of the camellias, breathing in the scent of pine needles and fresh spring greenness, to get ideas about landscaping your own yard or to daydream about living amongst formal gardens with fountains and clipped boxwood hedges. It's the perfect time to let the kids run along the paths to burn off energy or to stroll with someone who needs to soak up the energy of such abundantly growing life.
We've all been to The Elizabethan Gardens, right? If you haven't been before, this should be on your list of things to do when you're on the Outer Banks. These gardens on the verdant North End of Roanoke Island were created as a living memorial to the first colonists, and they truly are a wonder, with sunken gardens, statuary, a gazebo overlooking the sound and blooms all year long.
If you've been before, even dozens of times, there's always a reason to come back. I make it a point to go to the gardens every spring, with my kids and husband, with friends, or with my mom, and I see something different every time I go. I think my favorite trip was a springtime walk in the gardens all by myself. Granted, I was working on an article about the gardens, but the experience of being there alone on a quiet weekday morning was really quite perfect. There is endless inspiration here, and you never know what will capture your attention on any visit, from the forlorn statue of Virginia Dare to a happily chirping chickadee.
But now there are dozens (and dozens) of new reasons to visit The Elizabethan Gardens. So far the staff has planned more than 70 programs within the Gardens - and there are more to come.
"We are so much more than just a garden," says Carl Curnutte, executive director of The Elizabethan Gardens. "The backdrop of the Gardens is wonderful, but programs allow individuals to enjoy the gardens from a different perspective."
Here is just a sampling of what's coming up this year: Easter Eggstravaganza, Home and Garden Tour, art workshops (watercolor, botanical drawing, kids' drawing), photography workshops, wine and cheese events, kids' camps, gardening workshops, Gardens A Glow (evening campfires on the great lawn), plant sales, cooking series, Harvest HayDay, Diamonds and Denim Gala, holiday workshops and, of course, WinterLights. All of their programs are listed here.
New this summer are free (with paid admission) programs on weekdays: Minty Mondays, Storybook Tuesday, Family Fun Scavenger Hunt Wednesdays, SCENTsational Thursdays and Name That Tree Fridays.
"We're creating memories with these events," says Nancy Harvey, director of development at The Elizabethan Gardens. "Events connect people to their community. The more people you have involved in the community, the better the community is."
Curnutte and Harvey have been called "The Dream Team" when it comes to event planning for The Elizabethan Gardens. Both are highly creative in terms of idea conception and implementation. But Harvey is quick to credit the staff of The Elizabethan Gardens.
"Carl is the driving factor because he has so much energy," says Harvey. "But everyone on our staff is involved. Everyone does everything, from taking out the trash to getting our hands dirty to planning events."
Another reason to visit The Gardens is to buy plants for your own landscaping projects. The Gardens sells plants all year long and holds several special plant sales a year. Harvey says The Gardens' plants are special because the majority of them were propagated at The Gardens.
"They have been babied and nurtured right here," says Harvey. "They're so healthy. We say they got their good start at The Gardens."
And the staff will be teaching more workshops this year.
"We want to share the expertise of the garden staff and allow people to take advantage of their insight," says Curnutte. "Why should we be selfish with their knowledge and keep it all to ourselves?"
Harvey says The Gardens has a very strong corps of volunteers, but they're always looking for more. From working in the gardens to helping with children's camps to event planning, there is a lot to do. If you want to support this nonprofit organization, they always need new members and corporate sponsors.
Make your plans now for the Easter Eggstravaganza on April 7 from 10 a.m. to 2 p.m. In addition to egg hunts, there will be photo opportunities, games, story time, a bake sale, a Easter bonnet contest and more kid-friendly fun.
I've got a few other things to bring to your attention and then I'll let you go enjoy your spring day. You can find the full list of things to do in our By Day and Nightlife sections, so be sure to look there too...
The Outer Banks Women's Retreat and Expo is this Friday and Saturday. Ladies, expect yoga, speakers, wine tastings, live music, a psychic salon, food, networking and a business expo. It's being held at the Ramada Plaza Hotel and it's sponsored by the Outer Banks Relief Foundation...
The Outer Banks Wedding Show is on Saturday at the Sanderling in Duck. What a great weekend to plan a wedding! There will be vendors of every sort there, so you can plan your whole wedding in one place...
On Saturday the Dare County Arts Council is holding the Southern Circuit Film Tour. This month the film is "A Gift for the Village" and it will screen at Roanoke Island Festival Park. The filmmaker will be there to discuss the film...
Surfrider Foundation is having its annual meeting on Saturday. If you're interested in helping that organization, now is a good time to check them out. It's at Jennette's Pier...
That's all for now. I'm off to enjoy this weather...
Before you go, you should be sure to register for our Weekly Facebook Giveaway this week. This week we're giving away a Free Pass to The Elizabethan Gardens, plus a $50 gift certificate to The Brine & Bottle restaurant in Nags Head! Hope you win it!
What do you like best about The Elizabethan Gardens? Leave us some comments below, or post something on our Facebook page.

No trip to the Outer Banks is complete without an excursion to Roanoke Island. Register to win free admission to The Elizabethan Gardens plus a $50 gift certificate to the Brine & Bottle beer and wine bar, we've got the perfect excuse for you to make a day... and night of it!
For more information about Elizabethan Gardens, check out their website.
For more information about Brine & Bottle, check out their website.
Last Week's Winner
Congratulations to Thomas Rohe!!!

You won a $50 Gift Certificate to Ocean Boulevard Bistro & Martini Bar in Kitty Hawk!
For more information about Ocean Boulevard Bistro & Martini Bar, check out their website.