Skygazing
One of the many benefits of living on the Outer Banks is the nearly wide open 360 degree horizon view that can be achieved from any relatively modest elevation. It's not necessary to climb a lighthouse to get a spectacular view (although I highly recommend that too). Many a deck or sand dune will do, and it turns out that Jockey's Ridge is an excellent location from which to study the surrounding land and skies. This Friday, April 24 at 7 p.m. join with your fellow sky gazers for a Planet Spotting Party at Jockey's Ridge hosted by the North Carolina Aquarium on Roanoke Island. Bring binoculars and a flashlight and meet at the bus parking lot between First Flight Elementary and First Flight Middle Schools in Kill Devil Hills for the short trip to the Big Dune. Pre-registration is recommended. The price is $5/person and $4.50/person for NC Aquarium Members with children younger than two admitted free. Children 16 and younger must be accompanied by a paying adult.
Spell M-A-N, Man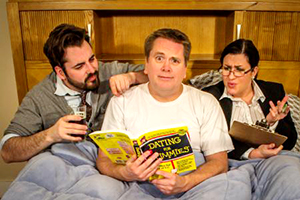 You could be forgiven for thinking that the Outer Banks is simply too small and too thinly populated along too many miles and too many small townships to boast a quality community theater troupe. You could think that. But you'd be wrong. Having attended a number of Theatre of Dare shows over the past couple of seasons, I can vouch for the fact that the shows have been uniformly excellent, from musicals to dramas to comedies. I expect the current comedy, Manly Men: An Evening Chock Full Of Lies & Testosterone, to be just as good. The contemporary relationship comedy uses just three actors and minimal sets to tell the story of Harold, a lost soul seeking the one truth that will solve his problematic relationships with women. As Harold solicits advice from a variety of well-meaning men and women (all played by the same two supporting actors) things predictably go awry with hilarious results. Performances will be held in the College of the Albemarle auditorium in Manteo at 7:30 p.m. on Friday and Saturday with a Sunday matinee at 2 p.m. Admission is $11/adult and $6/student. Tickets can be purchased in advance online or at the door. Please note: Manly Men contains adult situations and language.
The Best Medicine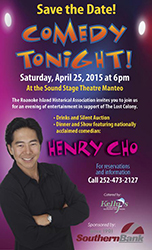 Charlie Chaplin said a day without laughter is a day wasted. But there's global warming to worry us. Rising seas. Pollution. Societal conflicts. Stagnant wages. Rising prices. Budget cuts. War after war in places most Americans could not find on a world map. These are serious times, though our politicians do sometimes unintentionally supply us with a certain if-you-didn't-laugh-you'd-cry dark comedy. But a good, hearty laugh or two has been repeatedly proven to have a positive therapeutic effect. Benefit from your own dose of this good medicine by attending comedian Henry Cho's performance Saturday, April 25 at 6 p.m. at The Lost Colony on the north end of Roanoke Island. Cho has appeared on The Tonight Show, The Late, Late, Show and NBC's Young Comedians Special and has guested on a number of network sitcoms. His one-hour Comedy Central special, What's That Clickin Noise? is in current rotation, and he's also a regular performer at the Grand Ole Opry in Nashville, TN. In additional to Cho's comedy, the event includes drinks, a silent auction and dinner catered by Kelly's Outer Banks Restaurant and Tavern. Call (252) 473-2127 to make your reservations for laughter, the best medicine.
Rumbling and Rambling
Outer Banks Bike Week 2015 continues through Sunday, April 26. A schedule of events featuring great food, an unbelievable slate of live music, bike shows, poker runs, group rides, contests and more can be found on the Outer Banks Harley Davidson website.
Live Local Music



Live music for the coming week begins on Thursday at the Beachside Bistro deck in Kill Devil Hills with Phil Watson at 6 p.m. (Joey Bouza holds the Bistro's deck on Friday evening with Rick Agudelo taking the rein on Saturday). The Jonny Waters Band brings their popular mix of blues, country and Southern rock to Trio Wine & Cheese in Kitty Hawk at 7:30 p.m., and Raygun Ruby channels the 80s at Dajio in Ocracoke at 7 p.m.
Friday finds the Indie and classic rock band Ragin' Cajuns at Trio at 7:30 p.m., Kevin Wilder at Peppercorn's in Kill Devil Hills at 8:30 p.m. and Krunch bringing their high energy performance to Kelly's in Nags Head. The Acoustaholics combine original material and classic rock and country rock covers at Basnight's Lone Cedar Café on the Nags Head/Manteo Causeway at 9 p.m. Local favorites The Other Brothers present their witty banter, creative music styling and a surprising set list covering reggae to country to jazz and rock to music lovers on Roanoke Island at Poor Richard's After Hours Pub at 8 p.m., and down in Ocracoke you'll find the singer/songwriter duo Stoney Creek at Gaffer's Sports Pub at 9 p.m. and Ocracoke Jazz Society's eclectic blend of voices and instruments entertaining folks at Howard's Pub at 7 p.m.
On Saturday you can catch Aquarium, purveyors of all types of rock (The Beatles, Ray Charles, Talking Heads, Johnny Cash, Grateful Dead and more) at Trio at 7:30 p.m. The Brewing Station in Kill Devil Hills hosts Josh Roberts & The Hinges at 10:30 p.m. The band's relentless mash up of blues, country, punk and soul are built upon elegant harmonies and the raw and raunchy guitar playing of bandleader Josh Roberts. Meanwhile, in Manteo at Poor Richard's the ever-popular Chickweed takes over the room at 8 p.m. and belts out hits from the 1970s' staples to today's latest tunes.
It's rare to catch live music at mid-week, but folks in Ocracoke on Wednesday will be enthralled by the wonderful blend of bluegrass, folk and country brought forth by Marcy Brenner and Martin Garrish at Dajio at 7 p.m.