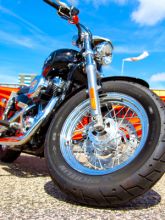 Last Fall, when I first took on the Outer Banks This Week blog, I'd assumed there'd be times when I'd struggle to puff up more than a couple of bland paragraphs. Now, 28 installments later, I realize that my concern was completely unfounded and the struggle, instead, is to do justice to all the great events and activities taking place each week. Something's always happening on the Outer Banks. The coming week, however, is absolutely over the top! Anyone who complains about there being nothing to do simply isn't trying very hard.
Take one look at the events schedule at The Elizabethan Gardens and you know Spring has arrived. The Gardens are positively bursting with events and activities. From Wednesday, April 17 through Sunday, April 21, the Gardens is holding its Outdoor Lawn Ornament Sale + Kids Scavenger Hunt. Each day from 9 a.m. to 6 p.m. all lawn ornaments will be 10% off, but kids who locate all 14 lawn ornaments in the Gardens will get a chance at a prize and up to an additional 40% off purchases.
Just over the bridge in Currituck at Dennis Anderson's Home of the Grave Digger monster truck in Poplar Branch, the hunter-gatherers amongst us will find their bliss at the "Vintage Bodega by the Sea," a large, informal market featuring more than 150 vendors offering furniture, handmade jewelry, unique art, up-cycled home furnishings and décor, handmade candles, man cave finds, photography, baby accessories - in truth, a little bit of everything - even a local vegetable, fruit and flower market! For the kids, there'll be face painting, glitter tattoos and the chance to have a picture taken with Anderson and The Grave Digger! The free event runs from 3 p.m. to 7 p.m. on Friday, April 17 and from 9 a.m. to 6 p.m. Saturday, April 20 and Sunday, April 21.
How many times have you driven down the Beach Road past those classic beach cottages and wished you could just once peek inside? Your moment has arrived! The Kill Devil Hills Historic Landmarks Open House begins Friday, April 19 at 1 p.m. with a reception at Kill Devil Hills Town Hall to recognize recent historic designations and includes a free, self-guided tour of a sampling of the historic homes. A map of participating properties will be provided, and attendees will have until 5 p.m. to complete their tour. For more information call (252) 449-5318 or visit the website.
Admit it, sometimes you just want to leave the ground and get as high up as you can -- remember climbing to the top of trees when you were little? Well, now's your chance to climb way up into the air for free. The National Park Service is offering a one day only opportunity to climb the Bodie Island and Cape Hatteras lighthouses for free on Friday, April 19 from 9 a.m. to 4 p.m. Starting April 20 a fee will be charged for climbing. Don't miss this chance. The views from the top are spectacular!
The 11th Annual Outer Banks Bike Week rolls into town this weekend. Billed as "9 Days of Entertainment and Riding," the event, which runs from Saturday, April 20 through Sunday, April 27, is as jam-packed as always with music, great food, special events and attractions. And, of course, motorcycles. Lots and lots of motorcycles of every size, style and rumble. The posted schedule includes bike shows, poker runs, guided tours, party nights, tattoo and bikini contests, live music and outdoor concerts, pig pickings and more! More than 100 individual vendors are expected. In fact, there is far more to this week-long event than can possibly be covered here, so make sure you check out the website.
Roanoke Island Festival Park will be Jazz Central this Saturday. As part of the Park's 2013 Performance Series, musicians from the acclaimed East Carolina University School of Music Jazz Studies Program will present the Kids Jazz Excursion and Workshop, a performance of contemporary and traditional jazz tailored for kids, from 2 p.m. to 3:30 p.m. There will be opportunities for audience participation and interaction with performers and their instruments. Tickets are $5 with children 5 and younger admitted free. Saturday evening at 7 p.m. the award-winning and internationally respected East Carolina University Jazz Ensemble will perform a selection of traditional and contemporary jazz from artists as diverse as Duke Ellington and Michael Jackson. Tickets are $10/adults, $5 for children 6-12 years old with children 5 and younger free. Both the afternoon children's workshop and the evening concert will be held in the Park's Film Theatre. Tickets for each event may be purchased in advance or at the door.
As any local single person can attest, dating on the Outer Banks can sometimes be a challenge. But Relay for Life's Bachelor and Bachelorette Auction at Outer Banks Brewing Station on Thursday, April 18 at 9 p.m. puts a do-good spin on the dating struggle. Donate your way to a date or take a chance on winning the raffle prize! Admission is a suggested donation at the door. Then, on Saturday at 7 p.m. the Relay for Life's 2013 Womanless Beauty Pageant wobbles to the stage at Kelly's Outer Banks Restaurant and Tavern in Nags Head. Tickets to this 21 and older event are $50 (includes open bar, food and plenty of laughs) and can be purchased from Brindley Beach Duck and Corolla or from any of the contestants listed on the event's Facebook page.
Eve Ensler's award-winning play The Vagina Monologues returns to the Outer Banks for the first time since 2011 with a three-day run from Thursday, April 25 through Saturday, April 27 at Avenue Waterfront Grille in downtown Manteo. Doors open at 5 p.m. with the play beginning each night at 7:30 p.m. Directed by Gail Hutchison, the play, which celebrates women's sexuality and strength with humor and grace, has helped countless women throughout the world take control of their bodies and their lives. Seating is limited to 120 seats per night. Tickets are $15 and can be purchased on Brown Paper Tickets. Food and beverages may be purchased separately at the venue.

This week you have a chance to win a one night-stay at Cameron House Inn and a Restaurant Tour for two with Outer Banks Restaurant Tours.
For more information about Cameron House Inn, check out their website.
For more information about Outer Banks Restaurant Tours, check out their website.
Last Week's Winner
Congratulations to Karen Hunter!!!

You won a couple's bike package from Ocean Atlantic Rentals and a $35 gift certificate to OBX TRIO!
For more information about Ocean Atlantic Rentals, check out their website.
For more information about OBX TRIO, check out their website.